Ahsoka Episode 5 Ending Explained: Ahsoka Chooses to Live!
The premiere of Ahsoka episode 5, titled "Shadow Warrior," was a special event that aired simultaneously on Disney+ and in select theaters on September 12, 2023. 
It features the highly anticipated return of Hayden Christensen as Anakin Skywalker, who reunites with his former Padawan Ahsoka Tano (Rosario Dawson) in the mysterious realm of the World Between Worlds.
The World Between Worlds is a dimension that exists outside of time and space, where one can access different moments in the past and future through portals. It was first introduced in the fourth season of The Clone Wars when Ahsoka entered it to save Ezra Bridger from Darth Sidious. 
Ahsoka falls into the World Between Worlds after being defeated by Baylan Skoll. There, she encounters the infamous Anakin Skywalker, who claims to be there to finish her Jedi training.
The episode follows Ahsoka and Anakin as they engage in nostalgic lightsaber duels, revisiting some of the most pivotal moments in their relationship during the Clone Wars. Anakin challenges Ahsoka to choose between living or dying and to confront her trauma over leaving the Jedi Order and witnessing the rise of the Empire. He also hints at his own fate as Darth Vader, and his role in the destruction of the Jedi.
The episode ends with Ahsoka choosing to live and Anakin disappearing from the World Between Worlds. Ahsoka is then transported back to the ocean and is rescued by Hera Syndulla (Mary Elizabeth Winstead) and her crew. Meanwhile, Sabine Wren (Natasha Liu Bordizzo), who was also thrown into the water by Baylan, manages to survive and contact Bo-Katan Kryze (Katee Sackhoff) for backup.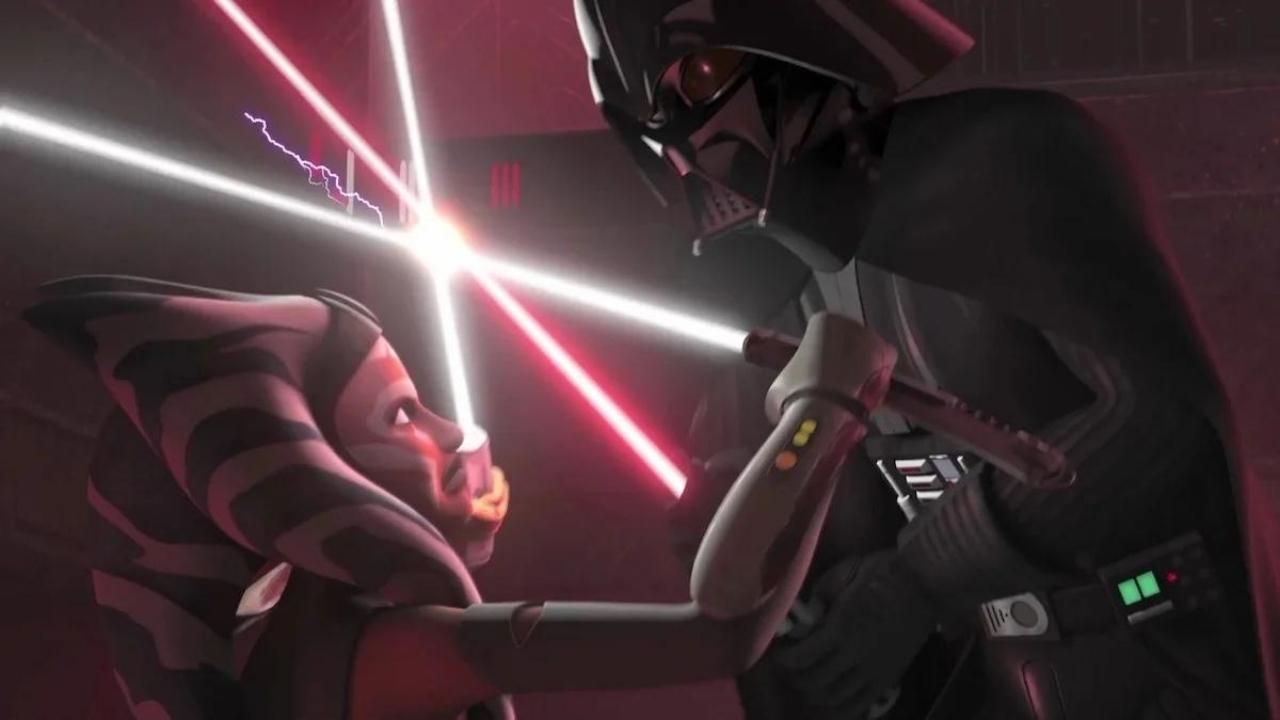 Episode 5 sets up a potential showdown between Ahsoka and Darth Vader, who is expected to return by the series finale, this time as his dark alter-ego!
This episode is a treat for the seasoned Star Wars fan as it pays homage to the original trilogy and references many nostalgic scenes that are bound to make any fan emotional.
Moreover, it raises intriguing questions about the nature of the World Between Worlds and how it affects the timeline of Star Wars.
Food for Thought
Here are some of the intriguing questions that the wide-eyed fan must think about at the end of episode 5:
How did Anakin appear in the World Between Worlds? Was he a projection of Ahsoka's subconscious or a manifestation of the Force? Did he retain his memories as Darth Vader, or was he unaware of his dark side?
What was Anakin's purpose in training Ahsoka? Was he trying to help her overcome her fears and doubts, or was he testing her loyalty and faith? Was he preparing her for a future confrontation with him or Thrawn?
How did Ahsoka's choice to live affect her destiny? Did she alter the course of history by surviving Baylan's attack, or did she fulfill a prophecy already written? Did she create a new timeline or follow an existing one?
What is Thrawn's plan for Ezra? Why does he need Ahsoka to find him? What is his connection to Baylan and the Sith?
What will happen next in Ahsoka's quest? Will she reunite with Sabine and Bo-Katan? Will she face Thrawn or Baylan again? Will she encounter Anakin or Ezra in the World Between Worlds?
Hopefully, all these questions will be answered by the time the season ends. So, six more episodes, and we'll know it all (fingers crossed!)
About Star Wars: Ahsoka
Ahsoka is an upcoming Star Wars show on Disney+. Created by Jon Favreau and Dave Filoni, the show will see Rosario Dawson returning as Ahsoka Tano.
The series will follow Anakin's former Padawan Ahsoka Tano as she hunts the Chiss dictator Grand Admiral Thrawn, who plans to take over the galaxy.
The cast includes Rosario Dawson, Natasha Liu Bordizzo, Eman Esfandi,  Ray Stevenson, and Ivanna Sakhno. The series will likely premiere on Disney+ in Fall 2023.
Sometimes we include links to online retail stores and/or online campaigns. If you click on one and make a purchase we may receive a small commission. For more information, go here.