AMD will include Starfield Premium edition with RX 7800XT and RX 7700XT
AMD had announced that they were going to be Starfield's exclusive partner. They included a game bundle wherein purchasing a select AMD processor and GPU would come with either the Standard or the Premium edition of Starfield.
AMD announced they will include the Starfield Premium Edition Game Bundle on purchasing the latest Radeon RX 7800XT and the RX 7700 XT.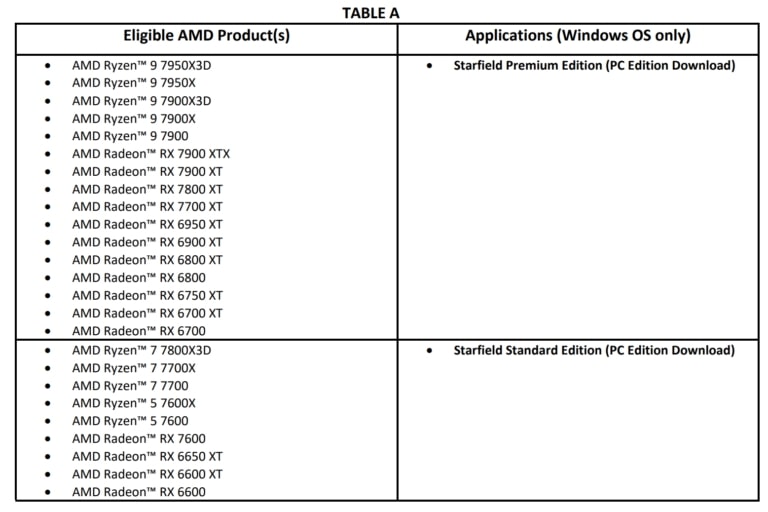 Players must keep in mind that the bundle will be active on all purchases made until September 30th and codes remain redeemable until October 28th. AMD has also released a list of recommended hardware for the best Starfield experience on the PC.
There were three categories of hardware to choose from, based on the resolution of the game. The Legendary experience is at native 4K, for which AMD recommends Ryzen 7 7800X3D coupled with the AMD Radeon RX 7900 XT.
The Epic Experience is for those who want to game at 1440p and require at least a Ryzen 7 7700X and RX 6800 series GPU. For the Heroic Experience, players would require a Ryzen 5 7600 and a Radeon RX 7600 GPU.
Tweet Loading…
AMD has requested players to ensure that the retailer of choice is enrolled in the AMD Reward Program, as certain retailers can choose not to be part of it.
In addition to the perks, AMD offers a limited edition RX 7900 XTX GPU and Ryzen 7 7800X3D with a custom Starfield theme. The color scheme on the GPU is coupled with a well-placed rainbow streak down the side of the heatsink.
READ:
AMD's upcoming 8000 series APU "Strix Point" specifications leaked
For those looking to invest in upgrades or build a new PC from scratch, this is the best time to get the best value for money. With AMD edging ahead of Intel on the processor front and Nvidia on the GPU front this is the right time to invest in some new hardware from Team Red.
About Advanced Micro Devices
Advanced Micro Devices (AMD) is an American multinational semiconductor company headquartered in Santa Clara, California.
AMD develops computer processors and related technologies for business and consumer markets. AMD's main products include microprocessors, motherboard chipsets, embedded processors and graphics processors for servers, workstations, personal computers and embedded system applications.
Sometimes we include links to online retail stores and/or online campaigns. If you click on one and make a purchase we may receive a small commission. For more information, go here.