Aniplex Reveals Exciting New Official Trailer For "Solo Leveling"
The Aniplex Online Fest 2023 event was live-streamed, and it was highly entertaining and informative. It released information about numerous anime shows, and Solo Leveling was one of them.
The anime is now confirmed to be a part of the Winter 2024 lineup, and more details about this brilliant masterpiece have been revealed. Here's everything that you need to know about this most awaited anime.
The Aniplex Online Fest 2023 event debuted the official trailer of Solo Levelling along with a second key visual. The event also revealed more staff members. The anime is confirmed to premiere in January 2024. Solo Leveling will be streamed outside of Asia by Crunchyroll when it airs next year.
The two-minute official trailer of Solo Leveling features the journey of our protagonist, Shun Mizushino (Sung Jinwoo: Korean Character Name). The footage starts with a narrator talking about the gate that mysteriously opened, leading to the invasion of monsters.
Hunters are the humans who have awakened their battle abilities and Shun is one of the weakest hunters. The video shows the death of our protagonist and his second awakening. How he will level up to the top from the lowest position with his second chance will form the crux of the story.
The key visual featuring the main protagonist, Shun Mizushino, has been released by the Aniplex event.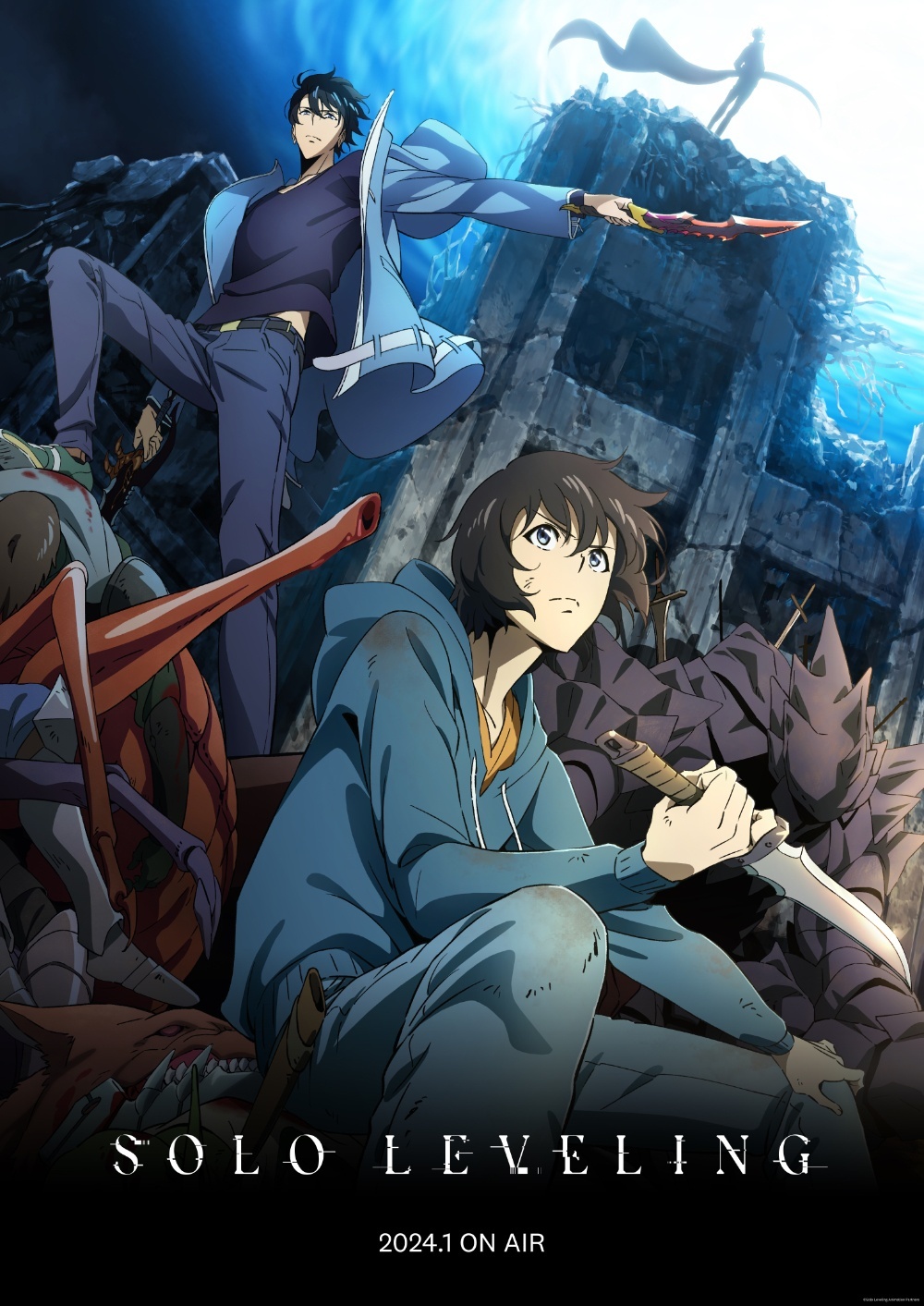 Shunsuke Nakashige is directing Solo Leveling at A-1 Pictures. And here's the rest of the production staff for the anime.
| | | |
| --- | --- | --- |
| Position | Staff | Other works |
| Director | Shunsuke Nakashige | Sword Art Online |
| Series Composition | Noboru Kimura | Mai-HiME |
| Character Design | Tomoko Sudo | Fragtime |
| Music | Hiroyuki Sawano | Shingeki no Kyojin |
| Animation Production | A-1 Pictures | The Seven Deadly Sins |
| Editing | Yūji Kondō | ERASED |
| Sound Director | Ryō Tanaka | A Galaxy Next Door |
Taito Ban will be voicing the protagonist, Shun Mizushino. And here's the list of other voice actors.
| | | |
| --- | --- | --- |
| Character | Cast | Other Works |
| Sung Jinwoo/Shun Mizushino | Taito Ban | As Roland in "I Shall Survive Using Potions!" |
| Cha Hae-In/Shizuku Kosaka | Reina Ueda | As Kanao Tsuyuri in "Demon Slayer" |
| Baek Yoonho/Taiga Shirakawa | Hiroki Touchi | As Ginjo Kugo in "Bleach" |
| Yoo Jinho/Kenta Morohishi | Genta Nakamura | As Hiroto Shinohara in "Liar Liar" |
| Chōi Jong-In/Shin Mogami | Daisuke Hirakawa | As Rei Ryugazaki in "Fate" |
| Go Gunhee/Kiyoomi Gotō | Banjou Ginga | As Senzaemon Nakiri in "Food Wars" |
| Woo Jinchui/Akira Inukai | Makoto Furukawa | As Taiju Ōki in Doctor Stone |
Solo Leveling was picked up for animation after years of webtoon fans shouting on every social media platform. And the official trailer did not disappoint. The animation looks attractive; the voice actors have also done a great job of portraying the characters.
It will be an entertaining watch and potentially be the best anime of Winter 2024.
About Solo Leveling
Solo Leveling is an upcoming anime based on a Korean Webtoon written by Chu Gong and illustrated by Jang Sung Rak (Dubu). It is adapted from the web novel; I Alone Level Up. 
Portals connecting the Earth to realms of monsters have opened up, and hunters defeat those monsters. Sung Jin Woo belongs to the lowest level of hunters, but after getting involved in a Dungeon quest, he alone can see quests like that of a game.
The series will premiere on Crunchyroll in Winter 2023.
Sometimes we include links to online retail stores and/or online campaigns. If you click on one and make a purchase we may receive a small commission. For more information, go here.