The adventures of Boruto Uzumaki, son of Naruto Uzumaki, and his ninja team are chronicled in Boruto, a spin-off and sequel to Kishimoto's Naruto. Shueisha's pitch to Kishimoto for a Naruto sequel was the inspiration for Boruto. Kishimoto, however, turned down the offer and instead suggested his former assistant, Mikio Ikemoto, create the design.
Boruto Chapter 78: Launch Date
On Tuesday, February 21, 2023 at 12 a.m. JST, the next installment of Boruto will be made available.
As of the following times and dates, you can read Boruto Chapter 78:
Pacific Standard Time: 7 am, Monday, February 20
Eastern Standard Time: 10 am, Monday, February 20
Greenwich Mean Time: 3 pm, Monday, February 20
Central European Time: 4 pm, Monday, February 20
Indian Standard Time: 8.30 pm, Monday, February 20
Philippine Standard Time: 11 pm, Monday, February 20
Japanese Standard Time: 12 am, Tuesday, February 21
Australia Central Standard Time: 12.30 am, Tuesday, February 21
Boruto Chapter 77: A Quick Summary!
Previously, Kawaki had wished to communicate with the Ohtsutsuki after discovering Momoshiki was still present within Boruto. Kawaki didn't stop being hostile until Shikamaru reminded him of Naruto's expression when he saw Boruto. He hastily left for a quick errand, and employs Sukunahikona to evade the sensory unit's surveillance.
When Kawaki made a choice, Eida agreed with him and did the same. Shikamaru realized that he had no choice but to give in to her demands. She told Shikamaru that Code had over a thousand Claw Grimes, which are these creatures that arose from Ten-Tails and will be deployed to invade Konoha, while Boruto, Daemon, Sarada, and Sumire went shopping with her.
After he sensed some fire from Himawari, Daemon rushed to her despite his earlier complaint that everyone in Konoha was weak. She seemed fragile, so he didn't understand why he was getting the impression that she was strong.
While this was going on, Kawaki showed up at Naruto's house, thanked him once more, and pledged to protect him by wiping out the Ohtsutsuki Clan. Also included would be Boruto, who was just hanging around to be usurped by Momoshiki. Kawaki sealed Hinata and Naruto away to another dimension before they could do anything.
Read: Boruto Episode 210 Release Date, Time, And Where To Watch Announced
Boruto Chapter 78: Spoilers!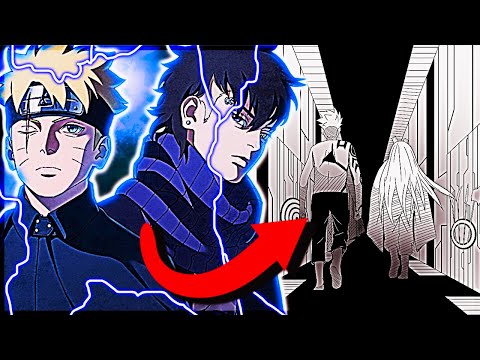 Chapter 78 of Boruto details the chaos that ensues after it is learned that both Naruto and Hinata have vanished. Sensing unit will probably notice it first, which will throw off Shikamaru's plans and give Code a chance to strike.
However, everyone in Konoha is aware of Kawaki's power, and Boruto's intuition may be able to locate him near his home, demonstrating that he is to blame. In Boruto chapter 78, a fight is foreseen, which may trigger Mitsuki's future vision from a few chapters ago, in which she was shown in Sage Mode.
Boruto Chapter 78: Where To Watch?
Free access to the next chapter will be provided via the Viz and MangaPlus websites, the Shonen Jump app, and Crunchyroll.