The spinoff/sequel film Demon Slayer: Mugen Train was so successful that it served as a bumper for the first film for a whole year. When it was released in 2020, Mugen Train quickly became the highest-grossing Japanese film of all time and a global phenomenon.
What lies ahead for Tanjiro and the Hashira Corps now that the dust has cleared in the entertainment district and their continuous battle against Muzan Kibutsuji? Information about the upcoming third season of "Demon Slayer" is provided below.
The Anime
The protagonist of Demon Slayer is Kamado Tanjiro, whose family is wiped out by the demon Kibutsuji Muzan. His sister Nezuko, now a demon, was the only member of his family still alive. Since Nezuko didn't have any ill will toward people, he set out on a quest to find a treatment for his sick sibling.
Demon Slayer Season 3 Episode 1 Publication Date
The debut date of the first episode Season 3 of "Demon Slayer" is April 2023. We also found out that the first episode of the Swordsmith Village Arc would be an extended one.
Demon Slayer  2 Season Episode 18 Recap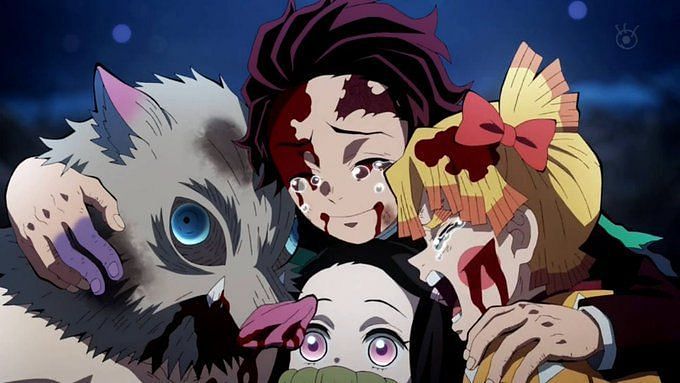 Demon Slayer season 2 episode 18 delved into Gyutaro and Ume's human lives, revealing the reason for the resentment and hatred that festered within both siblings, even as demons. They were born to the lowest of classes in the Entertainment District.
Gyutaro had to resort to hunting and eating rodents and insects since his mother saw him as a burden, and tried to kill him many. Things improved for him after Ume's birth because of her exquisite beauty. He became a particular debt collector, while Ume began working at a brothel.
Ume was burnt alive for stabbing a samurai's eye with a hairpin. Gyutaro was also fatally wounded when he found her half-alive form and confronted the samurai.
The demon bearing the markings for Upper-Ranknk Six found them and turned them into demons. The demon, called Douma, mused whether the two siblings could become demons and climb up the ranks to become an Upper-Rank Demon like him.
His only regret was that he could not give his sister a better life. He saw his sister, dressed not as Daki but as Ume again. He tried to push her away believing it was his fault that she die such a miserable death. But she refused to let him go, citing his promise never to abandon her.
This episode showed the Serpent Hashira Iguro Obanai arriving. He praised Uzui condescendingly, enquiring when he would be returning to duty after losing his eye and arm. Uzui said that he was retiring to which Iguro expressed his disapproval.
When Akaza was summoned to Infinity Castle, he realizes that an Upper-Rank Demon had been killed. Tanjiro, Zenitsu, and Inosuke huddled together with Nezuko, sobbing with relief as they were all alive.
Demon Slayer Season 3 Episode 1 Spoiler
It have focus on the original manga's ninth arc, the Swordsmith Village arc. The Swordsmith Village arc picks up directly after the Entertainment District arc, which ends with Tanjiro and Sound Hashira Tengen Uzui defeating the demon siblings Gyutaro and Daki. The only permanent casualty of this epic battle was Tanjiro's demon-slaying sword.
In this season we will see Tanjiro travel to the Swordsmith Village in order to have his blade repaired by Hotaru Haganezuka. While there, Tanjiro and co will, of course, be beset by a horde of demons. Luckily, Mist Hashira and Muichiro Tokito, stepped in to handle the thread.
watch this: The Upper Moon Demons In Demon Slayer Season 2 Episode 18.
Where to watch?
You can watch the latest episode on Hulu, Crunchyroll, and Netflix.