Final Fantasy VII Rebirth announced at PlayStation's State of Play event
Devil works hard, Square Enix works harder. Their previous Final Fantasy XVI was released a couple of months back, and they had also announced the upcoming Final Fantasy title after the release of Final Fantasy VII Remake in 2020 and Final Fantasy VII Intergrade in 2021.
Final Fantasy VII Rebirth was announced to release exclusively for the PlayStation 5 on February 29, 2024, at the PlayStation State of Play event. A visually immersive video accompanied the announcement, following Cloud Strife's and his friends' journey. The pre-order period started right after the announcement.
After escaping from the city of Midgar, Cloud Strife, and his friends are on a new journey across the in-game world of Gaia. They are pursuing the "vengeful swordsman, Sephiroth."
Director Naoki Hamaguchi stated that the combat system has significantly changed since Final Fantasy VII Remake. There are new team moves from most battle systems, allowing players to use the team-move commands and abilities freely at any time.
This is one of the ways that the developers are making the players feel the relationships and bonds that have developed between the characters. New skill trees have been added as well.
Red XIII was also spotted in combat, using his unique "revenge gauge mechanic." As spotted in the video, Alexander and Odin are also making a comeback. Volume-wise, the side content in Final Fantasy VII Rebirth will be double the mainline content.
Sephiroth will be controllable in the same scene as Final Fantasy VII's original. All these pieces of information give the players much to look forward to as they wait for Final Fantasy VII Rebirth on PS5.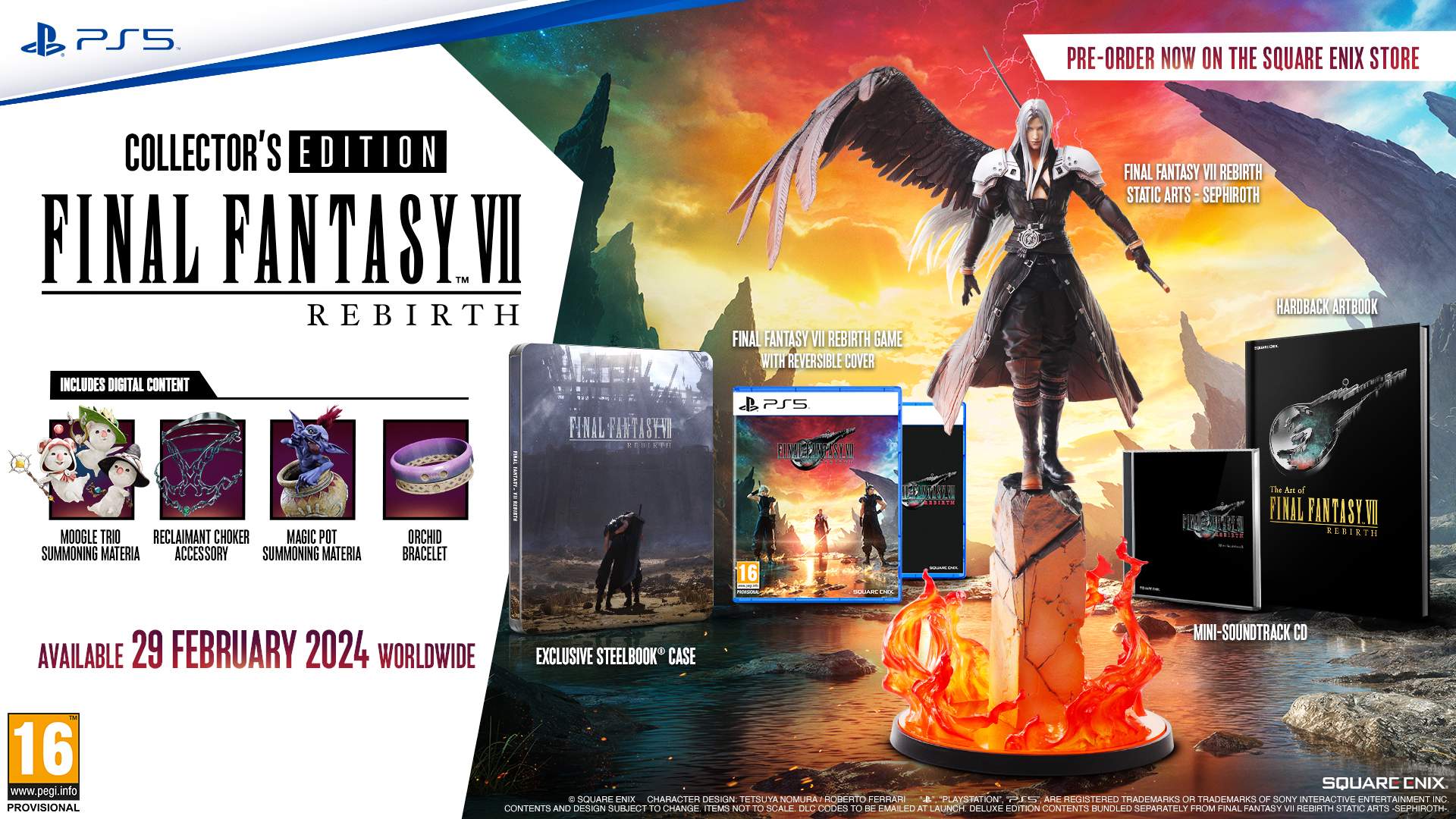 Square Enix's exclusive deal with Sony means that the title will be a PS5 exclusive for at least three months. The physical collector's Final Fantasy VII Rebirth edition is quite the spectacle. The digital edition ships with:
Final Fantasy 7 Rebirth (physical copy with reversible cover)
 • Exclusive steelbook
• Hardback artbook
• Mini soundtrack CD
• 19-inch Sephiroth statue
• FF7R Deluxe Edition DLC
Accessory: Reclaimant Choker
Armor: Midgar Bangle Mk. II
o Armor: Orchid Bracelet
o Magic Pot Summoning Materia
It is not a surprise that this bundle costs a whopping USD 349.99. This is one of the most expensive bundles by Square Enix, surpassing their previous "1st Class Edition of Final Fantasy VII Remake."
Final Fantasy VII Rebirth will have 100 hours of in-game content. The original story marks the end of the second game in the trilogy of remakes that Square Enix aims for.
READ:
Easy Guide to Play the Final Fantasy Series in Order – What to play first?
With fan-favorite minigames, the ability to customize the composition of soldiers in the parade, and many other changes to increase the scale of the game, fans of the franchise will be waiting eagerly for the release of Final Fantasy VII Rebirth.
About Final Fantasy 7 Remake
A remake of the 1997 PlayStation game, Final Fantasy 7 Remake is an action RPG which gives Final Fantasy fans a nostalgic trip back in time.
With all new graphics and gameplay styles, players will take control of the mercenary Cloud Strife as they battle their way through the dystopian cyberpunk metropolis of Midgar.
Sometimes we include links to online retail stores and/or online campaigns. If you click on one and make a purchase we may receive a small commission. For more information, go here.