Intel i5-14600K shows minor gains over previous generation i5-13600K
Chinese forum Bilibili is notorious for its contributors leaking information about upcoming hardware, like Intel and AMD processors.
Enthusiast Citizen on Bilibili has revealed the latest benchmarks for an engineering sample of the Intel Core i5-14600K. The clock speed has been increased to 5.3 GHz from the previous generation i5-13600K's 5.1GHz. There is a 14% improvement in the multithreading performance of the i5-14600K from the i5-13600K in Cinebench 2024.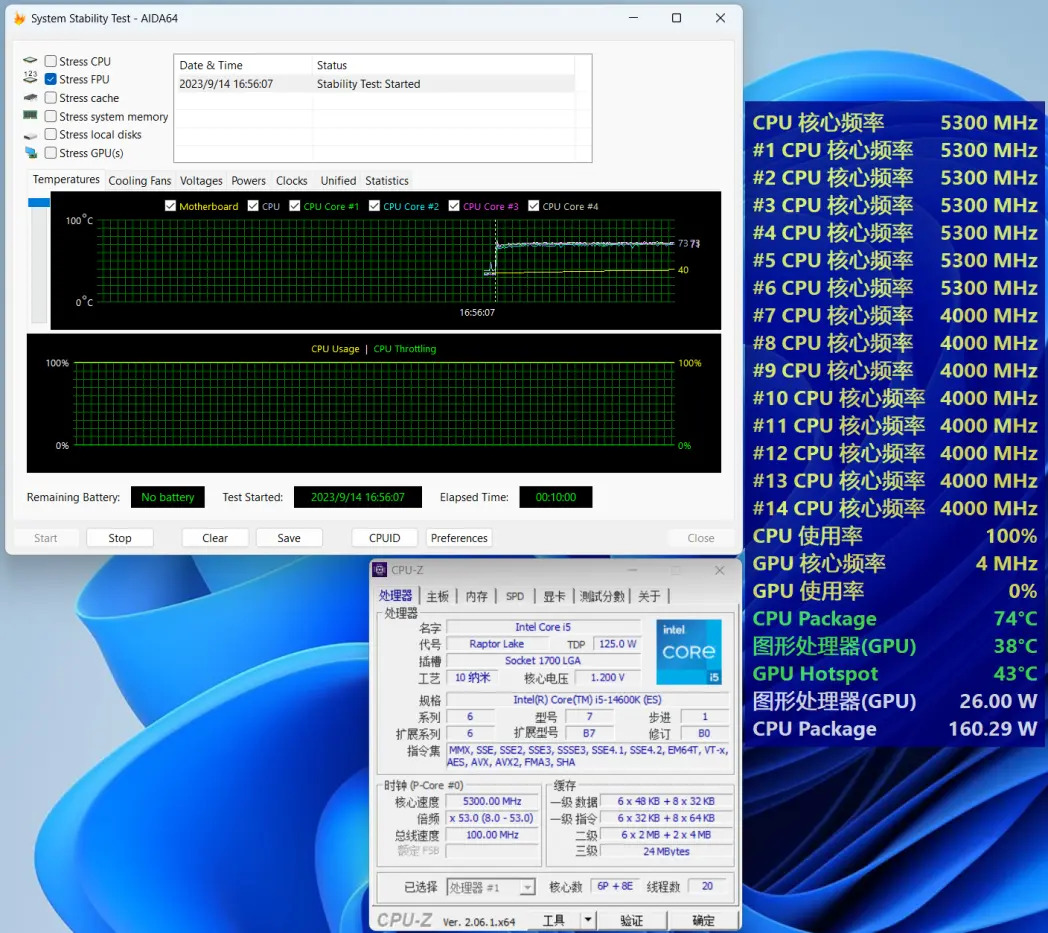 | | | | | | | |
| --- | --- | --- | --- | --- | --- | --- |
| Test | Single Threadi5-13600K(points) | Single Threadi5-14600K(points) | Percentage Change | Multi-Threadi5-13600K(points) | Multi-Threadi5-14600K(points) | Percentage Change |
| Cinebench R23 | 2021 | 2027 | +0% | 24528 | 25270 | +3% |
| Cinebench 2024 | 115 | 124 | +8% | 1255 | 1430 | +14% |
| CPU-Z | 819 | 868 | +6% | 9847 | 10250 | +4% |
It must be kept in mind that these scores are highly subjective to the system configuration that is being benchmarked. However, on average, the improvement is only a single digit. It will not be surprising to see this performance on the older generation i5-13600K with manual overclocking.
With the 14th Gen "Raptor Lake Refresh" series making its official debut at the Intel Innovation in the coming week, Intel will release six SKUs, per a previous leak. This will include products from both the K and the KF models.

The Core i5-14600K is lucrative because it's affordable and unlocked with a 125W power rating. As reported earlier, the benchmarks confirmed the 6-P and 8-E Cores architecture with 14 cores and 20 threads.
One thing of concern is the voltage drawn by the processor. In the benchmark results, the voltage draw exceeded 1.4V. This is relatively high.

However, it must be remembered that the benchmarks were on a system running an engineering sample. Generally, the retail product is an improved version of the Engineering Sample sent for reviewing and testing purposes.
READ:
Intel will release Core i9-14900K as part of K/KF series on October 17th
The Core i5-14600K is scheduled for release on October 17th. The pricing is yet to be confirmed. It would not be surprising to see the pricing be similar to the i5-13600K, given that both processors practically provide the same performance. More mainstream offerings are coming in the first quarter of 2024.
About Intel
Intel Corporation is an American multinational corporation and technology company headquartered in Santa Clara, California, in Silicon Valley. It is the world's largest semiconductor chip manufacturer on the basis of revenue, and is the developer of the x86 series of microprocessors – the processors found in most personal computers (PCs).
Incorporated in Delaware, Intel ranked No. 46 in the 2018 Fortune 500 list of the largest United States corporations by total revenue.
Sometimes we include links to online retail stores and/or online campaigns. If you click on one and make a purchase we may receive a small commission. For more information, go here.