My Hero Academia is returning with the penultimate fight after a week-long break. Fans are excited to see the incredible Bakugo take down All for One in the upcoming chapter. With My Hero Academia Chapter 406 release date set to this sunday after a weeks' breaks, fans can't wait to get their hand of the latesr chapter.
Horikoshi also presents a beautiful moment between All Might and Bakugo where the former gives his gauntlet to the student, entrusting him to take it from there. This is a monumental point in Bakugo's journey.
Throughout his life, he has also sought All Might's approval, only to be disappointed when his rival, Deku was the sole receiver. Now, finally, it seems like he has achieved All Might's approval as the hero bestows such an important gauntlet on him.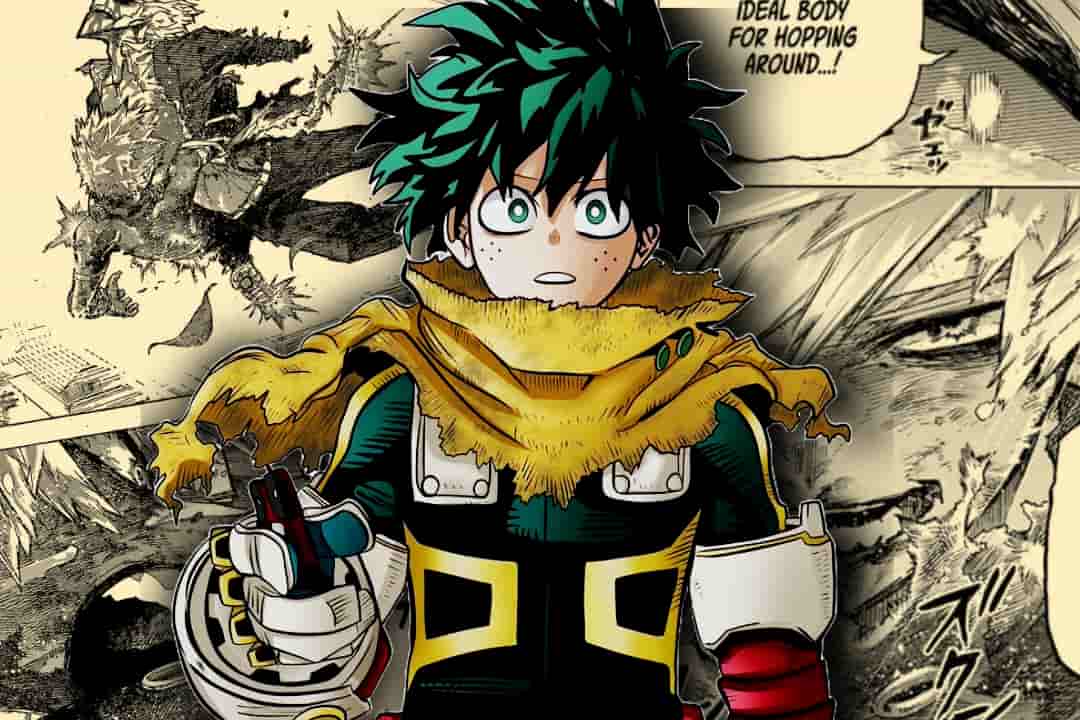 The events of the Final War Saga are reaching their culmination and fans are gearing up for exciting conflicts as the series surges forward to its conclusion.
Chapter 405 has already dropped the initiation of Bakugo vs All for One — a fight we have all been waiting for. Will Bakugo manage to take down All for One, once and for all ?!
If you find this interesting checkout the similary breath taking Jujutsu Kaisen 242 Release Date.
My Hero Academia Chapter 405 Recap:
In the previous chapter, we see All Might in a hallucinatory conversation with Nighteye where it's confirmed that All Might has managed to successfully evade his own death. Thus, All Might, being his true self, kept the promise that he had made to Deku. However after a tumultuous struggle, he has finally taken fate into his own hands and made it his slave.
The shining star of the previous chapter, however, is none other than Katsuki Bakugo. He manages to rescue All Might from All for One in a stunning manner, protecting him, much to the delight of the fans. Initially, he doesn't even register that he is fighting the violent All for One as he is too focused on saving All Might.
Thanks to Edgeshot, who uses his Foldabody Quirk to fix Bakugo's broken bones and corners, essentially at the expense of his own life. However, Bakugo's dedicated practice of his Quirk which he has carefully honed all these years finally brings him back to life. Not only does Bakugo make a powerful comeback, but his powers also manage to resuscitate Edgeshot.
Bakugo goes all out on All for One, causing a massive explosion. This initiation of the battle between him and the greatest villain of the story creates insane anticipation for the upcoming chapter. Fans are holding their breath to see the outcome of All for One.
My Hero Academia Chapter 406 Predictions:
Bakugo's Shining Moment?
Chapter 406 will heavily focus on the battle between Bakugo and All for One. Fans might witness Bakugo unleash his wrath at All for One — the villain might witness his plans slowly crumbling into dust, one after the other.
Is this the end of All for One?
Although All for One possesses the Rewind Quirk which has kept him alive for this long, it might act as an impediment to this battle. Right now, he has reached almost the age of Bakugo due to the amount of damage his body has sustained until now.
His powers, though have helped him to be alive all this while, might backfire: Using Rewind so frequently will actually reduce him to a toddler, making it harder for him to actually exhibit his strengths.
Bakugo's attack in the previous chapter will require him to activate his Quirk. Along with that, the student hero is reaching his full potential due to his recovery in the previous chapter. He has managed to achieve greater things in Chapter 405 — Bakugo has always been one of the strongest characters so his innate strength along with the power of the gauntlet will let him rise to his full glory.
This will lead to an intense fight between the characters.
Fans believe that though tremendously difficult, the fight will be won by Bakugo and we will finally reach the end of All for One. To not miss out on the similary hyped action packed manga Boruto Two Blue Vortex Chapter 4.
Bakugo: The Current MVP
Bakugo has reached his final potential as the manga is almost at the threshold of conclusion. His task, right now, is to end All for One as Deku battles Shigaraki. With Bakugo being out of the manga for almost a year, fans believe that it is his moment to shine given the incredible comeback of the previous chapter. The stakes are high and all eyes are on Bakugo.
There is also a possibility of a flashback that showcases the relationship between All for One and One for All's Second User. Interestingly, Bakugo seems to have some connections with the Second User.
My Hero Academia Chapter 406 Release Date and Time:
Chapter 406 will be released on 12th November, 2023 at 12 AM JST (Japanese Standard Time). My Hero Academia is available to read via Viz Media. The series can also be read officially and for free on the Shonen Jump and the Manga Plus app.
The raw scans and fan translations are be available on Reddit forums and Twitter from 9th November, 2023.
My Hero Academia Official Worldwide Time Zones:
Indian Standard Time (IST): at 08:30 PM
Pacific Standard Time (PST): 07.00 AM
Central European Time (CEST): at 05:00 PM
New York: at 11:00 AM
China Standard Time (CST): 10:00 AM
Pacific Time (PST): at 08:00 AM
Eastern European Time (EEST): at 06:00 PM
Philippines Standard Time (PHT): at 11:00 PM
Singapore Standard Time (SST): at 11:00 PM
Korean Standard Time (KST): 12:00 PM
While waiting for the release of the chapter check out other My Hero Academia articles on Orianime.