New PV for 'Sound! Euphonium 3' Unveils a Mysterious New Transfer Student
From the outside, 'Sound! Euphonium' may look like any typical music anime, but it is much more than that. The anime touches on many sensitive topics, such as loss, anxiety, depression, and the daily struggles of pursuing your dreams.
With the series' eye candy and stunning animation, it is really hard to take your eyes off it, and it just keeps drawing you in as you keep relating to Kumiko. It's no wonder the series is getting another season, and we are here to cover it all for you.
On Monday, Kyoto Animation unveiled a new teaser video and key visual for the Sound! Euphonium 3 anime. Both the teaser and visual highlight the new character, Mayu Kuroe. Also, the anime will premiere in April 2024.
In the new trailer we can see the new character Mayu Kuroea, a third-year transfer student and euphonium player, whose distinct personality and skill will become the crux of the third season's plot.
The trailer features a solo euphonium rendition of Glenn Miller's swing classic "Moonlight Serenade."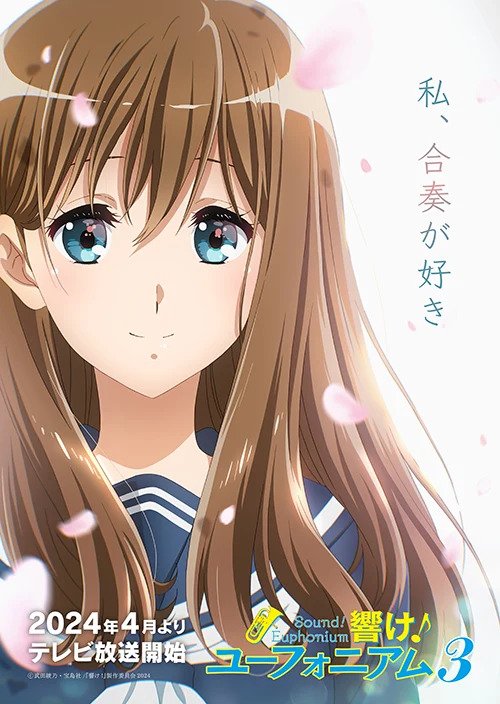 The new visual also features the new character, Mayu Kuroea, and the visual tagline translates to 'I Like Ensemble Playing.'
As for the staff and cast, no information was revealed, but we can expect the main team from the previous seasons to return once again for season 3 of the series.
The third season will focus on Kumiko's third and final year of high school and, therefore, is confirmed to adapt at least one of the two 'Sound! Euphonium: The Kitauji Concert Band's Decisive Final Movement' novels.
READ:
"March Comes in Like a Lion" Manga to Conclude with Volume 18
Season 3 of 'Sound! Euphonium' may be the end of Kumiko's journey as she finally conquers her demons and blossoms into a wonderful person and musician. I hope the staff of the series makes this season memorable.
About Sound! Euphonium
Sound! Euphonium is a novel series by Ayano Takeda. It was later adapted into a manga and an anime series. It has also received 4 anime films.
The story focuses on the Concert Band Club of Kitauji High School. The club was facing a downfall, however, after a new adviser was appointed, their status slowly improved.
Kumiko, a first-year student in high school, is the main protagonist. The story progresses as the members sometimes have troubles but then go on to win several tournaments.
Sometimes we include links to online retail stores and/or online campaigns. If you click on one and make a purchase we may receive a small commission. For more information, go here.