New Superhero Anime 'SHY' Trailer Reveals October Premiere Date & More.
We have been conditioned to think of superheroes as gregarious, outgoing, and confident people. But what if there is one superhero who is actually quite introverted? You guys are going to be blown away when you meet Teru "Shy" Momijiyama from the eponymous manga series.
'SHY' is centered on Teru "Shy" Momijiyama, a Japanese teen who represents Japan in the world of heroes. Shy joins forces with her fellow heroes to put an end to the threat posed by the mysterious Amalareiks.
The official website for TV Tokyo's anime adaptation of Bukimi Miki's 'SHY' manga announced on Thursday that the anime will premiere in October. A new key visual, main promotional video, opening theme song artist, additional cast members, and staff were also unveiled on the website.
The new trailer for the upcoming show provides an overview of the main character's journey and the danger she faced on the way to overcoming her shyness. And to kick things off, here's MindaRyn with "Shiny Girl."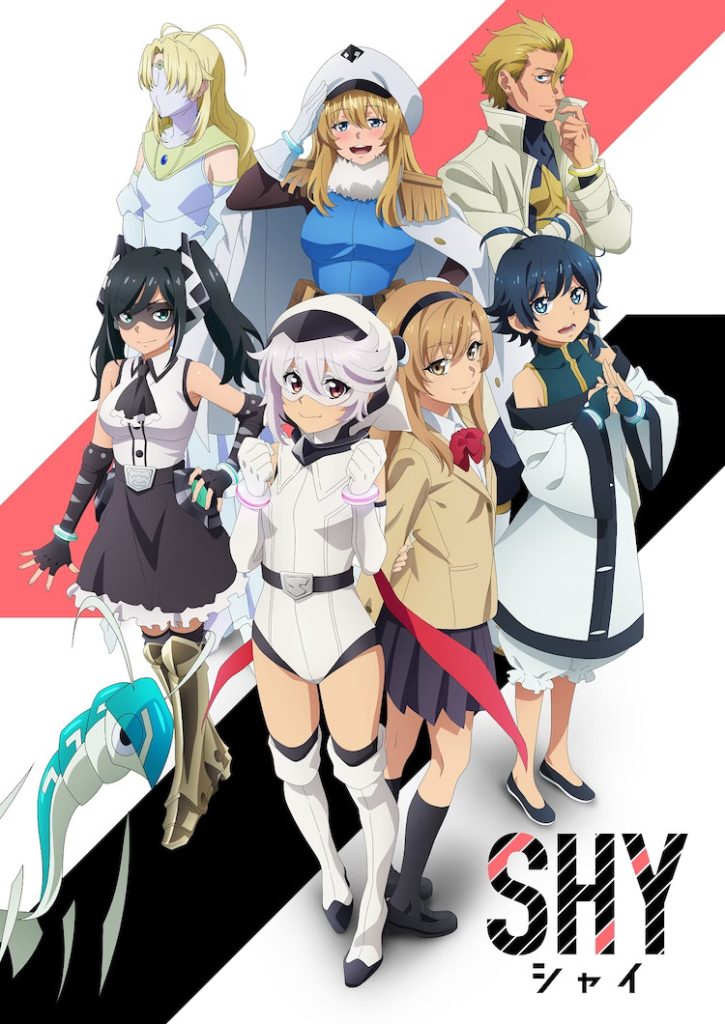 The new key visual depicts the characters who will center the story and who will aid Shy in combating enemies she cannot defeat on her own. The following new cast members appeared in the PV:
| | | |
| --- | --- | --- |
| Character | Cast | Other Works |
| Iko Koishikawa | Nao Tōyama | High Elf Archer (Goblin Slayer) |
| Ebio (Shrimpy) | Tomokazu Sugita | Akuru Akutsu (Aho-Girl) |
| Spirit | Mamiko Noto | Mavis Vermilion (Fairy Tail Zero) |
| Stardust | Shinichiro Miki | Kisuke Urahara (Bleach) |
| Lady Black | Sayumi Suzushiro | Boy B (One Punch Man) |
| Mian Long | Ayumu Murase | Young Aki Hayakawa (Chainsaw Man) |
| Unilord | Kikuko Inoue | Miria (Claymore) |
The following individuals will be joining the team:
| | | |
| --- | --- | --- |
| Position | Staff | Other Works |
| Character Designers | Risa Takai | Re:ZERO -Starting Life in Another World- |
| Chief Animation Directors | Akihiro Sueda | 86 |
| Action Director | Tetsurō Moronuki | Little Witch Academia |
| CG Director | Fūma Aizawa | Slime Diaries |
| Art Director | Kazuto Shimoyama | Noblesse |
| Color Design | Maki Saitou | Black Butler |
| Director of Photography | Masashi Uoyama | Absolute Duo |
| Editing | Megumi Uchida | Kubo Won't Let Me Be Invisible |
| Sound Director | Takatoshi Hamano | Platinum End |
I think it would be interesting to see a more personal side of a superhero on screen, so I'm keeping my fingers crossed that the upcoming anime 'SHY' will be well received.
SHY: Story!
Bukimi Miki writes and draws the manga SHY, which features a cast of superheroes. Since August 2019, the series has been serialized in Weekly Shnen Champion, a magazine published by Akita Shoten.
This is a world where superheroes exist, and their 'Heart Power' grows stronger the more determined they are. Teru Momijiyama, aka SHY, is an awkward and reticent superhero with fire abilities. To combat the evil organization Amalareiks, a team of superheroes from each nation has been assembled. Teru, as a member of the team, must overcome her timidity in order to save the world.