New Trailer for 'Ōyukiumi no Kaina' Film Previews Opening Theme Song
The Winter 2023 season ended long ago, and so did most of the anime for this season, one of them being Kaina of the Great Snow Sea. This was a new series that came from the collaboration between Tsutomu Nihei and Polygon Pictures.
To make the premiere of the anime even more grand, the staff of the anime revealed a sequel movie for the anime titled 'Kaina of the Great Snow Sea: Star Sage.' Furthermore, to fuel the hype even more, the official website for the anime has released new information.
On Friday, the official website for Kaina of the Great Snow Sea (Ōyukiumi no Kaina), the television anime unveiled a new trailer and visual for the Kaina of the Great Snow Sea: Star Sage (Ōyukiumi no Kaina: Hoshi no Kenja), film sequel. The film will open in Japan on October 13.
The new trailer showcases the continuation of Kaina and Liliha's adventure and also some glimpses of the great action that fans can expect. The trailer also reveals and previews the film's theme song, "Gekkōyoku" (Bathing in Moonlight), by Yorushika.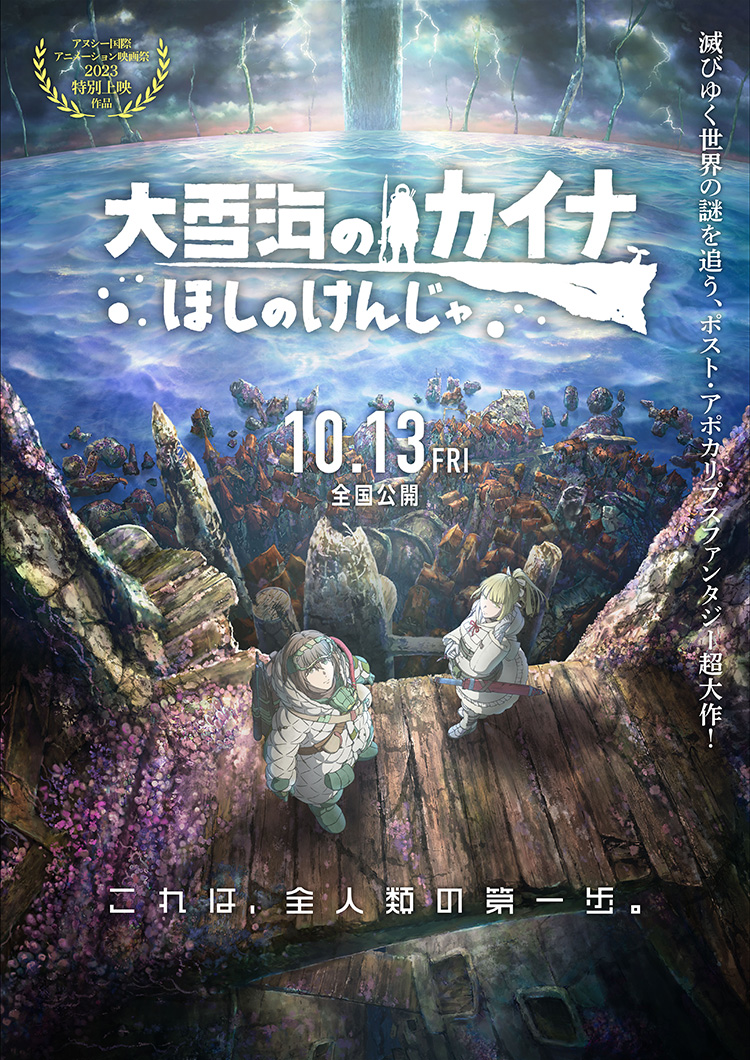 In the new visual, we can see the whole world getting engulfed in snow and Kaina and Liliha standing beside each other on the tallest building. As for the main cast of the series, it is as follows:
| | | |
| --- | --- | --- |
| Character | Cast | Other Works |
| Kaina | Yoshimasa Hosoya | Reiner Braun (Attack on Titan) |
| Liliha | Rie Takahashi | Megumin (KonoSuba) |
| Yaona | Ayumu Murase | Shoyo Hinata (Haikyu!!) |
| Amerote | Maaya Sakamoto | Merlin (Seven Deadly Sins) |
| Olinoga | Katsuyuki Konishi | Tengen Uzui (Demon Slayer: Kimetsu no Yaiba) |
| Ngaboji | Tomokazu Sugita | Gintoki Sakata (Gintama) |
| Handagil | Nobuyuki Hiyama | Yoshiteru Zaimokuza (My Teen Romantic Comedy SNAFU) |
| Halesola | Kenyu Horiuchi | Gotoh, Ikalgo, Koala (Hunter × Hunter) |
Natsuki Hanae plays Byōzan, a new character in the film who aims to destroy the Orbital Spire Trees. Furthermore, the main staff that will be working behind the scenes includes:
| | | |
| --- | --- | --- |
| Position | Staff | Other Works |
| Director | Hiroaki Ando | Listeners |
| Scripts Writer | Sadayuki Murai &  Tetsuya Yamada | Juni Taisen: Zodiac War |
| Character Designer | Ryouhei Fukushi & Kyoko Kotani | Knights of Sidonia: Love Woven in the Stars & Mobile Suit Gundam: The Witch of Mercury |
| Studio | Polygon Pictures | Eternal Boys |
READ:
New Promotional Video of "Frieren" Features Theme Song by YOASOBI
October is just weeks away, and if you have been sleeping on this absolute banger of an anime. Then it's high time you catch up with the series to claim your first-day, first-show ticket for the movie.
About Ōyukiumi no Kaina
Ōyukiumi no Kaina is a "girl-meets-boy high fantasy" series by Tsutomu Nihei and Polygon Pictures. Itoe Takemoto A manga by Itoe Takemoto has been serialized in Kodansha's Monthly Shonen Sirius since February 2022.

The story follows Kaina and Liliha, who live in a world covered by the Great Snow Sea. People live on giant trees that have sprung from the land, and Kaina lives there as well. Liliha is a princess of a small country in the Great Snow Sea.
Their encounter and future adventures will lead to a huge change in their world.
Sometimes we include links to online retail stores and/or online campaigns. If you click on one and make a purchase we may receive a small commission. For more information, go here.