New Visual Confirms Rent-A-Girlfriend Season 3's July Premiere
One of the most anticipated anime series sequels of the year is the third season of Rent-a-Girlfriend, the continuation of the charming rom-com harem series. As the continuation of the animated television version of author and illustrator Reiji Miyajima's original manga of the same name, the series has gained a small but committed fandom through the years.
Both the debut date of July 7 and the "Sumi Sakurasawa date" visual for the third season of Reiji Miyajima's Rent-A-Girlfriend (Kanojo, Okarishimasu) anime were revealed on Saturday. Helca was also revealed to play the series' opening theme.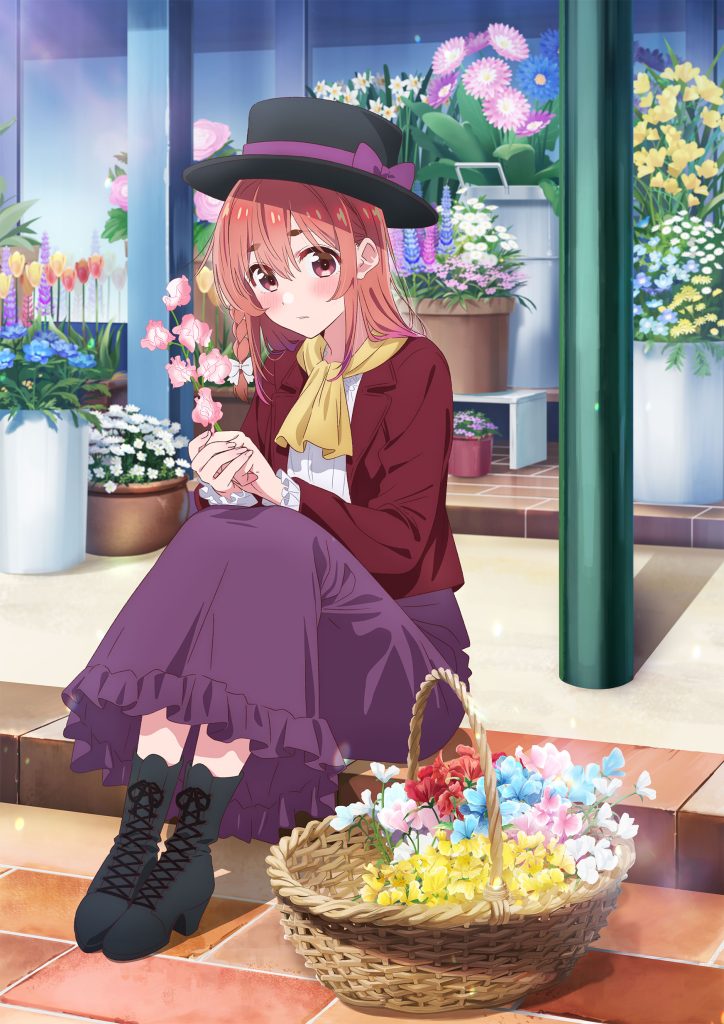 The third season of the Rent-a-Girlfriend TV anime will have completely new character visuals for each of the four original characters, with Sumi being the last to receive one. The image revealed depicts Sumi seated amongst a bouquet of flowers.
Members of the following casts will be returning for the third season:
| | | |
| --- | --- | --- |
| Character | Voice Actor | Other Works |
| Kazuya Kinoshita | Shun Horie | Kanpei Kuroda (Aoashi) |
| Chizuru Mizuhara | Sora Amamiya | Akame (Akame ga KILL!) |
| Sumi Sakurasawa | Rie Takahashi | Shino Kiryu (Girlfriend,Girlfriend) |
| Mami Nanami | Aoi Yūki | Tsuyu Asui (My Hero Academia) |
| Ruka Sarashina | Nao Tōyama | High Elf Archer (Goblin Slayer) |
Meanwhile, the majority of the personnel from the show's first season is coming back for the second, with the exception of Kazuomi Koga, who is stepping down as director in favor of Shin'ya Une (Rent-A-Girlfriend episode director) at TMS Entertainment (in partnership with Studio Comet).
Everyone can find something they like in Rent-A-Girlfriend. Rent-A-Girlfriend has both a romantic plot and an extensive harem. The show's memorable and likeable cast makes for a great time at the movies.
Rent-A-Girlfriend
Kanojo, Okarishimasu, or simply Rent-A-Girlfriend, is a title in a Japanese manga series created by Reiji Miyajima. Since its July 2017 debut, it has been serialized in Kodansha's Weekly Shnen Magazine, and as of February 2023, it has been collected into 30 volumes.
Since June 21, 2020, a spinoff manga titled "Rent-a-(Really Shy!)-Girlfriend" has been serialized, focusing on the character of Sumi. TMS Entertainment adapted the show into an anime series that debuted in July 2020 on Adult Swim's Animeism block.
Kazuya Kinoshita's girlfriend Mami Nanami breaks up with him after they've been together for a month.Then he uses a dating service to rent a stunning young woman named Chizuru Mizuhara.
As their lives get more intricate and intertwined, the plot progresses. Later, additional girlfriend-industry women begin showing interest in and dating Kazuya.