Overtake! The First Animated F4 Grand Prix Race Will Air in 10/2023
The excitement and character development in racing anime are well-known. There's a lot going on 'in' the race and 'behind' the race that keeps you interested. Anime about auto racing, such as Initial D and Capeta, is particularly well-liked.
Overtake! is an original anime series in development, and it will feature F4 auto racing as well. The first announcement was made back in January, and we now have some further information to provide.
On Wednesday, Kadokawa and TROYCA introduced new members of the team and debuted a promotional video and image. The release date for Overtake! is set for October of this year.
The majority of the film depicts a race, with Ky Madoka scouting the area and Haruka Asahina getting ready beforehand. We also observe Tokumaru and Komaki, two new individuals who appear to be having an argument.
You may find the primary voice actors in this cast list:
| | | |
| --- | --- | --- |
| Character | Voice Artist | Other Works |
| Haruka Asahina | Anan Furuya | Teru Nagato (Futsal Boys!!!!!) |
| Kōya Madoka | Katsuyuki Konishi | Tengen Uzui (Demon Slayer: Kimetsu no Yaiba) |
| Kotarō Komaki | Tasuku Hatanaka | Hakkai Shiba (Tokyo Revengers) |
| Satsuki Harunaga | Kengo Kawanishi | Gen Asagiri (Dr. Stone) |
| Toshiki Tokumaru | Taku Yashiro | Ichirō Kuga (A Galaxy Next Door) |
| Arisu Mitsugawa | Reina Ueda | Ruri (Dr. Stone) |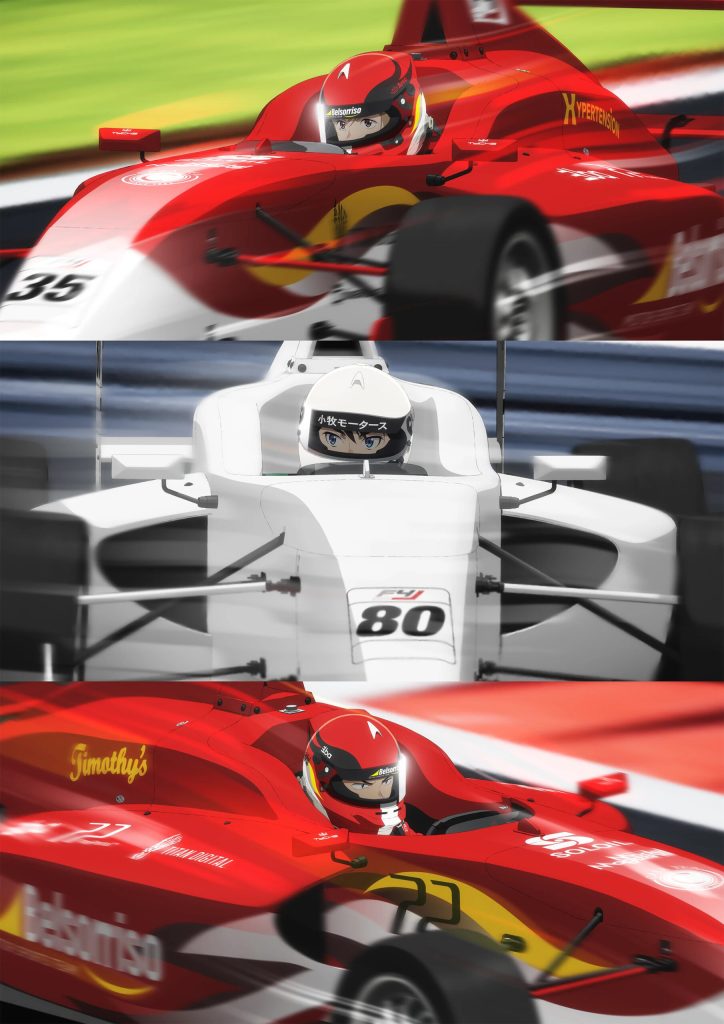 Kana Utatane, one of the newly announced employees, will be in charge of musical composition, with help from F.M.F. and Lantis. Here are some of the key people behind the scenes of the Overtake! anime:
| | | |
| --- | --- | --- |
| Staff | Member Name | Other Works |
| Director | Ei Aoki | Fate/Zero |
| Scriptwriter | Ayumi Sekine | IDOLiSH7 |
| Character Design | Masako Matsumoto, Takako Shimura | Aldnoah.Zero, Battery the Animation |
| Project Supervisor | Katsuhiko Takayama | Two Car |
| Animation Production | Troyca | Shinobi no Ittoki |
| Music | Kana Utatane | The Legendary Hero is Dead! |
There were echoes of Capeta in the racing scene, albeit with better animation. I'm curious to see what twists and turns this unique anime takes because of the rarity of its premise.
Overtake!
The planned original animation Overtake! is based on the Formula 4 or F4 motorsport and is being produced by Kadokawa and Troyca.
Haruka Asahina, a shy high school student and F4 driver for Komaki Motors, is the protagonist. He doesn't like to accept assistance, so he supplements his income by working as a newspaper deliveryman.
Koya Madoka, a once-famous photojournalist who fell into a slump for a definite reason, is a freelance photographer that Haruka meets one day. Until he met Haruka, Koya had trouble finding motivation to strive toward Haruka's goal of building a podium.