Part 2 of "Bleach TYBW" to Conclude with a 1-Hour Special
Very few instances exist when you see a classic anime getting a sequel after a decade or more with an upgrade. And we were fortunate enough to receive the Thousand Year Blood War arc. The anime is top-notch, and fans are pleased with all the elements.
It is better than the original manga due to the added detail. As we already know, the anime will be aired in 4 parts. The second part started in June and will soon end next month. Here are all the details you need to know about the future of part 2.
Bleach: Thousand-Year Blood War Part 2: The Separation will end on September 30 with a one-hour special. The special will consist of episodes 25 and 26. The staff also debuted the anime's sixth key visual.
The sixth key visual depicts the Shinigami members Ichigo Kurosaki, Rukia Kuchiki, Renji Abarai, and Byakuya Kuchiki. In addition, the visual combines the 5th and 6th visuals to form a complete illustration. This collage is reminiscent of the final battle between Shinigami and the Knights of the Sternritter.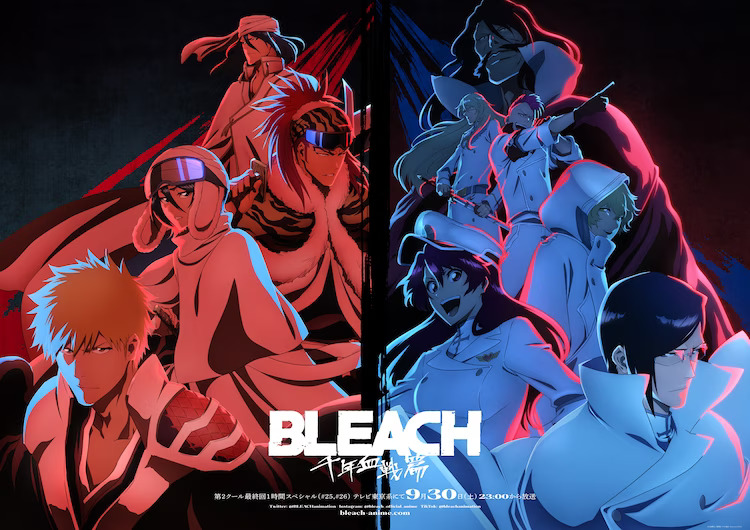 In addition, it has been decided that "The Blood Warfare, Separation[INTERLUDE]," which features a summary of the first half of the "Bleach Thousand Year Blood War" arc, will air on September 2nd.
The anime is doing incredibly well primarily due to its lavish animation and the involvement of Kubo in every element. If you were a previous fan of Bleach but never really got to catch up with the TYBW arc, you should add this to your wishlist. It is worth the hype.
About Bleach: Thousand-Year Blood War
Bleach: Thousand-Year Blood War is the final arc of the Bleach franchise. It premiered on October 11, 2022, and its 52 episodes are streamed by Hulu.
The arc deals with Yhwach, the leader of the Quincies, who has declared war on the Soul Society. Ichigo and the Soul Reapers will face this despicable enemy.
Hollows and Soul Society residents are disappearing, and Ichigo needs to defeat Yhwach before he lays waste to the entire universe.
Source: Official Twitter Account
Sometimes we include links to online retail stores and/or online campaigns. If you click on one and make a purchase we may receive a small commission. For more information, go here.