'Sand Land' Theme Song Features in New 90-Second Trailer
In "Sand Land", we see how a community overcomes the challenges of aridity and water scarcity to rebuild a sustainable way of life. The king is solely interested in making money off of what's left. Because of this, one individual named Rao decides to oppose him by looking for an alternative water supply.
He makes an alliance with the demon prince Beelzebub and his sidekick Thief along the road. As they flee the king's army and other monsters, they are diverted from their objective.
TOHO unveiled a brand new 90-second trailer for the upcoming 'Sand Land' anime feature on Friday. The trailer also features the film's main theme, "Utopia" by imase. This song was written by imase for the first time ever for a film. The release date for "Sand Land" is set for August 18.
The video is less fast-paced and features more material from the film. Along with the King, Satan (Beelzebub's father), and Papa (Leader of the Swimmers) and his sons Pike, Shark, and Guppy, we are introduced to new characters.
imase said that it was a dream come true to provide vocals for Akira Toriyama's productions because he had watched 'Dragon Ball' since he was a child. As a bonus fact, the up-and-coming artist revealed that he was born a week after the 'Sand Land' compilation album was released. Both he and Beelzebub are 22, so he jokes that he is classmates.
The following members of the main cast have been announced by the anime's creators:
| | | |
| --- | --- | --- |
| Character | Voice Artist | Other Works |
| Beelzebub | Mutsumi Tamura | Alice (The Ancient Magus' Bride) |
| Sheriff Rao | Kazuhiro Yamaji | Henry Henderson (Spy×Family) |
| Thief | Chō | Brook (One Piece) |
| General Are | Satoshi Tsuruoka | Gennai Hoshimiya (Big Order) |
| General Zau | Nobuo Tobita | Ken Wakashimazu (Captain Tsubasa) |
| Satan | Akio Ōtsuka | Gouhin (BEASTARS) |
| King | Chafurin | Kuraudo Ōishi (When They Cry – Higurashi) |
| Papa | Tomokazu Sugita | Gintoki Sakata (Gintama) |
| Pike | Koji Yusa | Brain Unglaus (Overlord) |
| Shark | Hiroyuki Yoshino | Franky Franklin (Spy×Family) |
| Guppy | Masafumi Kobatake | Nozomi Takamiya (The First Slam Dunk) |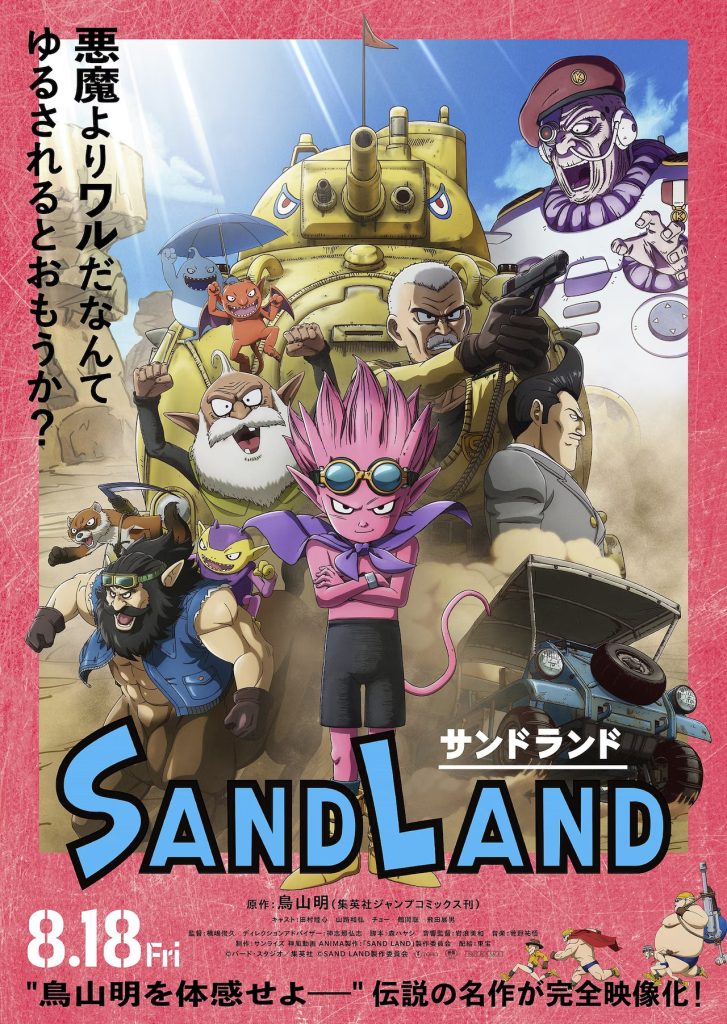 There is just one collected volume of this manga, and it consists of 14 chapters. Akira Toriyama created the story and illustrated it. Members of the following teams are contributing to the anime adaptation:
| | | |
| --- | --- | --- |
| Position | Staff | Other Works |
| Director | Toshihisa Yokoshima | Cocolors |
| Script | Hayashi Mori | Cells at Work! Code Black |
| Music | Yūgo Kanno | Psycho-Pass, Ajin |
| Animation Production | Sunrise | City Hunter, Cowboy Bebop |
| Animation Production | Kamikaze Douga | Cocolors, Batman Ninja |
| Animation Production | Anima | Tales of Luminaria the Fateful Crossroad |
The plot of "Sand Land" may seem elementary, but the rich cast of characters, beautiful art direction, and smooth animation make it an absolute joy to watch. There's a darker undercurrent than in 'Dragon Ball', which brings to mind Trigun. Being a short story, it appears to be valuable.
SAND LAND
Short manga series written and illustrated by Akira Toriyama. From May to August of 2000, it ran as a serial in Weekly Shōnen Jump, and in November of that year, Shueisha compiled all of the chapters into a single tankōbon volume.
The novel takes place in a dystopian future where only a barren wasteland and a selfish ruler are left, and neither can survive without the other. Beelzebub, the demon king's son, Thief, the demon king's assistant, and Sheriff Rao go out to locate a long-lost river in this tale. On their perilous voyage, the group faces numerous adversaries, including the avaricious king's soldiers.