Spy x Family Season 2 will Hit the Screens This October
Spy x Family is a must-watch anime, with a wholesome cocktail of espionage, comedy, and family life. The first season kicked off on April 9, 2022, followed by the second cour on October 1, 2022.
Spy x Family is back with a Second Season, which will hit the screens on October 7, as revealed by its official Twitter account. Two teasers have also been released on its official website. You can watch it on Crunchyroll once it's out.
TV anime "SPY×FAMILY"
Season 2 key visual released

The first broadcast will be from 23:00 on Saturday, October 7th.
Broadcast on TV Tokyo network and others! ️

Visual character design

Especially drawn by Kazuaki Shimada

From October, TV anime Season 2,
December is full of movies and excitement

SPY_FAMILY

Spy x Family

English Translation, Twitter Translate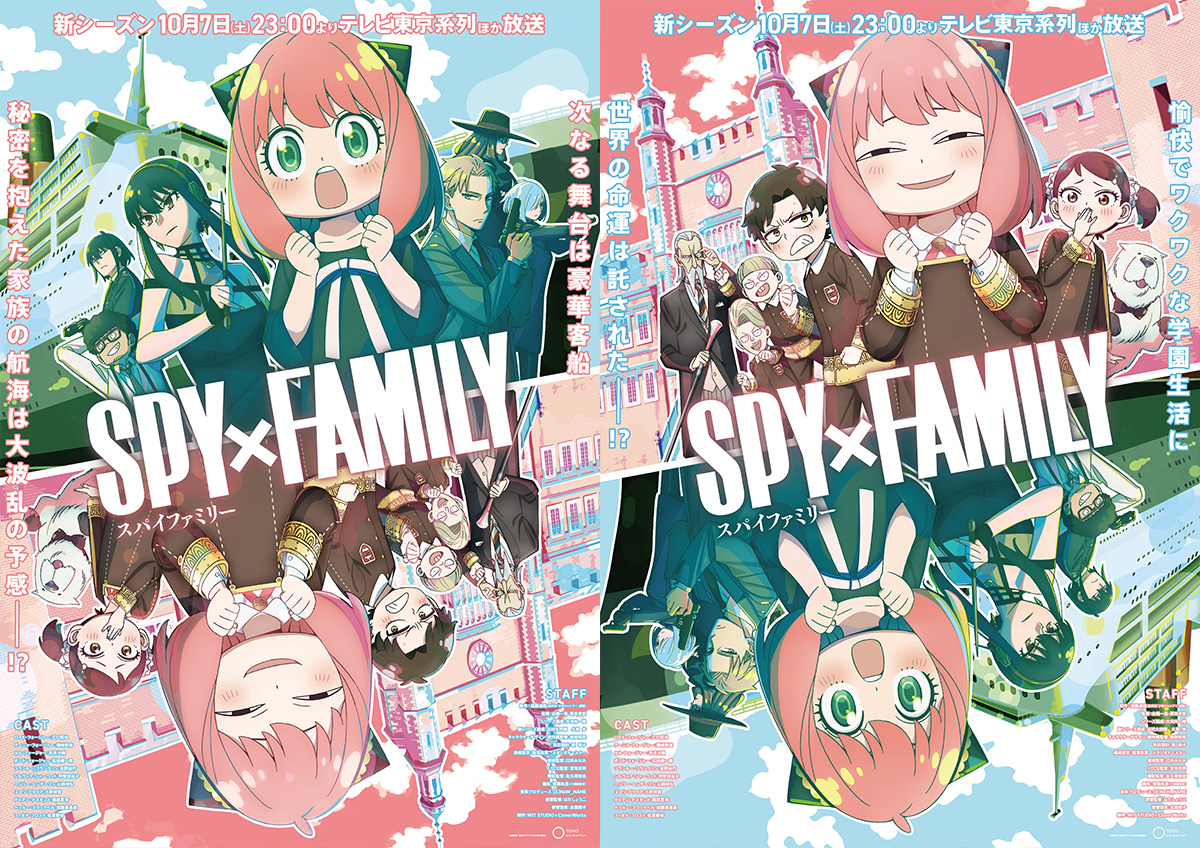 Spy x Family's Season 2 will initially premiere on TV Tokyo, TV Osaka, TV Aichi, TV Setouchi, TV Hokkaido, and TVQ Kyushu Broadcasting channels at 11:00 p.m. JST (or 10:00 a.m. EDT).
Season 2 would cover the Imperial Scholars Mixer arc, the Cruise Adventure arc, the WISE arc, the Friendship Schemes arc, and the Red Circus arc if it will run for 25 episodes like season 1 did.
If it consists of only one cour, we will get roughly 13 episodes, and it will cover the Imperial Scholars Mixer and the Cruise Adventure arc.
Previously, season 1 wrapped up around the Imperial Scholars Mixer arc but didn't complete it.
It's where Damian gets a chance to meet up with his father, Donovan, who is the epicenter of Loid's mission. Loid tries to get closer to Damian during the social gathering that occurs at Eden College every half term, which is exclusively for the Imperial Scholars and their parents.
However, Loid senses how distant the father and son are, and he observes them to help his plan succeed. So, he leaves and takes his new intel to HQ for analysis.
It's safe to say that season 2 will start off the Cruise Adventure arc, where the Forger family embarks on a luxurious ship vacation.
However, Yor has a distinct mission during this voyage: safeguarding a noble family on the ship from would-be assassins.
Yor must hide her true identity from her family and any other undercover agents aboard.
All while trying to neutralize any suspicious individuals to fulfill her mission.
Here's some quick information about the main staff.
| | | |
| --- | --- | --- |
| Position | Staff | Other Works |
| Director | Kazuhiro Furuhashi | Dororo |
| Assistant director | Takahiro Harada | Blue Exorcist |
| Character Design | Kazuaki Shimada | Gamers! |
| Script Writer | Daishiro Tanimura | Nobellese |
| Script Writer | Ayumu Hisao | Orange |
| Music Composers | [K]NoW_NAME | FLCL progressive |
| Sound Director | Shōji Hata | The Ancient Magus Bride |
In addition, its new film, SPY×FAMILY Code: White, will be released on December 22. Quite a lucky year for the Spy x Family fanatics.
"Theatrical version SPY×FAMILY CODE: White"

Chief animation director: #Kyoji Asano Newly drawn
Super teaser visual video released

"Theatrical version SPY×FAMILY" is
It will be released on Friday, December 22nd

Unique to the movie version
Look forward to the sense of scale

SPY_FAMILY

spyfamily

Theatrical version SPY_FAMILY

English Translation, Twitter Translate
READ:
'Spy x Family Code: White' Film Confirmed with Action Glazed Promo
About Spy × Family
Spy × Family is a Japanese manga series written and illustrated by Tatsuya Endo in Shueisha's Weekly Shonen Jump.
The story follows a spy who has to "build a family" to execute a mission, not realizing that the girl he adopts as a daughter and the woman he agrees to be in a fake marriage with are a mind reader and an assassin respectively.
Season 2 and a theatrical film are releasing in 2023.
Sources: Official Website, Twitter
Sometimes we include links to online retail stores and/or online campaigns. If you click on one and make a purchase we may receive a small commission. For more information, go here.