The anime teaser for [email protected] Million Live! TV reveals that it will premiere in August.
A teaser promotional video for the series was released on January 14 on the [email protected] Million Live! Franchise's official website. The teaser revealed that all of the episodes would start playing in Japanese theaters on August 18 before the anime's television debut in October.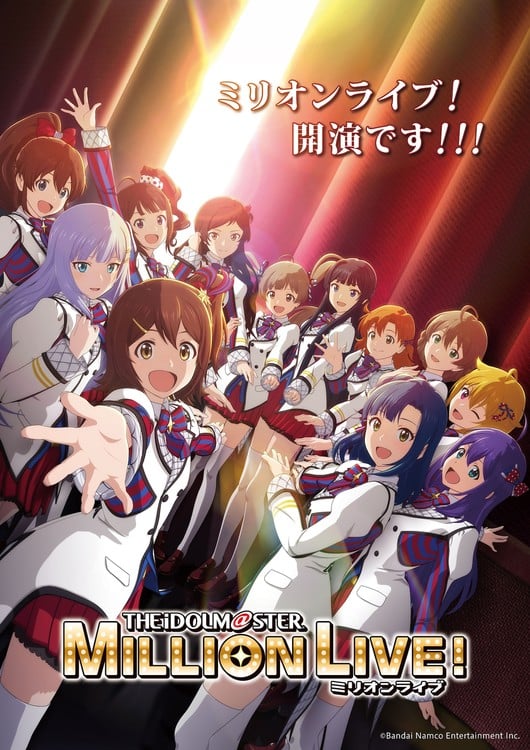 Additional crew members were also made known by the website and teaser.
Three three-week screening runs of the anime series will be presented in theaters. The theatrical release will be divided into three parts: the first portion will run from August 18 to September 7; the second part from September 8 to September 28; and the third and final section from September 29 to October 19.
Tetsuya Ishii and Kaori Tsuta are responsible for designing the animated characters, while Daisuke Shioya serves as the CG Director. For the concept art, Masato Hakuta and Ryuki Hida are responsible.
The color key painters are Hikaru Takigawa and Miyuki Satō, while the compositing director of photography is Kentar Ōnuki. The sound director will be Hiromi Kikuta.
The anime will trace the development of Mirai Kasuga and the other idols' theater from its early days.
At Shirogumi Inc., Yoichi Kato is in charge of supervising and penning the scripts for the anime, which is being directed by Shinya Watada.
The music is being made by Lantis.
The anime is being worked on by Bandai Namco Studio, and it is being planned and made by Bandai Namco Entertainment.
The [email protected]
Bandai Namco Entertainment's growing simulation and rhythm video game series served as the foundation for the Japanese media brand known as The Idolmaster.
The franchise has expanded to include a variety of social network games and sequels on several video game systems.
The series also features a range of different media, including radio programs, audio dramas, printed materials, and Korean dramas.
The career of a producer who collaborates with a bunch of would-be pop stars at the talent agency 765 Production is the series' primary focus.
Read more: [email protected]