What is the story of the MILGЯAM anime? Is it worth watching?
The realm of anime is expanding and opening doors to more possibilities and experiments with themes, animation, etc. One such product of this liberty is the MILGЯAM anime.
Imagine taking part as an ordinary viewer and changing the storyline; you get to vote for the prisoners.
That is exactly what MILGЯAM offers: an immersive experience for all you anime fanatics and thriller lovers. Truly worth your time.
You have the opportunity to judge the prisoners for their crimes, determining their guilt or innocence by uncovering the mysteries shrouding crimes, as revealed through hints dropped in the songs.
You can actually vote through the official website or the MILGRAM Portal app following the release of the prisoners' songs. How cool is that?
What is the story of the MILGЯAM anime?
MILGЯAM anime is a one-of-a-kind thriller and psychological interactive anime, delving into human nature with a comprehensive plot and stunning visuals.
It's an interactive music project by OTOIRO and co-produced by DECO*27 and Takuya Yamanaka, released in 2020.
The story is set in an enigmatic prison named MILGЯAM, where the protagonist, Es, wakes up afflicted with amnesia.
A talking rabbit named Jackalope tells Es that he is a prison guard now, responsible for 10 prisoners in the facility.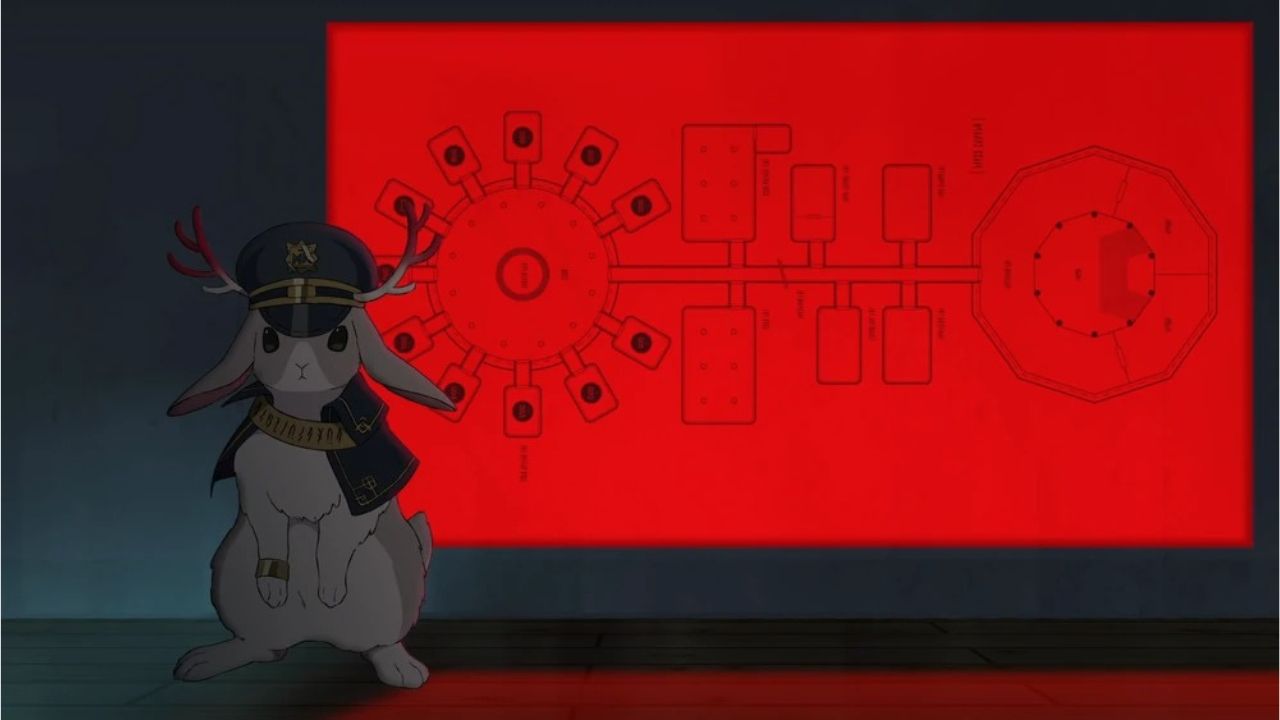 Es must delve into the psyches of these 10 inmates, with their fates resting on his palms and your votes. Deeming them to be either guilty (not forgiven) or innocent (forgiven).
Little do you know that all of the 10 inmates are murderers; it's up to you to decide where to blur the line between good and evil, right and wrong. Quite a mind-boggling puzzle, if I do say so myself.
Now, you might wonder how you would deem someone forgiven or not forgiven if they are all criminals?
Here's where it gets more interesting: MILGЯAM has a three-trial system where Es peeks into each prisoner's mind and creates 3 different MVs dropping hints regarding their crimes.
Here's where your part comes in: You get to vote on them depending on your verdict, which changes the subsequent trial.
In addition, all these MV's are bangers with distinct genres that everyone can enjoy.
Where to cast your vote?
You can cast your vote or deem them as forgiven or not forgiven through
Milgram's official website
Or by downloading the App through these:
Where to MILGЯAM anime?
You can watch MILGЯAM anime on their official channel on YouTube, unlike regular anime, which you have to watch on streaming websites.
This easy accessibility attracts an enormous audience along with its captivating and innovative plot.
Is MILGЯAM anime worth watching?
MILGЯAM anime is definitely worth watching if you are an anime fanatic ready to experiment with this new and innovative style.
Its stunning visuals and psychological questions are bound to keep thriller enthusiasts hooked.
In addition, it is easily accessible right on YouTube, along with its MV's and bop songs, which are going to get you bobbing your head.
About MILGЯAM
MILGЯAM is a psychological thriller Anime; the plot centers on Es, a prison guard Afflicted with amnesia. He meets Jackalope, a mysterious rabbit, who explains that Es's job is watching over ten Milgram Prison prisoners.
Es must uncover their crimes and reasons, declaring them guilty (not forgiven) or innocent (forgiven) by delving into their psyche. Based on that, MV's are created, revealing more about the inmate's crimes.
You get to participate by voting according to your verdict on the official MILGЯAM website or app, which changes the storyline.
Sometimes we include links to online retail stores and/or online campaigns. If you click on one and make a purchase we may receive a small commission. For more information, go here.