A Complete Guide to All Episodes of Tokyo Revengers
Any fan of otaku culture would do well to throw Tokyo Revengers by Ken Wakui a curveball. While time-jump anime are typically more complicated, this series will keep you guessing until you can't.
It's true that joining a gang in middle school isn't for everyone, but these youngsters are much more formidable than they appear. Undoubtedly, the most popular male character, Draken, must not be forgotten. Tokyo Revengers has a sincere but befuddled main character amidst a backdrop of wacky haircuts, gang rivalry, and time travel.
Season 1 of Tokyo Revengers consisted of 24 episodes, and production on season 2 is now underway. There are supposedly 13 episodes in Season 2 (Christmas Showdown). Only two seasons exist, therefore it makes sense to watch them in the sequence they were released.
1. Releasing Order
Tokyo Revengers Ss 1 (24 eps)
Tokyo Revengers Ss 2 (13 eps)
2. Order by Chronology
All the episodes have been arranged in chronological order, so you can follow the story and never lose sight of what's going on.
Ep 16
Ep 1
Ep 2
Ep 3
Ep 7
Ep 8
Ep 9
Ep 10
Ep 11
Ep 14
Ep 15
Ep 17
Ep 19
Ep 20
Ep 21
Ep 22
Ep 23
Ep 26
Ep 4
Ep 5
Ep 6
Ep 12
Ep 13
Ep 18
Ep 24
Ep 25
3. Where Can I Stream Tokyo Revengers with English Dub and Subtitles?
Stream Episodes 1–13 of Tokyo Revengers on Crunchyroll, Hulu, and Disney+. All you have to do is look for the first 24 episodes, and you can watch them on any platform with or without the English dub. Disney and Kodansha have teamed up to make Season 2 available exclusively on Disney+.
4. Is Tokyo Revengers available for offline viewing?
We have a compiled list of the many sites that provide download choices for their various bundles:
| | | |
| --- | --- | --- |
| Sites | Subscription Deals | Offline  |
| Crunchyroll | Fan: $7.99/month | No |
| Crunchyroll | Mega Fan: $9.99/month | Yes |
| Crunchyroll | Ultimate Fan: $14.99/month | Yes |
| Hulu | Ad-Supported $7.99/month or $79.99/year | Yes |
| Hulu | No Ads $14.99/month | Yes |
| Disney+ | Basic $7.99/month | Yes |
| Disney+ | Premium $10.99/month or $109.99/year | Yes |
5. If Tokyo Revengers isn't available where you are, what options do you have?
There are several countries that cannot watch certain anime because of geographical restrictions. A virtual private network (VPN) will allow you to watch the anime even if it is blocked in your country's region.
There is no shortage of premium VPN offerings, but you can also find plenty of free alternatives. VPNs are available as free browser add-ons in the browser's extension store.
There are a number of virtual private networks (VPNs) available in the app store that can be used to unblock content when streaming on mobile devices.
Tokyo Revengers may be accessed from anywhere with a VPN, as it can be found in the Crunchyroll, Hulu, and Disney libraries.
6. How long will Tokyo Revengers take to watch?
The first season of Tokyo Revengers can be seen in 552 minutes. Season 2 will take an additional 299 minutes to watch. The duration of Tokyo Revengers on a continuous viewing basis is 14 hours and 11 minutes.
7. Is there any filler in Tokyo Revenger?
The anime adaptation of Tokyo Revengers has thus far contained no unnecessary material and has remained faithful to the source manga. All episodes of the anime can be watched in order, and there are no special episodes that can be missed.
8. In-Depth Episode Guide
In the anime, there are a lot of jumps in time, so it's understandable if you feel lost trying to keep track of everything. I've compiled this comprehensive reference to all the episodes to assist you keep track of the timeline and the various time jumps.
Takemichi, a depressed person, finds out that his ex-girlfriend was murdered. It was precipitated by a feud inside the Tokyo Manji organization. Later, someone throws him into the tracks, where he is run over and murdered.
He is shocked to find himself in middle school in 2005. Once he tells Naoto, Hinata's brother, about the accident in the future, he is instantly sent back to the future, where he is currently in the hospital. Naoto, now an adult, says he used the info he had given him in the past to save his friend Takemichi, but his sister was beyond help.
Takemichi receives all of Naoto's knowledge on Tokyo Manji and is given orders to stop the summit between gang leaders Manjiro Sano and Kiseki Tetta. The simple act of shaking Naoto's hand transports Takemichi back to his younger self's body in the past.
Takemichi comes to in the midst of a brawl, where Masataka and his crew had already begun beating him. As a result, Takemichi finally stands up to the slave fights when he refuses to see his comrade get beaten up on a daily basis.
Ep 3: Resolve (chapter 3,4,5)
Masataka accepts the challenge and brutally beats Takemichi, but the smaller man does not back down. At last, the leader of the Tokyo Manji, Manjiro Sano, shows in, takes credit for having befriended Takemichi, and proceeds to beat up Masataka.
Hinata strikes Manjiro because she thinks he's harassing Takemichi when he attempts to push him to hang out later. Takemichi learns later that Manjiro's ultimate purpose is to usher in a brand new age for criminals.
Ep 4: Return (chapter 6,7,8)
After spending some time with Hinata, Takemichi inadvertently grabs Naoto's hand and is brought back to the present. He explains to Naoto that Mikey couldn't have changed into such a bad person. So, they make the decision to follow Mikey in real time.
Since Mikey is missing, they end up recruiting Atsushi, a Kisaki Tetta and Toman soldier. Mikey, he says, has changed since Draken's death, and that restoring Draken is the only way to restore Mikey's previous self.
Atsushi deduces correctly that Takemichi can visit the past, but then he commits suicide by jumping over the building's roof. At a later time, it is revealed that Kiseki Tetta was listening in on the talk.
Ep 5: Releap (chapter 9-12)
According to what Naoto tells Takemichi, Draken was killed because he was in a feud with the Mikey and Toman faction after Toman allegedly spat in Mikey's face. Takemichi doubts that the pair would ever fight and hopes he can change the past to avoid it.
By traveling back in time, Takemichi encounters Emma, a young woman with ties to the notorious Toman gang. When Mikey rallies the Tomans to take on the Moebius gang, he is welcomed to join them.
Ep 6: Regret (chapter 13, 14 and Chapter Extra: Zero)
Takemichi now sees that Draken is a good role model for Mikey. In the present day, Takemichi and Naoto learn that Moebius has a leaser who reveals that the fighting between the gangs was staged and has caused an internal dispute in Toman.
Takemichi tries to stop Mikey and Toman from fighting in the past, but they ignore him.
Ep 7: Revive (chapter 15-17)
War with the Moebius gang breaks out, and Toman quickly obtains the upper hand. The Moebius chief, Osanai, is stabbed by Pah-chin, who is then taken into police custody.
Upon regaining consciousness in the hospital, he learns through Emma that Mikey and Draken are at odds about whether or not to save Pah-chin. Dr. Takemichi receives visits from both Mikey and Draken.
Ep 8: Rechange (chapter 18-21)
During their time together at the hospital, the two buddies reconnect. Draken's life is in jeopardy, as Takemichi finds out through Yamagishi later. As a result of his past shame, Kiyomasa has decided to take the drastic measure of killing Draken.
Ep 9: Revolt (chapter 21-23)
Takemichi arrives in the parking area where Draken is supposed to die, but instead finds him battling Moebius. Soon, the remainder of Toman arrive to tackle the problem. Peh-yan, a vice-captain in the Toman army, joined up with the enemies in retaliation for Pah-incarceration. chin's
The next scene shows Kiyomasa holding a knife to Draken's throat as he lies bleeding on the ground.
Ep 10: Rerise (chapter 24-27)
As Takemichi tries to defend Draken, he gets stabbed. As for Moebius, the rest of Toman manage to win.
Ep 11: Respect (chapter 27-30)
As a result of his surgery, Draken lives, and Takemichi earns immortality in Toman. After that, he pays Hinata a visit and exchanges handshakes with Naoto. Back in the present, he receives a call from Naoto, who informs him that Hinata is still alive.
Ep 12: Revenge (chapter 31-33)
Takemichi sees Hinata again and finds out the sad news about their breakup. Finally, he abandons her in the automobile, but Akkun rams his van into the vehicle, killing them both. Takemichi makes the choice to go back in time and assume the role of Toman's commander in order to save Hinata.
Ep 13: Odds and Ends (chapter 34-36)
When Naoto and Takemichi discover that Akkun's wife and children have vanished, they conclude that he was blackmailed into killing Hinata. Draken, awaiting execution for murder, laments his missed opportunity to end Kisaki Tetta's life. Back in the past, Mikey drops in on a meeting of the Toman.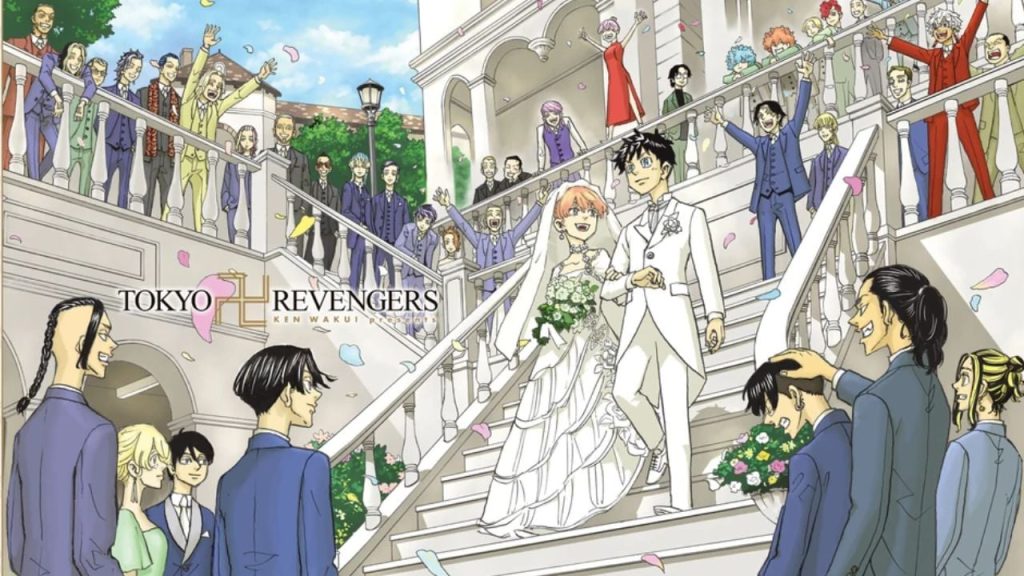 Ep 14: Break Up (chapter 37-39)
Kisaki, a former member of Moebius, has been named the third division's new captain. Takemichi attempts an assault on Tetta but is soundly defeated by Baji. At some point soon, Baji will be leaving Toman for Valhalla.
If Baji doesn't go, as Mikey has promised, then Tetta will be kicked out. Takemichi discovers a photo of the first six Toman founders and learns that Mikey was wrong when he said there were only five.
Ep 15: No Pain, No Gain (chapter 40-42)
Kazutora, a member of Valhalla, invites Takemichi to their hideout so that he can watch Baji undergo initiation. Baji has vowed to kill Mikey and is hence not going back to Toman.
Ep 16: Once Upon a Time (chapter 43-45)
Five people named Mikey, Draken, Mitsuya, Pah-chin, Baji, and Kazutora created the company Toman. Kazutora and Baji try to surprise Mikey with a bike for his birthday, but they find out too late that the bike store is owned by Mikey's older brother. Kazutora murders him with a bludgeon and is then arrested alongside Baji. Kazutora seems to think that Mikey bears responsibility for everything that has happened.
Ep 17: No Way (chapter 45-48)
The following day, Osaai admits that Tetta was behind Moebius and Toman's fight. Takemichi goes back in time to find out if Tetta really is Valhalla's hidden ruler. Draken has admitted that Mikey is the real leader.
Ep 18: Open Fire (chapters 48-51)
Toman seems destined to lose his battle with Valhalla in the past and be assimilated into the later group. Even though Mikey and Tetta were technically the leaders, the gang eventually turned criminal.
So, Takemichi goes back to talk to Toman, declaring that the gang's main goal is to get Baji back.
Ep 19: Turn Around (chapters 52-55)
A fight breaks out between Toman and Valhalla, and Kazutora slams Mikey to the ground and begins beating him with a metal pipe. Mikey eventually gets away from them all.
Ep 20: Dead or Alive (chapters 56-58)
Kisaki jumps in to help after Mikey collapses, but this was all part of a master plan, as Takemichi is well aware. Kazutora stabs Baji, who later dies from his injuries.
Ep 21: One and Only (chapters 59-62)
Mikey brutally attacks Kazutora with his fists. Baji tells Takemichi and Chifuyu that he just turned on Toman to get information about Tetta before he dies.
Ep 22: One for All (chapters 63-67)
When the Black Dragons threatened Kazutora, Baji made Toman to defend him, as Mikey recalled. Baji has handed himself over to the authorities.
Ep 23: End of War (chapters 64-68)
All of the people find out that Emma, Mikey, and Shinichiro are half-brothers. Later on, Takemichi goes to a Toman gathering where Mikey makes a big announcement.
Ep 24: A Cry Baby (chapters 69-73)
Mikey declares that Toman and Valhalla will be joining forces. Takemichi is promoted to first-division captain and Kisaki is hailed as a hero. When Takemichi comes back to the present, he learns that he has risen to the ranks.
Tetta is in command now that Mikey and Mitsuya are disappeared and Draken has been executed. After praising Takemichi as a "hero," Kisaki shoots Baji and raises his gun to fire at Takemichi.
Ep 25: It is what it is (chapters 74-77)
Kazutora arrives just in time to stop Tetta from pulling the trigger. Kazutora is dismayed by Toman's shift to evil. The previous night's deaths of Pah-chin and Peh-yan indicate that Mikey is actively trying to get rid of all the olf Toman members.
As Takemichi observes himself on film, he comes to terms with the fact that he, too, has undergone a transformation since Toman's corruption.
Ep 26: Gotta Go (chapters 78-80)
Takemichi travels back in time once more and encounters Toman's Second Division Vice-Captain Hakkai Shiba. He may be a criminal now, but he used to be a kind guy. Taiju Shiba, his older sibling, heads up the Black Dragons.
Upon arriving at their Hakkai home, Takemichi is met by Kaiju and given a beating.
9. Wrapping Up
Tokyo Revengers is a (perhaps ironically) simple show that can be watched by anyone who follows the release order. Due to the disjointed nature of the timeline, it will be impossible to follow the story.
10. Tokyo Revenger
Author Ken Wakui created the manga Tokyo Revengers. It premiered on March 1, 2017, in Kodansha's Weekly Shnen Magazine, and ran through November 20, 2022. Approximately 30 tankobon volumes have been produced.
The protagonist, Takemichi Hanagaki, finds out that his one and only middle school ex-girlfriend was murdered by the Tokyo Manji Gang. They shoved Takemichi off the train station after they heard about what had happened.
When he hit the ground and closed his eyes, he was prepared to die; nevertheless, when he opened them, he found himself 12 years in the past.