A Haunting in Venice: Who killed Alicia and why? The Ending Explained
Like a typical murder mystery, the ending of A Haunting in Venice reveals the identity and motives of the murderer.
The film is directed by Kenneth Branagh, who also stars as Hercule Poirot for the third time, after The Murder in the Orient Express and Death on the Nile.
In the end of A Haunting in Venice, Hercule Poirot exposes Rowena Drake as the culprit behind all three deaths. Poirot, who attended the séance to expose Joyce Reynolds as a fraud, figures that Rowena had been secretly administering her daughter Alicia with honey that contained rhododendron pollen, a hallucinogenic substance.
Rowena's housekeeper Olga Seminoff, unaware of the honey's effects, gave Alicia a lethal dose that stopped her heart. Rowena discovered Alicia's body and threw it into the river to stage a suicide and avoid suspicion. She also framed the incident as a supernatural revenge by "the children's vendetta". Rowena was also responsible for killing Joyce and blackmailing Dr. Leslie Ferrier, who took his own life to protect his son Leonard.
After Poirot unravels the mystery, Rowena tries to flee, but appears to be pushed over the balcony by Alicia's ghost. Poirot leaves the house, clearing Vitale and Ariadne of any wrongdoing. He also decides to resume his detective career, accepting a new case.
1. The Motives of Rowena Drake Explained
Rowena was a possessive and manipulative mother who feared losing her daughter Alicia to her fiancé Maxime. She started to poison Alicia with honey laced with rhododendron pollen, a hallucinogenic substance, to prevent her from reuniting with Maxime and leaving her. This resulted in Alicia's death, which Rowena disguised as a suicide by throwing her body into the river.
A year later, Rowena planned to hold a séance conducted by Joyce Reynolds, a fake medium, to eliminate her and Leslie Ferrier, Alicia's doctor, whom she suspected of extorting money from her and knowing the truth about Alicia's murder. She also wanted to frame their deaths as a supernatural vengeance by "the children's vendetta", a group of ghostly children who haunted the house.
Rowena had nothing to lose, as the house was dilapidated and reputedly haunted, and no one would buy it. Rowena's scheme was foiled by the presence of Hercule Poirot at the séance, who was invited by Joyce to expose her fraud. Rowena tried to impair Poirot's judgment by poisoning his tea with the same honey she used on Alicia, but he managed to overcome its effects and solve the mystery.
2. What did Ariadne and Vitale want?
Ariadne Oliver was a novelist and an old friend of Poirot, but she conspired with his bodyguard, Vitale Portfoglio, to exploit his involvement in the séance. Ariadne, who had suffered three consecutive failures in her writing career, saw an opportunity to profit from Poirot's reputation as a detective. She was a mystery writer who wanted to use the séance as the basis of her next novel, and she thought that featuring Poirot in her story would guarantee its success. She also assumed that Poirot was too unsociable and arrogant to care about her deception.
Vitale was the only person Poirot trusted when he and Ariadne made their deal. However, Vitale had a different motive for collaborating with Ariadne. He wanted to find closure regarding Alicia Drake's death, which was the case that prompted him to retire from the police force. He hoped that attending the séance would reveal the identity of Alicia's killer, as he was haunted by the unsolved case.
3. Were Poirot's hallucinations real?
A Haunting in Venice explores the theme of the supernatural, and suggests that spirits haunt Rowena's house. Poirot is a skeptic who dismisses the existence of ghosts, but he experiences hallucinations after Rowena spikes his tea with honey that contains rhododendron pollen, a hallucinogenic substance.
He sees a little girl hiding in the house, and hears a child's voice singing a song that no one else can hear. The film does not provide a definitive explanation for these phenomena, but leaves it to the audience's interpretation.
One possibility is that Poirot did encounter Alicia's ghost, not only because of the hallucinogen, but also because he had a near-death experience in the past. The honey may have simply activated his latent ability to perceive these things, regardless of his beliefs.
4. Was Joyce Reynolds a medium?
A Haunting in Venice leaves the question of Joyce Reynolds' being a medium ambiguous. Ariadne, Rowena, and Joyce's assistants, Desdemona and Nicholas, believe in her, even though the latter two assist her in staging some of her effects.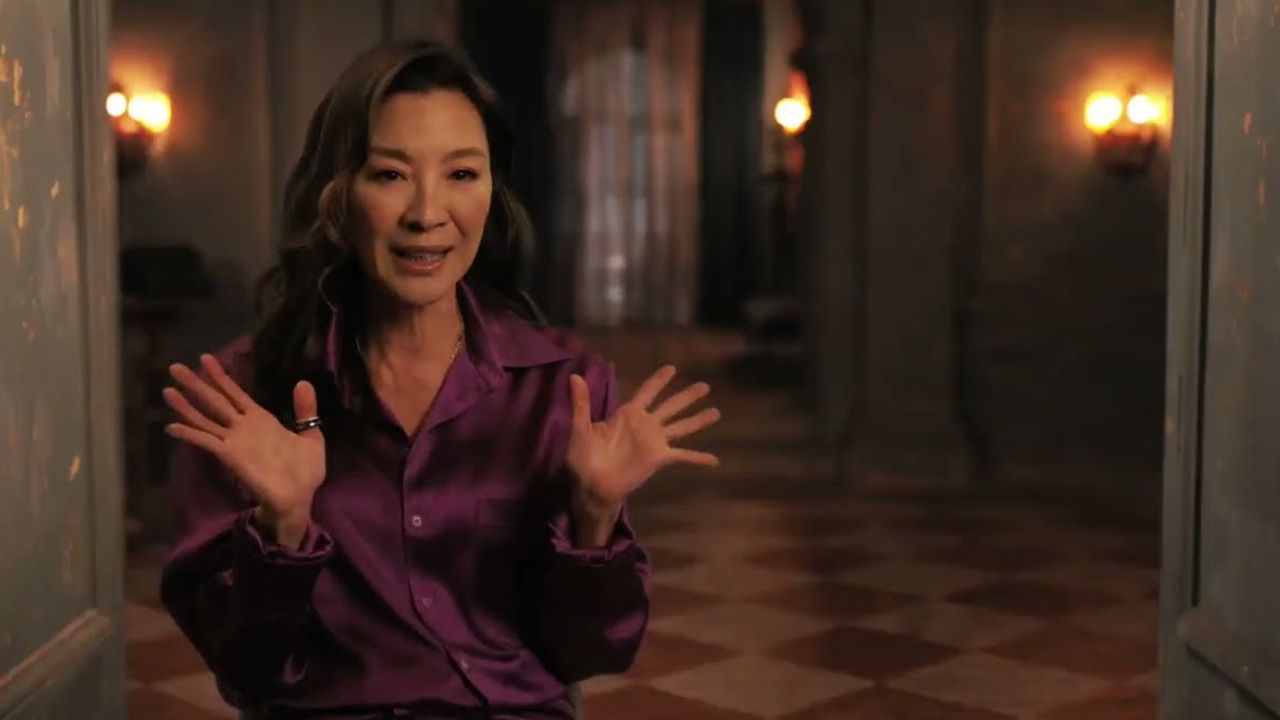 Hercule Poirot challenges her at every opportunity, but she maintains her confidence in her abilities, even though she admits to using some tricks to enhance her performance. Leonard, who seems to have a more intuitive connection with the spirits, doubts Reynolds' authenticity. Based on the evidence presented, it is possible that Reynolds had some degree of sensitivity to the dead, even if she could only sense them vaguely.
5. Did Alicia's ghost kill Rowena?
The film ends with a shocking scene of Hercule Poirot witnessing a spirit standing on the balcony ledge before Rowena falls to her death. A Haunting in Venice implies that Rowena's death was caused by her daughter pushing her over, mirroring what Rowena did to Alicia.
However, due to Poirot's hallucinations, it is unclear whether the audience is supposed to accept that Alicia's ghost was real or just a vision. On the other hand, the film also shows Alicia's spirit dragging her mother deeper into the river, where Poirot cannot see, seemingly confirming that the ghost did appear. This leaves room for interpretation, however, especially since Poirot is the only witness to Rowena's death.
6. Will there be another Poirot film?
The film ends with Hercule Poirot returning to his home after solving the case of Alicia's murder. He chooses to leave his door open, welcoming a man who has been seeking his help for his family's murder. This suggests that Poirot realized that retirement was not for him, and that the Reynolds/Alicia case rekindled his passion for detective work.
Poirot agrees to take the young man's case, having already done some research on it. Although a fourth Hercule Poirot film has not been confirmed, the film's producer has hinted at a sequel. A Haunting in Venice ends with the possibility of more murder mysteries for Poirot to solve.
7. About A Haunting in Venice
A Haunting in Venice is a 2023 American supernatural mystery film produced, directed by, and starring Kenneth Branagh (who reprises his role from the previous films) from a screenplay by Michael Green, based on the 1969 novel Hallowe'en Party by Agatha Christie. The film serves as the sequel to Death on the Nile (2022), and is the third film in which Branagh portrays the Belgian detective Hercule Poirot. The ensemble cast includes Kyle Allen, Camille Cottin, Jamie Dornan, Tina Fey, Jude Hill, Ali Khan, Emma Laird, Kelly Reilly, Riccardo Scamarcio, and Michelle Yeoh.
A Haunting in Venice was released in the United States on September 15, 2023 by 20th Century Studios and received positive reviews from critics, with praise towards the screenplay, Branagh's direction, the production value and the cast performance (particularly that of Yeoh, Fey, Reilly and Dornan), deeming it the best of the three Agatha Christie adaptations by Branagh.
Sometimes we include links to online retail stores and/or online campaigns. If you click on one and make a purchase we may receive a small commission. For more information, go here.