The three-on-one fight might felt brutal at first but in Jujutsu Kaisen Chapter 234 Gojo pulled off things even after being at a disadvantage and this even shocked Sukuna. Read more about it below.
In the last chapter, we saw that everyone was worried about Mahoraga but Yuji was still hopeful and said that it does not make Gojo any less than Mahoraga. He said that sensei could heal himself but Shoko said the speed of recovery is slow. The output of the technique is decreasing but the same thing goes for Sukuna.
The opponent here is the King of Curses and even Gojo was in doubt for a moment but he remembered the last time he felt like that and Toji's face popped up. Gojo then punched Mahoraga in the face and then used a Red attack on him. In the meanwhile, Sukuna came back to his senses and activated Megumi's Rabbit Escape technique. Gojo missed the attack but realized that Sukuna was only using Mahoraga for attacks.
Sukuna then attacked Gojo with something that looked like the Piercing Blood technique. The attack landed and left Gojo wounded. The fight turned into two vs. one but Gojo was sure that adapting to Red would take more time than Blue. That is when Sukuna surprised everyone with the new Shikigami 'Chimera Beast Agito'. The fight turned into three vs. one and Gojo was forced to use a new technique he called 'An unlimited hollow technique'.
Jujutsu Kaisen Chapter 234 Release Date
Jujutsu Kaisen 234 will be released officially this upcoming Sunday 3rd September 2023. If you also read other Weekly Shonen Jump mangas too, we cover their spoilers every week, check them out from our home page in case you read them.
Also Read
Jujutsu Kaisen Chapter 175 Spoilers, Raw Scans, Release Date
| | |
| --- | --- |
| Jujutsu Kaisen Chapter 234 Release Date | 3rd September 2023 |
| Jujutsu Kaisen Chapter 234 Raw Scans release | 30th August 2023 |
Jujutsu Kaisen Chapter 234 Raw Scans
Jujutsu Kaisen Chapter 234 Raw Scans has been released and the chapter shows that after turning the fight into a three vs. one Sukuna was relaxed a bit it did not last long.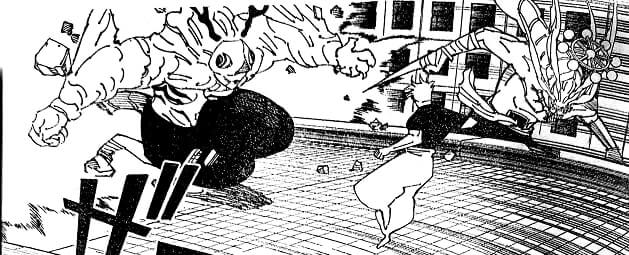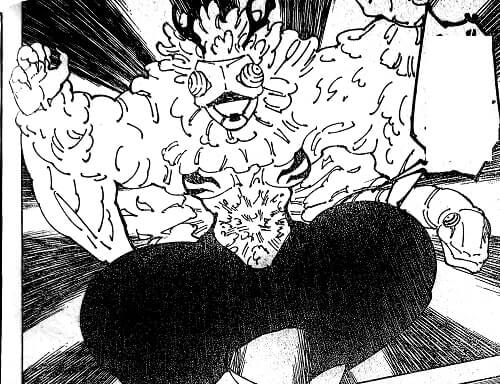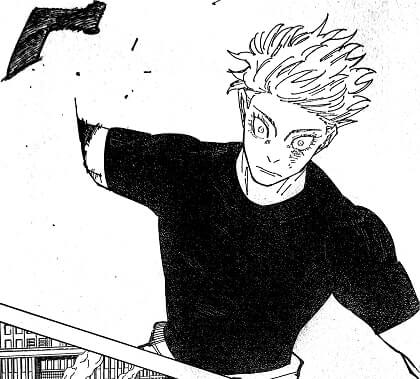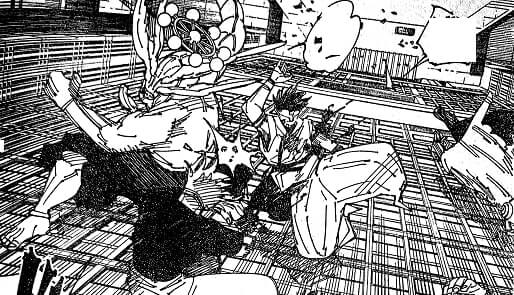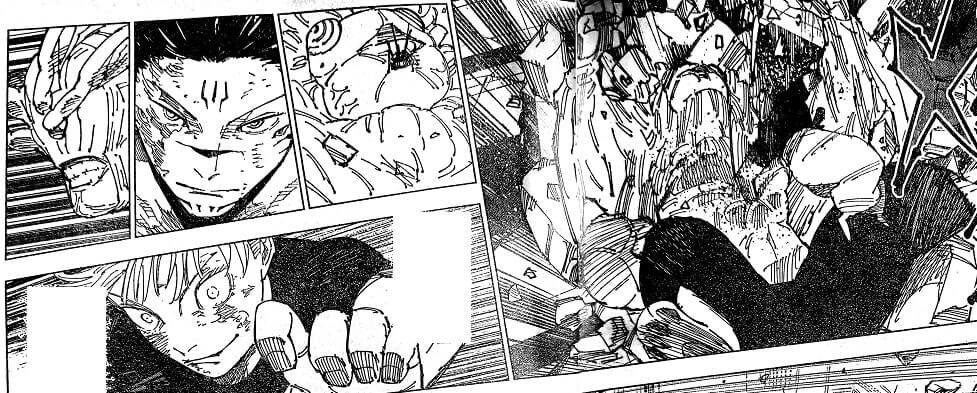 Jujutsu Kaisen Chapter 234 Spoilers
The chapter starts with Yuta saying that he will be joining Gojo.
Kashimo stops him and says that it is not him who has to go next.
Hakari asks him to calm down and tells him that Gojo asked them to join if he got weaker than them.
Yuta says that Sukuna can not use Domain Expansion so he can fight the Shikigami with the help of Rika.
Yuji supports Yuta and encourages him to go for it.
Kashimo then tells him that this is Gojo's fight and they should not interfere.
Hakari thinks that Sukuna is hiding something and saving it for later.
Back on the battlefield, Gojo attacks Mahoraga and Agito.
The attack on Agito was solid but it healed the next moment.
Gojo then destroys its tail but it heals it too.
Gojo now plans to destroy Agito in one shot like Mahoraga.
Agito is made up of 'Nue' that inherited powers of 'Great Serpent', 'Mourn Tiger', and 'Round Deer'.
Mahoraga throws some bricks at Gojo and gets kicked in the face.
Sukuna is working in the shadows and is working on a plan to stop Gojo from using Purple.
Gojo is thinking about destroying Agito so that he can not heal Sukuna.
The last time, Gojo used 120% Purple it took away Sukuna's hands but it was a long-range attack.
Sukuna is not in a good condition right now and even 100% Purple will be fatal for him.
Sukuna then provokes Mahorga and asks him to show what he got.
Mahoraga's wheel makes a spin and it cuts off Gojo's right hand.
Sukuna praises Mahoraga while the sorcerers are in panic mode.
Shoko screams this is not good as his healing is weak at the moment.
Sukuna without missing a second, kicks Gojo towards Agito who was waiting for an attack.
Agito punches Gojo on the head but Gojo summons a 'Blue' orb and tells him that it is not worthy of being here for some time.
Gojo then slams Agito into the ground with his left hand and thrashes him around with Blue: Maximum Output.
This attack crushes and destroys Agito.
The narrator says that 41 seconds have passed and Gojo's Purple has ripped the battlefield in Shinjuku.
Chapter ends.
Also Read
(Spoilers Released) Jujutsu Kaisen Chapter 138 Raw scans, Spoilers Release
Where to read Jujutsu Kaisen 234?
To read the latest Jujutsu Kaisen chapter you can visit two different websites but we recommend you use only official websites and legally support the artists. Jujutsu Kaisen Chapter 234 will be officially (and for free) available to read in English at MangaPlus and Shonen Jump section on the Viz Media official website.
You can also follow us on our social media handles Facebook and Twitter for more updates about Jujutsu Kaisen manga and other manga series.