Bandai Namco Drops New 'Gundam' Project Teaser and Additional Information
Miorine's role as an intermediary between the Spacian and Earthling cultures was resolved in this week's episode of "Mobile Suit Gundam: The Witch from Mercury." This year will also see the release of the ONA series 'Gundam Build Metaverse,' which will consist of three episodes and feature player-driven battles in avatar form.
While a Gundam SEED film is scheduled for release in 2024, an additional project was just unveiled at Anime Expo 2023.
'Mobile Suit Gundam: Requiem for Vengeance' got a teaser trailer and image release on Monday from Bandai Namco Filmworks. It provided additional information on the article and its releasing method. There will be six 30-minute episodes of "Requiem for Vengeance" on ONA.
Unreal Engine 5 is being used to create the animation, giving the teaser the look and feel of a video game cutscene. The trailer reveals that the plot takes place in the same universe as the original Gundam series, Universal Century 0079, which explains the random conflict scenes. The setting is Europe during the devastating One Year War.
The Zeon mobile suit Zaku II and the series' protagonist, Iria Sorari, make their debuts as well. Gundam, a Federation mobile suit, had its design unveiled as well.
Actress and motion-capture performer Celia Massingham (Ladies in Black, 'DC's Legends of Tomorrow) provides Iria Sorari's voice.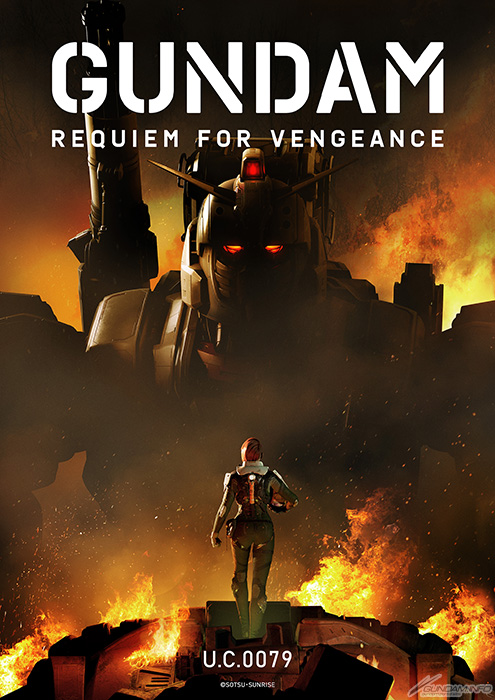 This statement was originally presented at the Anime Expo by director Erasmus Brosdau, who also mentioned that the story is portrayed from Zeon's perspective. The ONA project currently has the following employees working on it:
| | | |
| --- | --- | --- |
| Position | Staff | Other Works |
| Director | Erasmus Brosdau | – |
| Scriptwriter | Gavin Hignight | Tekken: Bloodline, Star Wars: Resistance |
| Character Design | Manuel Augusto Dischinger Moura | – |
| Mechanical Design Supervisor | Kimitoshi Yamane | Cowboy Bebop, The Vision of Escaflowne |
| Music | Wilbert Roget II | – |
| Animation Production | Sunrise | City Hunter, Inuyasha |
| Animation Production | Safe House | Saint Seiya: Knights of the Zodiac – Battle for Sanctuary – (Production Cooperation) |
The series has potential as an experimental medium, but its'realistic style' intentionally distances it from the 'anime' genre. The original Gundam series was well-received, thus exploring a new angle on that story would be exciting.
Gundam: Requiem for Vengeance
Directed by Erasmus Brosdau and written by Gavin Hignight, Gundam: Requiem for Vengeance is an Original Network Animation series. The Unreal Engine 5 is used for all of the animation.
The events of the series take place in the same universe as the original Gundam Series, namely U.C. 0079 on the European front during the One Year War. Iria Sorari's voice actor was Celia Massingham.
Read more: Mobile Suit Gundam: The Witch from Mercury