Ochako was gravely hurt when she was stabbed in the previous chapter. She still has hope that she can influence Toga for the better in My Hero Academia Chapter 393.
[Koby Kidnapped] One Piece Chapter …
Please enable JavaScript
[Koby Kidnapped] One Piece Chapter 1080 Spoilers, Raw Scans, Release Date
Tsuyu was hurt in the last episode, and as a result, she was unable to release herself from her bonds. Toga told Uraraka that she worries about other people because she had a sheltered upbringing. Toga's parents accused her in a flashback of murdering a bird and drinking its blood. Despite Toga's denials, she was transported to eccentric counseling, where she became even worse.
She was again accused of drinking blood by her parents after they saw her kissing a classmate's wound. They didn't think they'd given birth to a human being. Now that we're back in the present, we can see that this is exactly why she was hiding behind a guise.
Tsuyu argued with Twice clones and demanded that Toga listen to her once, saying that Ochako was disobeying her regulations. Ochako was then stabbed in the stomach by Toga, who insisted that they are very different from what Ochako had previously believed. Toga claimed that Ochako lacks the ability to experience delight on par with others while she was coughing up blood. At the chapter's close, we get a flashback to an earlier conversation between Twice and Toga in which the two of them discuss how Toga came to adopt the persona of a villain.
My Hero Academia 393 Publication Date
The release date for My Hero Academia Chapter 393 is set for Sunday, July 9, 2023.The chapter, along with other Weekly Shonen Jump titles, will be available in this week's edition. If you're interested in reading more WSJ manga, you can check out our homepage.
| | |
| --- | --- |
| My Hero Academia Chapter 393 Publication Date | 9th July 2023 |
| My Hero Academia Chapter 393 Raw Scans Public | 5th July 2023 |
My Hero Academia Chapter 393 Raw Scans
Ochako tries to persuade Toga that she is not a bad person in the newly-released Raw Scans for My Hero Academia Chapter 393.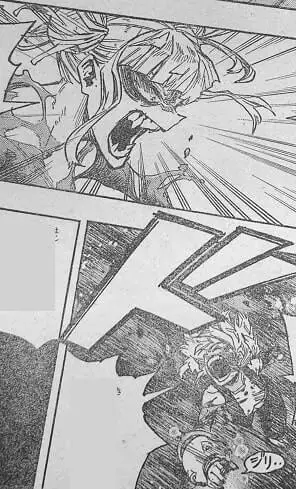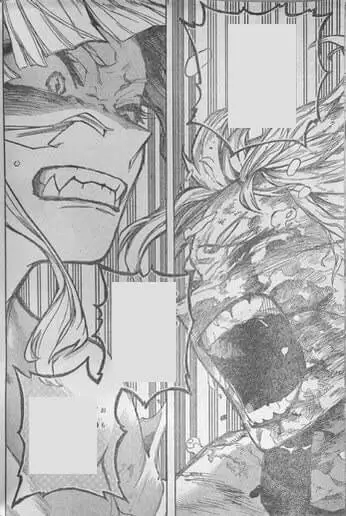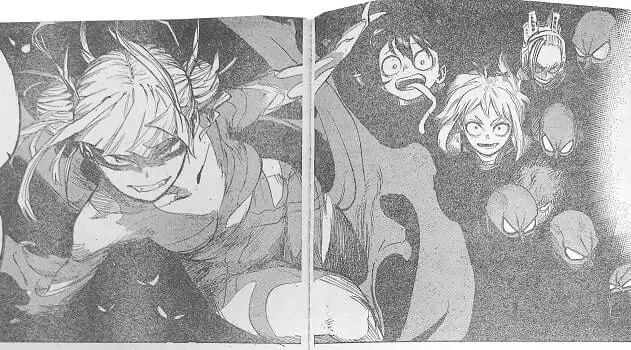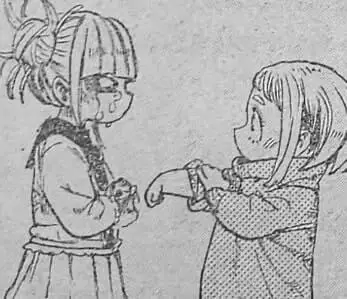 My Hero Academia Chapter 393 Spoilers
Title of Chapter: "A Woman's Pride"
The chapter opens with a recollection of the League's origins.
Spinner figures out that the only villains without names are Toga and Shigaraki.
The names "the vampire Carmilla" and "Pikachiu" are proposed by Spinner and Twice, respectively.
Dabi claims that each of these names is awful.
Compress continues by saying that Dabi is also subpar.
According to Shigaraki, back in the day, it was difficult to tell good guys from bad one.
According to one belief, you should ask your foe for a hero or villain name.
At some point after that, people began developing cover stories for themselves.
Shigaraki then claims that he is unnecessary.
Toga finds this explanation fascinating, and she explains that joining the League was her motivation for doing good work toward making the world a better place to live.
She insists on maintaining her identity as Himiko Toga.
Now that we're back in the present, Ochako has been stabbed, but she insists that she feels no sorrow for Toga.
By simply touching Toga, she triggers Zero Gravity.
Toga continues by noting that despite Uraraka's current pleasant demeanor, she will eventually confine her.
Then they'll execute her and treat her like Twice, who was executed.
Uraraka claims that Toga's line of reasoning is reasonable, but if things were different, he would be wrong.
Then, Toga employs a new tactic called "Dead Man's Legion," in which he assembles a legion of impostors.
The heroes are then ambushed by an army of clones.
The female reporter claims that the predictions of the Quirk Doomsday Theory are finally being realized.
Toga unleashes an army of clones on Ochako, but she is able to fight back.
Uraraka tells Toga that he can't go past her previous actions, but he realizes that many things must have shaped her into the person she is today.
Toga advises her to put an end to her Twice nostalgia by telling her to do what she wants to do in life.
Toga has a gorgeous smile, and Uraraka says it makes her wish her own smile was as nice.
Uraraka's fingers illuminate and lightning bolts shoot out of them as the two sob together.
These bolts then radiate around the battlefield, giving off an aura that lifts the clones into the air.
Ochako says the past is irrelevant and that she'd be willing to converse to Toga for the rest of her life if it meant giving up her blood.
Say it with me: "I want to talk about love with you, Himiko-chan!"
In the final panel of the chapter, we see Ochako and Toga as children, with Ochako reaching out a hand full of blood to Toga.
Ochako extends her hand for Toga, the baby, to take a sip of her blood and stop wailing.
Final words.
Where to read Boku no My Hero Academia Chapter 393?
There are formally sanctioned free access points for manga reading. You can check it out over at the Viz Media website or download the official Manga Plus app from Shueisha Japan.The most recent updates to your favorite manga can be found in these places. The full manga is available for a fee.
If further information about Boku no My Hero Academia Episode 393 becomes available, we will add it to this site as soon as possible. If you want more information about MHA 393 spoilers, you can also follow Orianime.
Read more: My Hero Academia