Yuno was struggling against Lucius for quite a time but that is over as Asta will be joining him in Black Clover Chapter 369 against Lucius who is blinded by the plan to create a perfect world, his own utopia. Well it does not mean that the battle will be over in an instant but it will be super serious and something definitely to look forward to but after the recent decision of changing the serialization we are going to wait for some more time to see the climax of the story.
In the previous chapter, we saw Morgen and Yami fight first and Morgen praised Yami for becoming stronger. He then said that he could not keep focusing on Yami so he was going to use the other magic that Lucius gave him. This second magic is the Dark Magic and now Morgen is using both Light and Dark magic at the same time.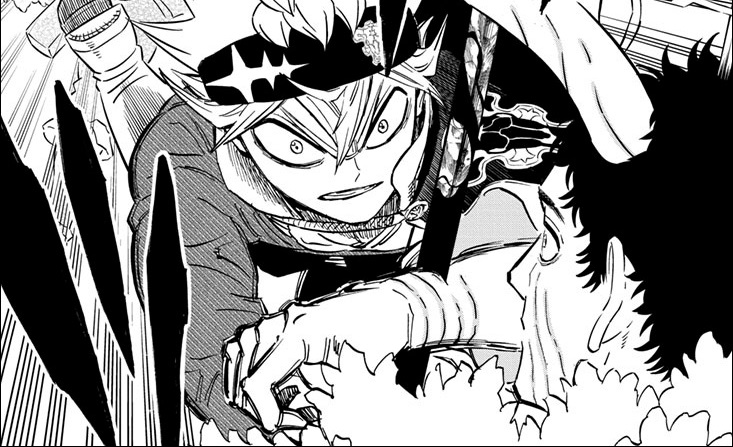 He then addressed Yami and said that he felt sorry for becoming the strongest magic knight alone. The focus then shifted to Lucius and Yuno's fight. Marx was amazed just by looking at this but was also worried about Yuno as he was at a disadvantage. Lucius says that he is about to end this miserable world and one voice interrupts him and says that it is not going to end yet.
Also Read
Black Clover Chapter 317 Raw Scans, Spoilers, Release Date
Asta makes an entry with the Black Bulls. On the other side, Ichika and Nacht joined Yami in his fight against Morgen. Asta then teased Yuno and asked if he was about to lose and Yuno replied that there was no chance. Then they shouted in unison "I will defeat Lucius and become the Wizard King!!". Lucius smiles at them. The final fight will continue in the next chapter.
Black Clover Chapter 369 Release Date
Black Clover manga made an announcement last week that it will shift its serialization to JUMP GIGA magazine so there are no fixed release dates for Black Clover 369. The Jump GIGA gets four issues per year but the actual release date is not yet decided. The decision was taken by Mangaka Yuki Tabata as he could not keep up with the weekly release schedule of Black Clover manga. We will update the release date as soon as we receive any new information about that.
Also Read
[Asta Wins?] Black Clover Chapter 328 Spoilers, Raw Scans, Release Date
| | |
| --- | --- |
| Black Clover Chapter 369 Release Date | Not updated yet |
| Black Clover Chapter 369 Raw Scans Release | Not updated yet |
Black Clover Chapter 369 Raw Scans
Black Clover Chapter 369 raw scans are a mystery for now as there are no release dates decided for the next Black Clover chapter as the manga recently made a big decision to move to Jump GIGA from their original Weekly Shonen Jump.
Black Clover Chapter 369 Spoilers
Black Clover Chapter 369 Spoilers have the same fate as the raw scans as we do not know when we are going to see Asta back as the manga's serialization just got changed. Well this decision will give the author some time to work on his creation and he can write a good ending for the series as we are already in the final phases of the Black Clover manga.
Where to read Black Clover 369?
You can read Black Clover Chapter 369 officially in two different ways. You can either read it on Viz media's official website which is an official partner with Shonen Jump for English subbing or you can read the latest chapter on the Manga Plus app and website.
Also Read
[On Break] Black Clover 359 Spoilers, Raw Scans, New Release date
These sources have some chapters listed as free for reading but for the entire manga, you have to buy a membership plan or subscription plan. You can also follow us on Facebook for more updates and details about Black Clover 369 Spoilers and more.