Dark Gathering's Opening Theme Song Is Featured in a New Trailer
With only a few weeks until its premiere, the horror series 'Dark Gathering' is ushering in Halloween early this year. Keitarou and Yayoi are at the center of the show's plot. Keitarou is stranded with Yayoi, a mystery girl who claims she was abducted by a ghost and is on the hunt for her mother.
Confidently juggling multiple genres with the help of a stellar cast, "Dark Gathering" is elevated by marvelously ghoulish visual direction and a wide variety of original and familiar villains. It's not surprising that anticipation for the show has increased.
On Friday, the third promotional video for Kenichi Kond's Dark Gathering television anime premiered on the show's official website. The opening theme music for Luz, "Kakuriyo" (Afterlife), is revealed and previewed in the video. The animation will also debut on HIDIVE exclusively on July 10.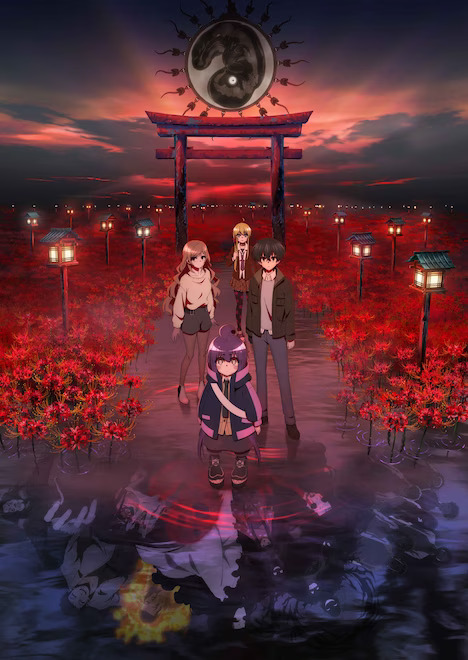 The four major characters are depicted in the most recent key visual, and if you look closely at the ocean, you can make see all the ghosts they will be fighting.
In terms of the series' revealed cast, they are:
| | | |
| --- | --- | --- |
| Characters | Cast | Other Works |
| Yayoi Hоzuki, | Yū Sasahara | Eternity Devil (Chainsaw Man) |
| Keitarou Gentоga | Nobunaga Shimazaki | Baki Hanma (Baki) |
| Keitarou Gentоga | Kana Hanazawa | Lucy (Bungo Stray Dogs) |
| Ai Kamiyo | Rina Kawaguchi | Reginleif (Record of Ragnarok) |
The following people will be at the forefront of making the future anime a smashing success:
| | | |
| --- | --- | --- |
| Position | Staff | Other Works |
| Director | Hiroshi Ikehata | FLCL Progressive |
| Scripts | Shigeru Murakoshi | Zombie Land Saga |
| Character Designer | Shinya Segawa | Pastel Memories |
| Art Director | Taijiro Nagata | The Faraway Paladin |
| Sound Director | Kohei Yoshida | Lycoris Recoil |
The show is just getting started, so it might take a turn in any number of directions. However, for fans of horror-themed shonen novels, this is a great starting point for the popular manga of the same name.
Dark Gathering
The anime adaptation of Dark Gathering, based on the manga by Kenichi Kondo, is scheduled to premiere in 2023. The 2019 edition is the first print run.
Keitaro, the manga's main character, has a knack for luring ghosts wherever he goes. His environment is plagued by tragedy, and he retreats from society as a result.
Just as he's starting to feel comfortable in his own skin, he meets Yayoi, a ghost-hunting spirit. Keitaro ends up joining her on her exploits and working alongside her.