Emma Roberts & Kim K Play with a Spider in American Horror Story S12 Poster
Emma Roberts, a veteran of American Horror Story, faces a spider-like menace alongside Kim Kardashian in a new poster for the series. The Emmy-winning anthology series, created by Ryan Murphy and Brad Falchuk, explores a different horror or supernatural theme each season, with new characters and settings.
The 12th season, titled American Horror Story: Delicate, is based on the novel Delicate Condition by Danielle Valentine and follows a pregnant woman who suspects a conspiracy involving her unborn child.
The American Horror Story Twitter account shared a new poster for the 12th season, featuring Emma Roberts and Kim Kardashian in a blue-hued scene. The poster has the caption "Their bite is deadly" and shows Roberts looming over Kardashian, who is lying down. See the poster for American Horror Story season 12 below:
A spider weaves a web around Roberts' lips and crawls toward Kardashian, leaving a trail of silk behind. Kardashian's false eyelashes echo the spider's legs, extending beyond her eyebrows and cheekbone. Both actors wear bright red lipstick.
Kardashian's role in the 12th season of American Horror Story was unexpected by many, as the media personality has little acting experience apart from a few cameo appearances in the past. The show's social media accounts have featured Kardashian prominently in their promotional material, suggesting that she will have a significant role in the upcoming season.
Roberts, on the other hand, is a veteran of American Horror Story, returning for her sixth season after appearing in season 9, 1984. The posters that link her and Kardashian indicate that their characters may have a close relationship in the story.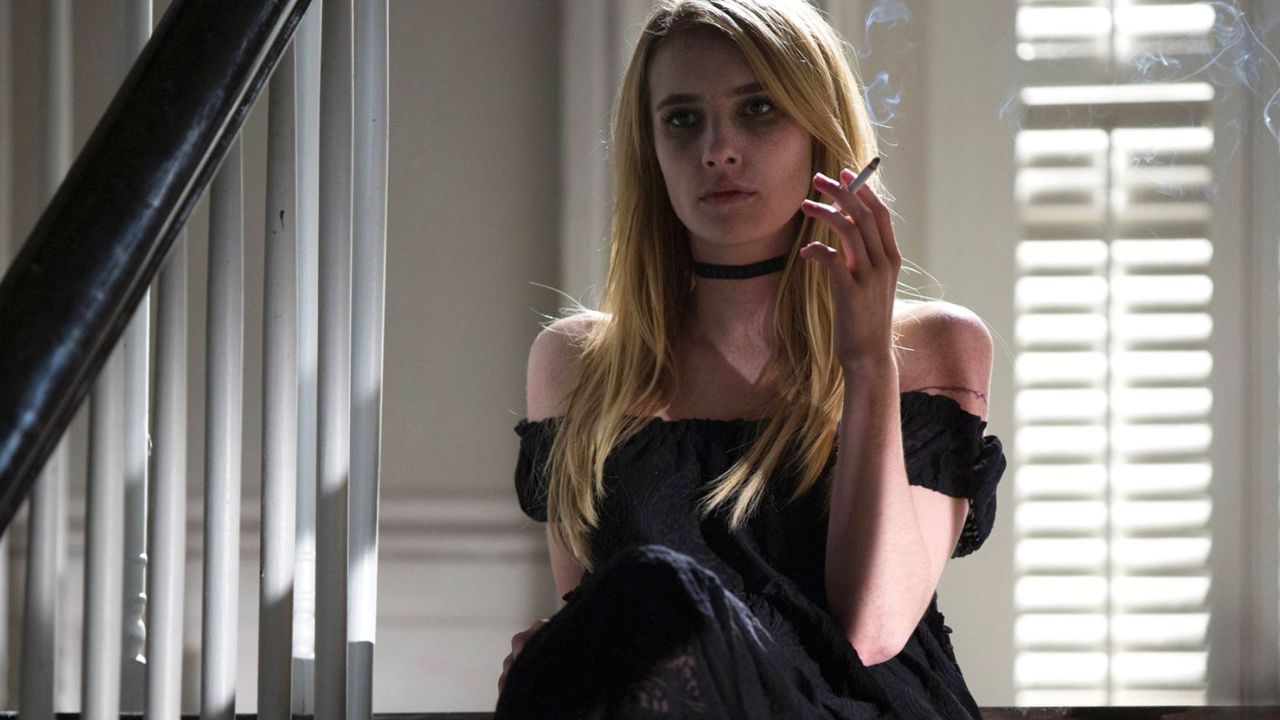 The theme of motherhood and pregnancy seems to be central to season 12, as other posters and trailers imply that both Kardashian and Roberts are expecting.
American Horror Story season 12 will feature a star-studded cast, including Cara Delevingne, Michaela Jaé Rodriguez, Matt Czuchry, and Annabelle Dexter-Jones from Succession.
However, the promotional materials for the show have only revealed Roberts, Kardashian, and Delevingne as the main characters, implying that their stories will be the focus of the season. The details of their roles and how they relate to each other will hopefully be unveiled in more teasers.
About American Horror Stories
American Horror Stories is a spin-off anthology series based on the American Story franchise. The TV series is created by the American Horror Story creators Ryan Murphy and Brad Falchuk. 
The stories revolve around myths, legends, fictional creatures. It also includes a recurring cast from the original show, such as Matt Bomer, Celia Finkelstein, Naomi Crossman, John Carell Lynch, Billie Lourd, and many others. 
American Horror Stories season 2 will be released on July 21, 2022.
Sometimes we include links to online retail stores and/or online campaigns. If you click on one and make a purchase we may receive a small commission. For more information, go here.