Explained Jack Ryan Season 4 Episodes 3 & 4 Ending
Tom Clancy's Jack Ryan is the ideal drink for you if you enjoy both riveting spy thrillers and high-profile murder mysteries.
The fourth season finale airs next Monday, and John Krasinski, ever reliable, has delivered once again.
This piece will discuss the conclusion of episodes 3 and 4, which were released this week. Fasten your seatbelts; you're in for a voyage that will take you from the very tip of Nigeria to the very tip of Croatia!
A massive warning about spoilers is required.
1. Episode 3 Ending Explained: The Hunt for Chao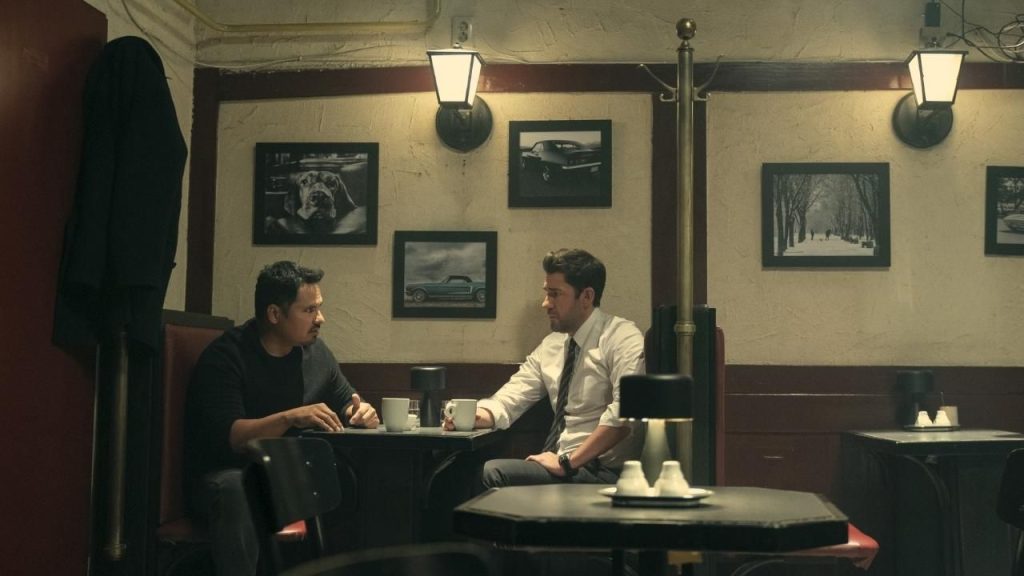 After the Triad kills his colleague Miller (Noomi Rapace) in episode 3, things get sticky as Jack Ryan (John Krasinski) resigns as the CIA's deputy director.
In order to track down Chao Fah, the previous leader of the Silver Lotus Triad, he forms an alliance with Mike November (Michael Kelly) and Domingo Chavez (Michael Pea). Jack is confident that he holds the answer to preventing the cartel and Triad from merging into a single, devastating organization.
But Chao seems to have disappeared into thin air. Only Chavez's cousin Marin seems to have any idea where he is.
At the episode's conclusion, the trio had located Marin. To find Marin, who is on the run from the cartel, they go to Mexico.
Marin lets slip that Chao will soon be visiting a Dubrovnik black market. Chavez is able to make direct contact with Chao via Marin's cell phone.
The scene is followed by a flurry of gunfire, and we then witness Marin begging for his life on the ground.The cartel was able to wipe him off. In spite of this, Jack and his two friends are able to escape.
The Walters pay a visit to James, too. James' family has been threatened by the criminal who has been following him for some time and who now wants him to abandon his inquiry into the CIA's underhanded activities.
2. Episode 4 Ending Explained: A New Clue
Season 4, episode 4 picks up right where season 3, episode 3 left off. With Chao's whereabouts unknown, Jack, Mike, and Domingo set out for Dubrovnik. They need his assistance in eliminating the Triad as soon as possible.
Inside a luxurious yacht, the three individuals meet Zubkov, an asset. Zubkov discloses an agreement between the Triad and the Croatians taking place on board the yacht.
When James returns to Washington, DC, he ignores Walter's threats and keeps digging into the CIA's dirty dealings. Walter pulls over to a bridge and stabs him when he does this, getting him into serious danger. James throws himself off a bridge into a river in an attempt to end his own life.
At Bethesda Hospital, James tells Patrick what he knows about his suspicions regarding Walter. Patrick suggests running a DNA test on Walters' blood to validate his suspicion that Walters is a former soldier.
While she was away, Elizabeth paid a visit to James and found out about Walters' involvement with the strange machine. James sees them as a piece of a jigsaw.
He begs her to assist Jack, who has infiltrated the Triad, in his mission. However, Elizabeth is hesitant, and tension is visible between them.
At the end of the episode, Jack and his buddies are on a boat, inspecting the gadget. Will it go boom? Where does it fit in with the Triad and the cartel, if at all?
At last, Chao gives Chavez a call and provides him a coordinate. They have uncovered new information. They can't afford to give it up this time!
3. Tom Clancy's Jack Ryan
Based on characters from Tom Clancy's "Ryanverse," Tom Clancy's Jack Ryan (also known as "Jack Ryan") is an American political action thriller television series that debuted on Amazon Prime Video.
The first season centers on the CIA analyst's investigation into a series of suspicious bank transfers made by a new Islamic extremist leader named Suleiman. In Season 2, Jack finds himself in the thick of political intrigue and corruption in Venezuela. In the third, Jack will be in a desperate race against the clock and on the run.
Co-created by Carlton Cuse and Graham Roland, the show also counts John Krasinski, Michael Bay, and Mace Neufeld among its executive producers. Krasinski also plays the lead role in the show.