Funny New Teaser for "I Shall Survive Using Potions!" The End of Anime
Death and rebirth in "I Shall Survive Using Potions" are explained as the result of a cosmic blunder, or God's oversight. Since Earth considers Kaoru Nagase to be "dead", any attempts to reincarnate her on Earth would be illegal.
However, Kaoru seizes the chance to start anew in Vernie, effectively ending her first existence. She is looking forward to exploring the world again in her revitalized body and with her newfound powers.
I Shall Survive Using Potions!, an anime adaptation, published a teaser trailer on Friday via the show's official website. It also unveiled the series' main creative team. The air date for the anime is set for 2023.
Kaoru Nagase is the main focus of the story. An older Kaoru is seen first asking for a cheat talent after death. A younger version of her, armed with the ability to concoct potions via magic, and struggling to find her place in another world is shown later.
The following actors provide the majority of the voices in the show:
| | | |
| --- | --- | --- |
| Character | Voice Artist | Other Works |
| Kaoru | Rin Kusumi | Hiyori Minagi (Slow Loop) |
| Francette | Tomoyo Takayanagi | Sarina Tendoji (Oshi no Ko) |
| Emile | Moeka Koizumi | Shiho Ichimura (ODDTAXI) |
| Belle | Haruki Iwata | Yuki Sakuragi (Rebirth) |
| Layette | Natsuki Kitagawa | — |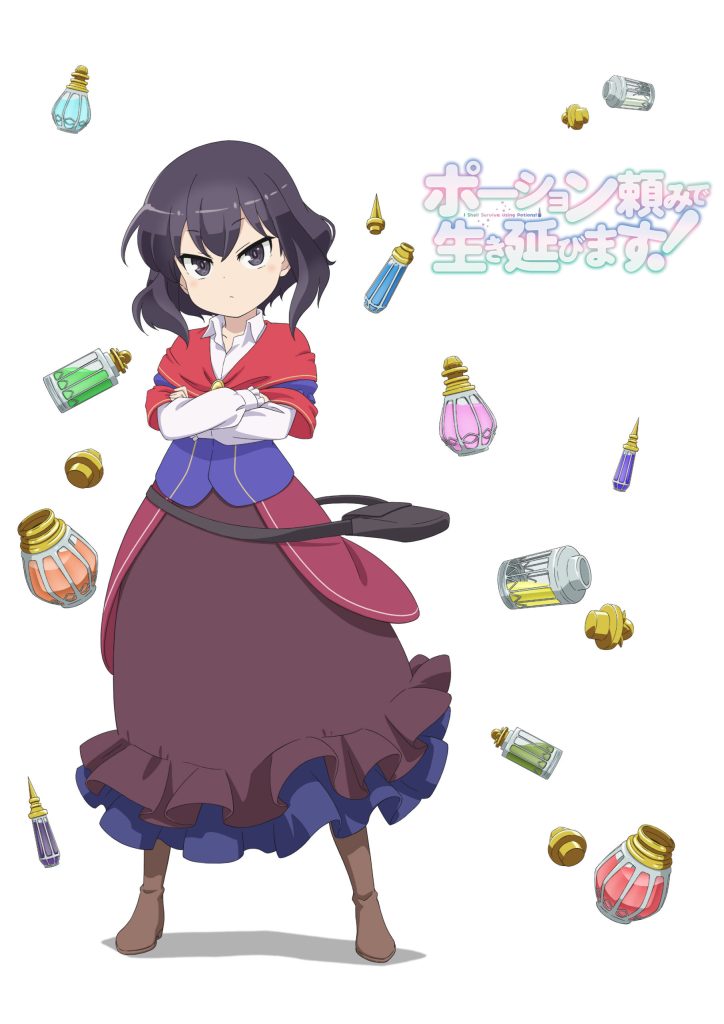 While FUNA debuted the light novel in 2015, Kodansha has taken over publication of it as of 2017. The following people will contribute to the anime:
| | | |
| --- | --- | --- |
| Position | Staff | Other Works |
| Director | Nobuaki Nakanishi | Koihime Musō |
| Scripts | Takayo Ikami | Penguindrum |
| Character Design | Chisato Kikunaga | Don't Hurt Me, My Healer! |
| Music | Hiroaki Tsutsumi | Jujutsu Kaisen, Dr. Stone |
| Animation Production | Studio Jumondo | Don't Hurt Me, My Healer! |
There are a wide variety of ways to employ the trifecta of isekai, reincarnation, and a cheat talent. However, granting someone absolute power over one's life is both easy and risky. Kaoru can (or maybe can) support herself by opening an apothecary. She may need to work on the word "marriage" in her definition.
I Shall Survive Using Potions!
FUNA and Sukima collaborate on the light novel series "I Shall Survive Using Potions!" It made its debut on the Shosetsuka ni Naro website in 2015. Since May 31, 2017, Kodansha has been publishing it.
Kaoru Nagase walks home from work one night, only to realize she has died in an instant and find herself in the hereafter. The overseer of Earth wants to fix things and start over with her on another planet.
The entity of the new world, Celestine, bestows multiple talents upon Kaoru, including the capacity to interpret languages and concoct various potions, as well as a younger version of her body.