'My Unique Skill' Dungeon Anime Gets New Comedy Promo
'My Unique Skill Makes Me OP Even at Level 1' has its setting in a world where treasure 'drops' in underground vaults. Emily Brown eventually 'drops' a human being by crushing a slime. Ryota Satō, the human who found himself here, has no idea how he got here.
Moreover, he finds it overwhelming to witness air, water, and food seemingly materializing after vanquishing creatures.
On Thursday, a promotional video for the anime adaptation of "My Unique Skill Makes Me OP Even at Level 1" was posted to the show's official website. It also included the introduction of two new characters and the theme song. Production on the anime will begin in July.
The video serves as a more substantial follow-up to the preceding teaser image. Emily mispronounces Ryota's name as he struggles to make sense of his numbers and the world around him. A defeated slime demonstrates Ryota's 'Drop Skill – All S' by dumping a bunch of bean sprouts.
The final tune, "Tamborine no Naru Oka" (The Tambourine-Ringing Hill) by Airi Miyakawa, can be heard in the background.
The preview introduces us to two brand new personalities. The two are included with the rest of the cast that has been announced so far.
| | | |
| --- | --- | --- |
| Character | Cast | Other Works |
| Ryota Satō | Kaito Ishikawa | Tobio Kageyama (Haikyu!!) |
| Emily Brown | Rin Kusumi | Hiyori Minagi (Slow Loop) |
| Eve Callusleader | Marika Kōno | Miya (By the Grace of the Gods) |
| Erza Monsoon | Mai Fuchigami | Nagisa Shiota (Assassination Classroom) |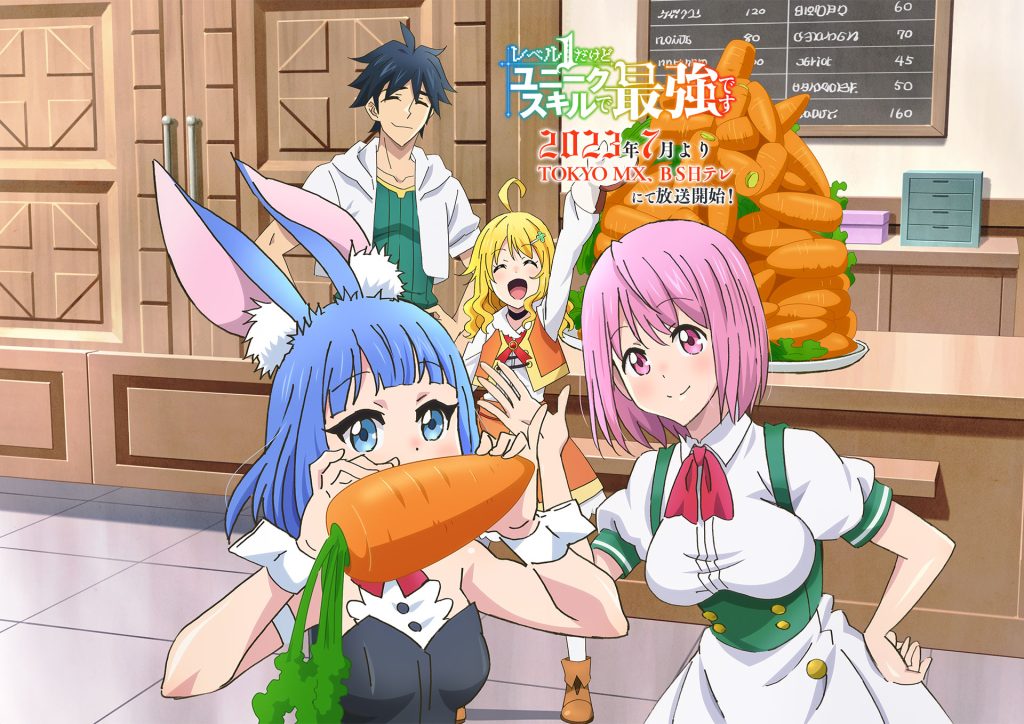 These people are in charge of the anime series:
| | | |
| --- | --- | --- |
| Position | Staff | Other Works |
| Director | Yūji Yanase | By the Grace of the Gods |
| Series Composer | Yuka Yamada | Slow Loop |
| Character Designers | Miyako Nishida; Eri Kojima; Kaho Deguchi; Yūko Ōba | Nishida: In Another World With My SmartphoneKojima: In the Land of LeadaleDeguchi: I'm Standing on 1,000,000 LivesŌba: I'm the Villainess, So I'm Taming the Final Boss |
| Animation Production | MAHO FILM | By the Grace of the Gods |
| Music | Endo. | Akiba's Trip: The Animation |
Despite the presence of tropes like amazing skill and monster hunting, this appears to be a humorous isekai anime. However, the latter completely alters the situation by eliminating traditional occupations like farming and fishing.
My Unique Skill Makes Me OP Even at Level 1
My Unique Skill Makes Me OP Even at Level 1 is a Nazuna Miki and Subachi-created series of isekai light novels. Shsetsuka ni Nar has been releasing it online since February 2017, and Kodansha later bought the rights to it.
In this tale, protagonist Ryota Sato travels to an other dimension where, rather than increasing in strength, he learns a special ability that serves him well there.