Future ONA Series "Tonikawa" Features Nasa Teaching an All-Female Class
The second season of 'Tonikaku Kawaii', also known as 'Tonikawa: Over the Moon for You', concluded this week. After the show concluded, Nasa and Tsukasa moved on to a new chapter of their lives, one in which they no longer required to frequent the bathhouse. They had finished fixing up their place entirely.
Kaname was concerned that she might lose the pair, but they assured her that they would keep working with her. Outside of that, Tokiko gives Nasa the moon rock and encourages him to make Tsukasa happy.
Tonikawa: Over the Moon for You High School Days, a four-episode anime series, had a new promotional video released by Warner Bros. Japan on Saturday. On July 12, Crunchyroll will begin streaming the first episode of the ONA series to their global audience.
Nasa starts the commercial by welcoming his all-female class. Tsukasa and Aya make an appearance as well. Tsukasa seems agitated despite her placid exterior. Girls from Nasa's class who will play crucial roles are introduced in the second half of the story.
Saori Hayami's "plan" plays as the credits begin to roll, and Akari Kit's "Guru Guru Live" plays as they conclude.
The newly announced cast below will provide the voices for Nasa's students:
| | | |
| --- | --- | --- |
| Character | Voice Artist | Other Works |
| Kaguya Gekkō | Ayane Sakura | Ochaco Uraraka (My Hero Academia) |
| Yaiba Shirogane | Rika Nagae | Olivia (Asobi Asobase -workshop of fun-) |
| Haru Miyako | Coco Hayashi | Ayumi Hayashi (Wake Up, Girls! New Chapter) |
| Mishio Usa | Hina Yomiya | Anna Yamada (The Dangers in My Heart) |
| Hotaru Kurenai | Ayane Matsuda | – |
| Hakase Inukai | Hitomi Ueda | Aki Hiyami (World Trigger) |
| Jessie Nikotama | Kaori Maeda | Chika Yonezawa (Ao no Orchestra) |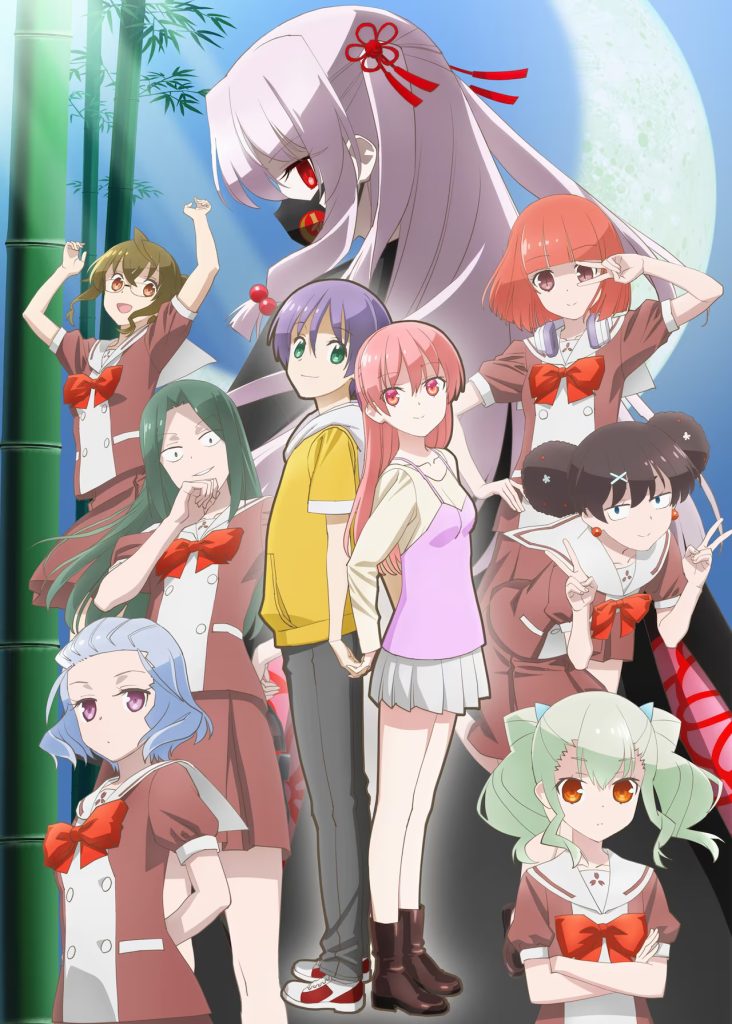 In the upcoming web series, Nasa is approached by his former jr. high school instructor about teaching computer programming at a high school for girls. Nasa, despite his anxiety, makes an effort to regain control while learning the ropes of social interaction.
The majority of the cast and crew from Season 2 of 'Tonikawa' will be back for the ONA sequel:
| | | |
| --- | --- | --- |
| Position | Staff | Other Works |
| Director | Hiroshi Ikehata | Maho Shojo Magical Destroyers |
| Series Composition | Kazuho Hyodo | Himegoto |
| Character Design | Masakatsu Sasaki | Saki, Seton Academy: Join the Pack! |
| Music | Endō | In/Spectre |
| Animation Production | Seven Arcs | Blue Period |
The plot line appears to be both a direct continuation of Season 2 and a spin-off in its own right. But it also appears to cause a stir in the series, so that's great too. This short narrative may help lift your spirits if the end of the previous season left you feeling sad.
TONIKAWA: Over The Moon For You
TONIKAWA (Tonikaku Kawaii) is an anime series based on Kenjiro Hata's manga Fly Me To The Moon. It was initially published on February 14, 2018, in the Weekly Shonen Sunday magazine by Shogakukan. Twenty-two volumes will have been released by the end of 2022.
A story of Nasa, who on the day of his high school admission examinations, falls in love with a gorgeous girl named Tsukasa. Nasa is smitten and admits his feelings to her, but Tsukasa vows they won't go out until they're married.
Their happy married life begins when she enters Nasa's life on his 18th birthday.