As a result, more and more people all over the world are becoming interested in anime. Though the term "anime" originally referred to Japanese animation, its popularity has led to its expansion to encompass a wide variety of animation styles. The presence of strong female characters who advance the plot is a hallmark of the best anime. Let's take a quick peek at the top five right now.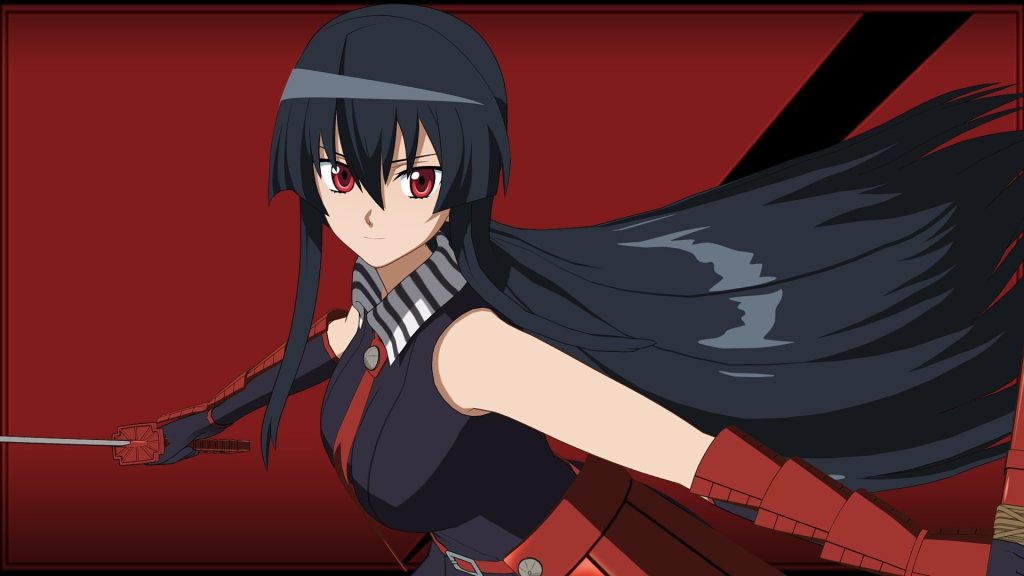 Akame – Akame Ga Kill
Known by her other name, Akame of the Demon Sword Murasame, Akame is the protagonist of the prequel manga Akame ga Kill! Zero, as well as the co-titular heroine and key anti-heroine of the original Akame ga Kill! series alongside Tatsumi.
In Hinowa ga Yuku, she has a pivotal supporting role. position as Hinata's personal swords instructor and Elder's Class combat coach.
Akame defected to the rebels and helped them destroy the monarchy for which she and her sister Kurome had been sold to the Empire. She had been tasked with assassinating Night Raid's leader, General Najenda.
Leina Vance – Queen's Blade
Leina is the main character in The Queen's Blade books. She is the middle sister of the wealthy and powerful Vance family, and therefore the heir apparent. And yet, instead of following in her mother Maria's footsteps and becoming a countess, she runs away to train as a fighter and enter the Queen's Blade tournament. Leina is armed with a "Evindil" longsword and buckler, and she wears silver armor with brown belts across.
Makima – Chainsaw Man
After Denji was adopted as a pet, Makimawa, a pivotal member of the Public Safety Devil Hunters, took him under her wing. After all is said and done, her true nature as the Control Devil becomes clear. This represents the terror that comes with having complete control. She passes away and is reborn as Nayuta. She was responsible for everything that went wrong in "The Public Safety Saga." Demon abilities (both physical and magical) and Makima's cunning and manipulation make her a powerful player in Chainsaw Man's world. In her demonic guise, she is a formidable opponent who strikes fear into the hearts of her friends and foes alike.
Tatsumaki – One Punch Man
Tornado of Terror Tatsumaki is widely regarded as one of the most formidable working heroes. She and her sister are known as The Psychic Sisters. Tatsumaki, the number two S-Class hero, possesses incredible physical prowess. She is the most powerful Esper ever and one of the strongest heroes ever. Fubuki likens her to Sweet Mask, a monster who prevents the weak from advancing by remaining in the A-Class rather than moving on to the S-Class.
Nakoruru– Samurai Shodown
Players of the Samurai Shodown video game series may recognize Nakoruru. She is also frequently paired with Terry Bogard as a mascot for SNK's social action and environmental awareness campaigns aimed at children. Nakoruru is a popular Japanese actress who has appeared in numerous video games and drama CDs in addition to her main series roles. Singer for her character's image CD and a member of SNK's The Band of Fighters.
Conclusion
Anime has recently become popular amongst adults all over the world. Anime's popularity has led to its influence being seen in other mediums, such as music and casino games like the Moon Princess slot. Anime has remained popular for so long thanks to its complex plots, visually stunning designs and animation, and fascinating fan culture. There can be no doubt that this medium is here to stay.