'I Shall Survive Using Potions!' Debuts in October with a New Full PV
Kaoru Nagase, the protagonist of "I Shall Survive Using Potions!," was killed by a mystery occurrence on her way home from work. A time-space warp caused a higher form of life to clean up the mess it made.
In a parallel universe, she was given the gift of youth and the capacity to concoct any remedy she desired. Kaoru, now a rather perceptive 15-year-old girl, gets to work on her dream of a quiet existence in a parallel universe.
Wednesday saw the release of the first full promotional trailer and a new key image for the upcoming I Shall Survive Using Potions! (Potion-danomi de Ikinobimasu!) television anime from FUNA. New cast members, the composer and title of the show's final theme song, and the premiere month of October are all revealed in the video.
The preview provides an overview of the anime's story and what viewers may expect from the show. The concluding theme song "Love is a Potion," performed by Harmonoe (Haruki Iwata and Moeka Koizumi), is previewed as well.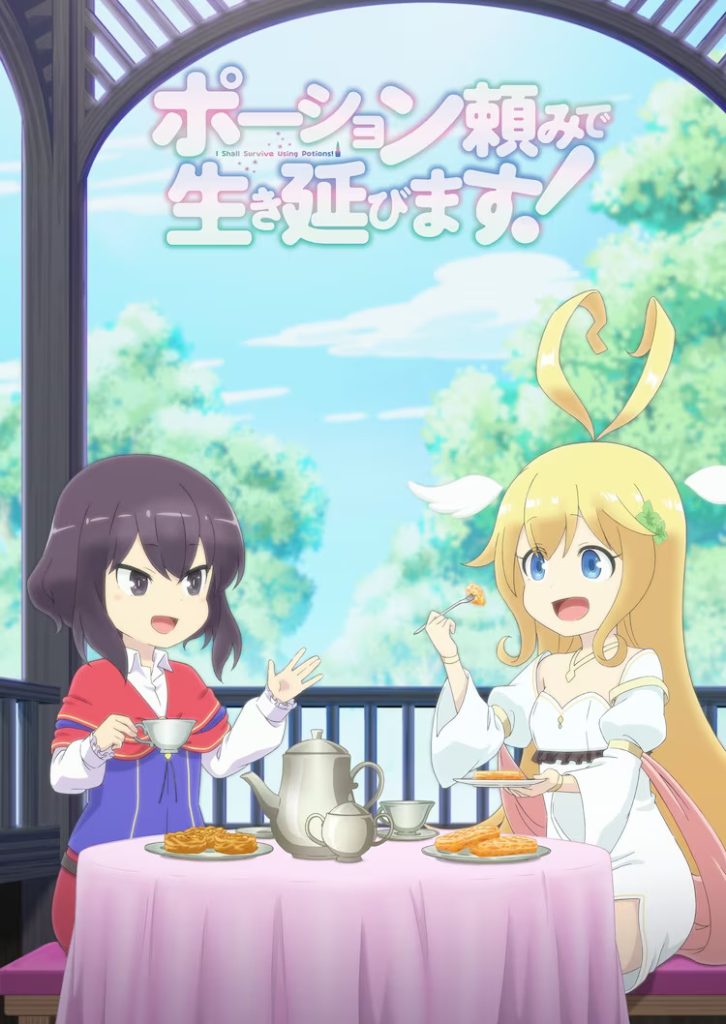 Nao Toyama will play Celestine, the Goddess who helps our hero Kaoru (on the left) find solace in a new life after death. Here are the actors and actresses who have appeared before:
| | | |
| --- | --- | --- |
| Character | Cast | Other Works |
| Kaoru | Rin Kusumi | Hiyori Minagi (Slow Loop) |
| Francette | Tomoyo Takayanagi | Sarina Tendoji (Oshi no Ko) |
| Emile | Moeka Koizumi | Shiho Ichimura (ODDTAXI) |
| Belle | Haruki Iwata | Yuki Sakuragi (Rebirth) |
| Layette | Natsuki Kitagawa | – |
Members of the crew who will be producing the next anime are as follows:
| | | |
| --- | --- | --- |
| Position | Staff | Other Works |
| Director | Nobuaki Nakanishi | Koihime Musō |
| Scripts | Takayo Ikami | Penguindrum |
| Character Design | Chisato Kikunaga | Don't Hurt Me, My Healer! |
| Music | Hiroaki Tsutsumi | Jujutsu Kaisen, Dr. Stone |
| Animation Production | Studio Jumondo | Don't Hurt Me, My Healer! |
'I Shall Survive Using Potion!' is for you if you're in the mood for a hilarious comedy full of tired jokes and a bumbling protagonist. It's funny and engaging, with stunning artwork to boot.
I Shall Survive Using Potions!
FUNA and Sukima collaborate on the light novel series "I Shall Survive Using Potions!" The original version debuted on the Shosetsuka ni Naro website in 2015. Kodansha has been publishing it since May 31st, 2017.
Kaoru Nagase is walking home after a long day at the office when she suddenly realizes she has died and is in the hereafter. The overseer of Earth wants to fix things and start over with her on another planet.
The entity of the new world, named Celestine, bestows multiple talents upon Kaoru, including the capacity to interpret languages and concoct various potions, as well as a younger version of her body.
Read more: I Shall Survive Using Potions!