Jujutsu Kaisen Chapter 214: No New Chapter for Two Weeks! Launch Date & Plot
When Sukuna unveils his scheme, the conflict between good and evil escalates to a new level. The stakes are extremely high now that the tension has increased. Megumi's life, and the lives of those he cares about, are in jeopardy. This is it; the climactic showdown has finally arrived. But only time will tell who triumphs in this spellbinding story. Without further ado, let's get into the details of what happens in Jujutsu Kaisen Chapter 214 and when you can expect to read it!
Is there anyone who can stop Sukuna the next time he shows up in Jujutsu Kaisen with Hana in his grasp? If you want to know what happens in the next chapter, you'd better read on!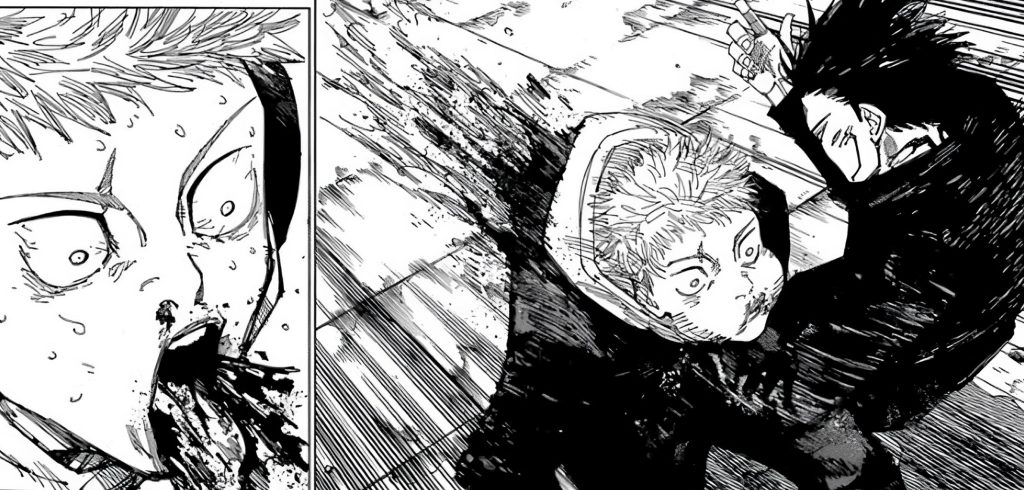 Jujutsu Kaisen Chapter 214:

What's Going To Happen?
Hana and Angel continue their fight against Sukuna and Megumi in Jujutsu Kaisen Chapter 214. Hana believes Megumi to be back, but the Angel knows that Sukuna is still in charge and using Megumi's voice to control Hana. Hana gives in to Sukuna's embrace and keeps hugging him even after Angel tries to stop her. Sukuna, however, is still very much alive and in charge.
As Hana, who mistook him for Megumi, embraces him, he was armed and prepared to kill. Angel tries to intervene to stop Sukuna, but is easily overcome. The outlook is grim, and it appears that Hana and Angel may be unsuccessful. Just as Sukuna was about to strike, however, a mysterious figure materialized, ready to thwart Sukuna and save Hana and Angel. Possible salvation for Megumi and final victory over Sukuna rests in the hands of this new character.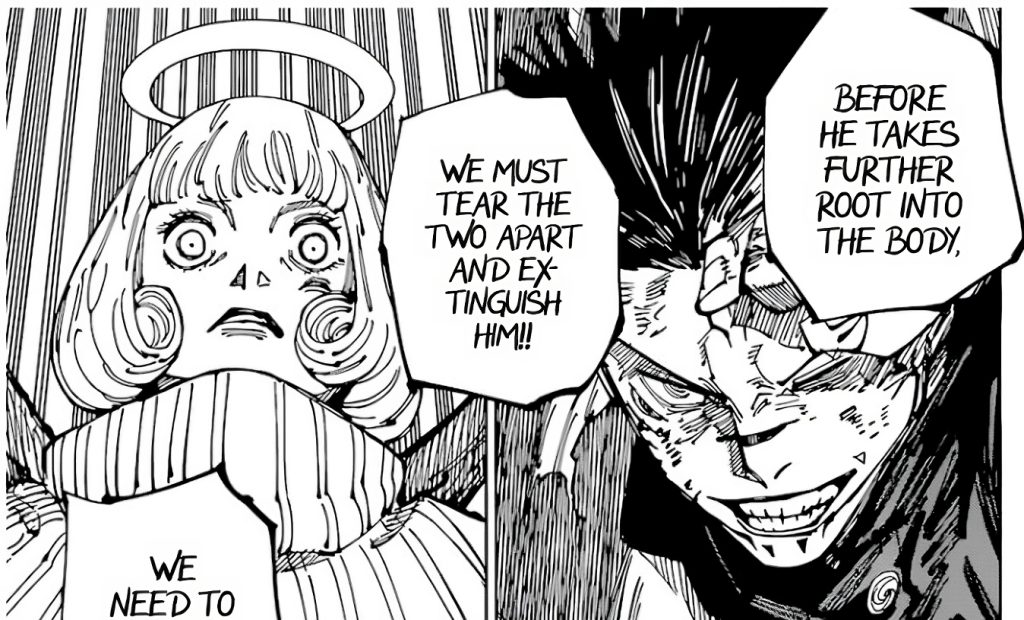 Previous Chapter Summary!
Cursed Womb: Under Heaven, Part 5 is the title of Chapter 213 in Jujutsu Kaisen. Sukuna begins the chapter by explaining his strategy regarding Megumi. He explains that he murdered Yuji after making a secret pact with him in order to gain ultimate power over Megumi at the appropriate time. Sukuna saved up his strength and waited for the right moment to shatter Megumi's spirit. Yuji, shaken by what he saw, tries to inquire about it.
He started to say something, but Megumi and Sukuna jumped him and punched him repeatedly. It was such a powerful blow that Yuji was sent flying through the air and he vomited blood as he passed through several buildings. The commotion alerted the entire colony, and soon Maki and Takaba heard about it. Sukuna had enlisted Nue's aid and was employing Megumi's ten shadow techniques.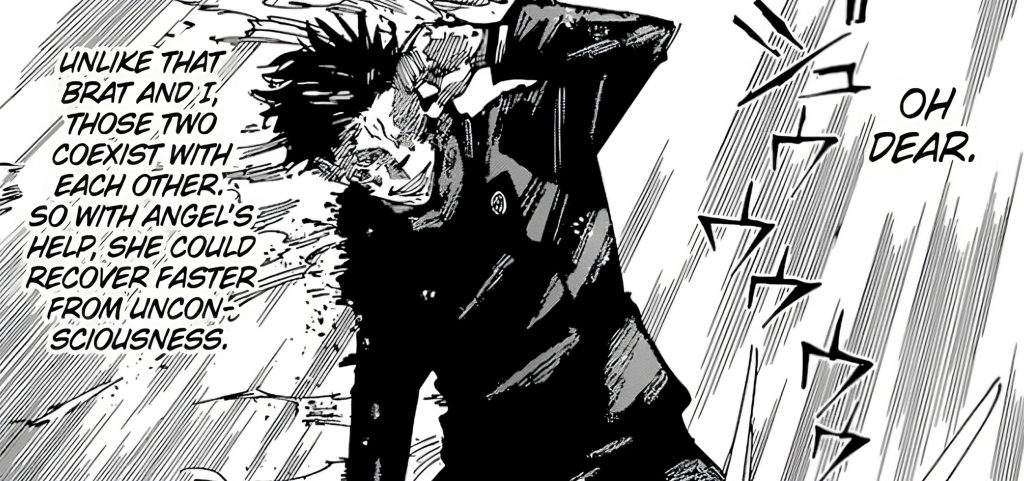 Hana showed up with the Angel and used her cursed technique, "Jacob's Ladder," to try to hurt Sukuna. She cried out for Megumi to come back, but Sukuna was still in charge and was using Megumi's voice to control Hana. In the last panel, Hana thought Sukuna was still Megumi, so he was ready to kill him. This chapter shows how dangerous Sukuna can be and how smart and sneaky he can be.
Jujutsu Kaisen Chapter 214: Launch Date
There will be a one-week break between releases, which is sad. Why? The author hasn't said. But the chapter won't be available to fans until next week. Fans can expect Chapter 214 of Jujutsu Kaisen to be released on February 28, 2023. In the meantime, you can read the previous chapters on Viz Media. For more updates, stay tuned to Orianime!