In Jujutsu Kaisen Chapter 228, Gojo's domain collapses again, but this time he's able to drag Sukuna with him; as a result, Sukuna sustains injuries. Below is further information about this.
As we saw in the previous episode, Kusakabe had a hard time grasping the concept of the reverse cursed technique. Yuta then gave him an analogy of an overheating engine that needed to cool down. He continued by saying that he, too, did not have a full grasp of it, but that it was a challenging endeavor. When the battle resumed, Sukuna made full use of Malevolent Shrine.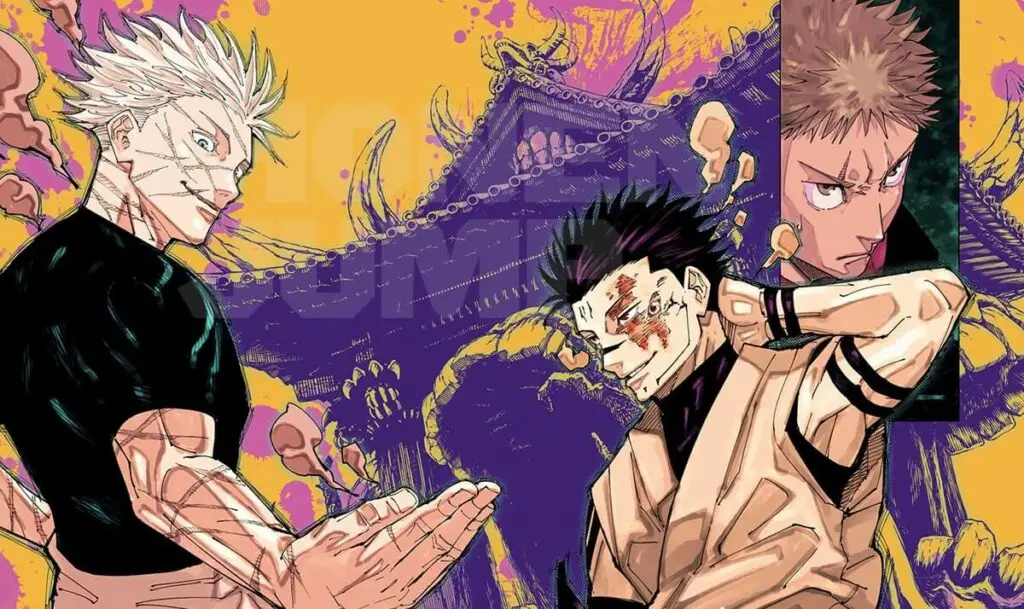 When Gojo re-opened his domain, Kusakabe yelled at him, asking whether he was foolish. Even Ino wondered if he was trying to accomplish the same goal all over again. They saw that Gojo had altered the environment, making his dominion more powerful than before. Then, as Sukuna applied domain amplification on top of domain expansion, his strikes began to hit their targets.
Sukuna's must-hit effect was faulty, as observed by Gojo. Kenjaku elaborated, saying that this was because Sukuna was striving to improve his attack power while still surviving in the void. There was no way out for Gojo. Then they realized that Gojo was employing the "Falling Blossom Emotion" technique, which had been passed down amongst the three major families, and their strikes were having no effect. Gojo then shrunk his realm to the size of a ball after expanding it to encompass Sukuna's domain.
Jujutsu Kaisen Chapter 228 Publication Date
This coming Sunday, July 9, 2023, marks the official release date for Jujutsu Kaisen 228. If you read any of the other mangas featured in Weekly Shonen Jump, you can find weekly coverage of their spoilers on our front page.
| | |
| --- | --- |
| Jujutsu Kaisen Chapter 228 Publication Date | 9th July 2023 |
| Jujutsu Kaisen Chapter 228 Raw Scans public | 5th July 2023 |
Jujutsu Kaisen Chapter 228 Raw Scans
The raw scans for Jujutsu Kaisen Chapter 228 are now available. The sorcerers spend most of this chapter debating the pros and cons of various domains.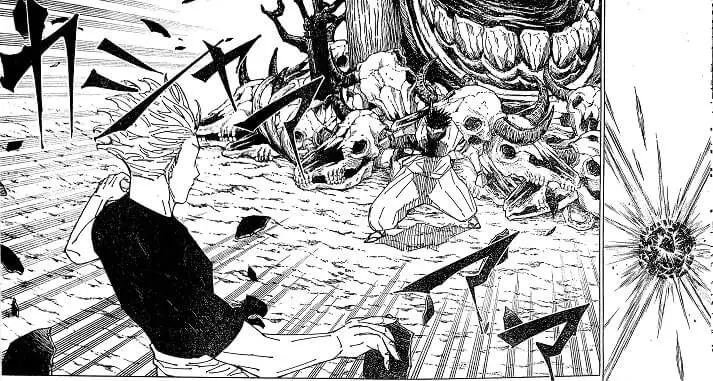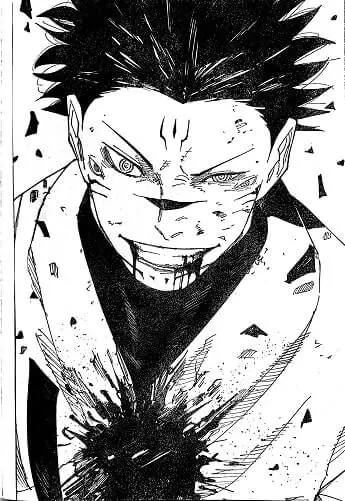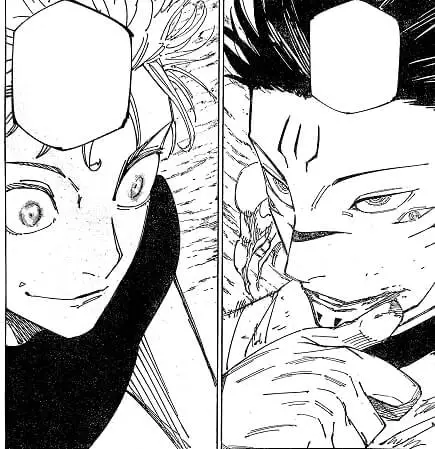 Momonosuke bites Kaido | Orochi is …
Please enable JavaScript
Momonosuke bites Kaido | Orochi is still alive in the Treasure Repository | One Piece 1026
Jujutsu Kaisen Chapter 228 Spoilers
At the beginning of the chapter, one of the characters suggests that reducing the size of the barrier could improve its stability.
A basketball wouldn't fit through the barrier.
When asked if domain attributes can be altered, Kusakabe expresses skepticism.
Mei Mei speculates that Gojo may have aimed to demonstrate all of Malevolent Shrine's capabilities.
Yuta now knows that Sukuna can also reduce the size of his realm.
Angel claims that Gojo will be defeated once his domain is destroyed.
Another crack appears in Gojo's realm wall.
Watching this has made Yuji anxious.
Then, one piece at a time, Sukuna's Shrine crumbles as well.
As Sukuna's dominion crumbles, he suffers an injury.
Gojo was unable to keep his kingdom intact after taking enough damage from Sukuna, who demolished it from the outside.
Higurama notes that after the collapse of their territories, neither Sukuna nor Gojo may employ their cursed techniques.
Because he did so in front of Sukuna, Gojo can employ the method he used to heal his cursed technique, but Sukuna can, too.
Sukuna and Gojo pick off where they left off in their conflict.
Gojo kicks Sukuna as he wonders why Sukuna is only utilizing the cursed Shrine move.
Gojo ponders why Sukuna refrained from employing the 10-shadow cursed technique or Mahoraga when inside the domain.
Gojo is aware that Sukuna has a recollection of him and Megumi discussing Mahoraga.
Gojo's nose starts bleeding abruptly as Mahoraga's wheel snaps a turn.
Final words.
Where to read Jujutsu Kaisen Chapter 228?
There are two places online where you may read the most recent Jujutsu Kaisen chapter, but we advise you to only use the official sites so that you can legally support the artists.You can read Jujutsu Kaisen 228 in English for free on the official Viz Media website under the MangaPlus and Shonen Jump sections.
If you want to stay up-to-date on Jujutsu Kaisen and other manga series, you may follow Orianime.