The one on one fight between Gojo and Sukuna has turned into a three vs one fight in Jujutsu Kaisen Chapter 233 as two Shikigamis joined the battle with Sukuna.
In the last chapter, we saw that it started with Mahoraga spinning its wheel for the second time out of four it needs to completely adapt to Gojo's technique. Everyone was in panic mode and shouted at Gojo to finish this thing already. Gojo then used Blue without wasting any time and destroyed everything around Sukuna. Then he made the next attack by moving into Sukuna's blind spot and then kicking him.

In the meantime, the wheel turned for the third time. Yuji wanted to know how the wheel adapts to the techniques, does it adapt after taking some time or by taking the attacks twice? Kashimo said that anything can be true. Gojo then again went to use Blue but to everyone's surprise, he used Red. This attack was nullified by the effect of Sukuna's Domain Amplification. Sukuna then said that Gojo is hesitating because his moves are getting read.
Sukuna dealt some damage but out of nowhere, Red hit him from behind. Gojo used the technique that it made a round around the building. Then Gojo used Black Flash on Sukuna the very next second, and Sukuna's eyes turned white. He looked passed out and the wheel on his head fell on the ground. Then suddenly it made the fourth and final spin and trapped Gojo into Shadow. Yuji and Yuta shouted his name while Mahoraga came out of the shadows and slashed Gojo.
Jujutsu Kaisen 233 Release Date
Jujutsu Kaisen Chapter 233 will get released officially this upcoming Sunday 27th August 2023. If you also read other Weekly Shonen Jump mangas too, we cover their spoilers every week, check them out from our home page in case you read them.
Also Read
Jujutsu Kaisen Chapter 140 Raw scans, Spoilers Release
| | |
| --- | --- |
| Jujutsu Kaisen Chapter 233 Release Date | 27th August 2023 |
| Jujutsu Kaisen Chapter 233 Raw Scans release | 23rd August 2023 |
Jujutsu Kaisen Chapter 233 Raw Scans
Jujutsu Kaisen Chapter 233 Raw Scans have been released and the chapter shows that Mahoraga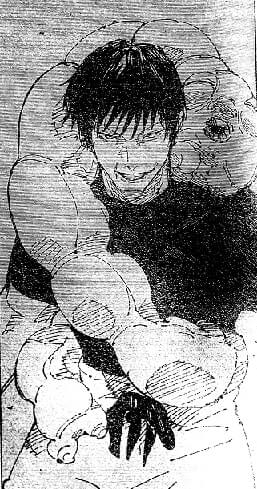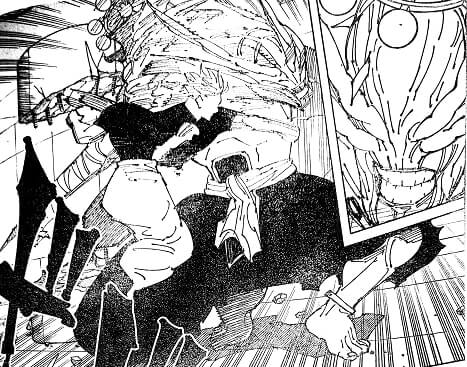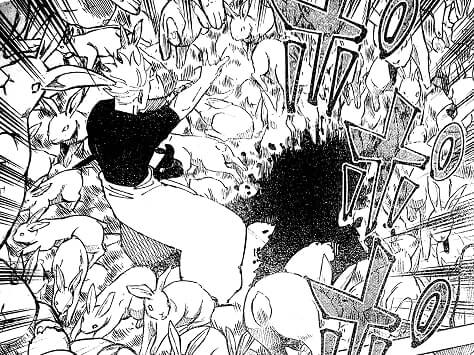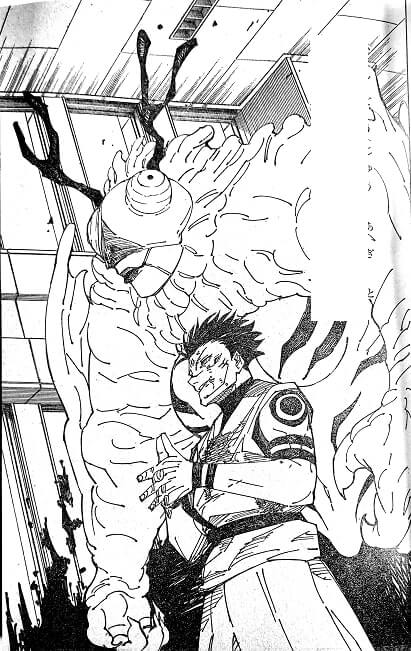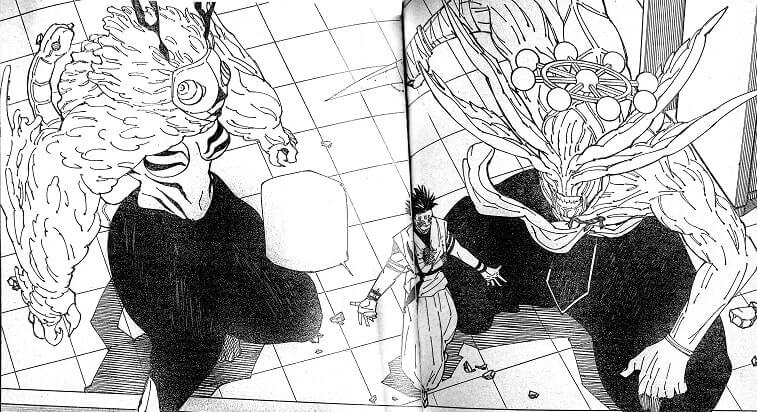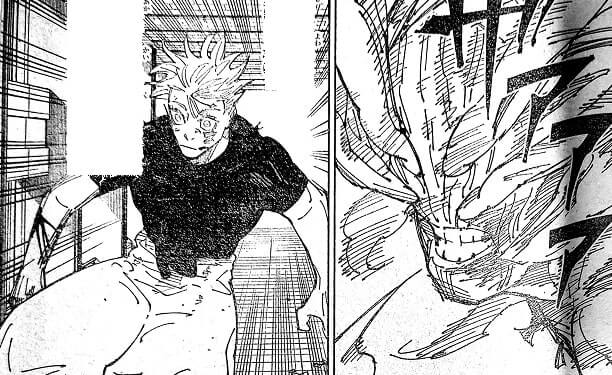 Jujutsu Kaisen Chapter 233 Spoilers
The chapter starts with everyone being worried to see Mahoraga.
Yuji is still hopeful and says even if Mahoraga has adapted to infinity it's still on equal footing with Gojo.
He says that Sensei's wounds can be healed.
Shoko is worried and says Gojo's healing speed is getting slow.
He can use the reversal technique but the output is decreasing.
The same thing goes for Sukuna.
The narrator says the opponent is the King of curses, the strongest of all times.
Even Gojo was thinking he might lose this and now he thinks about how he felt like it the last time and Toji's face pops up in his mind.
Gojo then punches Mahoraga in the face and pushes it back.
Gojo then starts reciting the chants to restore his lowered output and goes for a Red attack.
But Sukuna is back to his senses and activates Megumi's Rabbit Escape technique.
Gojo still uses the attack but Mahoraga escapes.
Gojo realizes that Sukuna is protecting Mahoraga and using it only for the offense.
Sukuna throws a fire extinguisher toward Gojo and blasts it to make a smoke screen.
Mahoraga is about to attack from the above and Sukuna uses a technique that is similar to the Piercing Blood technique.
Gojo defends against Mahoraga but Sukuna's attack lands on Gojo and wounds him.
It has turned into a two-on-one fight.
Gojo is thinking that Mahoraga adapted to Blue but adapting to Red will take more time.
Sukuna interrupts Gojo and says this is not a two vs one fight and then summons a new Shikigami named 'Chimera Beast Agito'.
Now it's three vs One. Gojo makes fun of Sukuna saying he looks like a child with two bodyguards.
Everyone attacks Gojo at the same time, and Gojo escapes Mahoraga and Agito.
Sukuna uses the technique he used earlier, but Gojo dodges it too this time.
Gojo then appears behind Mahoraga and blasts Red but the damage is low.
Gojo thinks he now has only 'that' to demolish Mahoraga in one shot.
He has no choice but to use 'An unlimited hollow technique'.
Chapter ends.
Also Read
(Geto Returns!) Jujutsu Kaisen Chapter 160 Raw Scans, Spoilers, Release Date
Where to read Jujutsu Kaisen Chapter 233?
To read the latest Jujutsu Kaisen chapter you can visit two different websites but we recommend you use only official websites and legally support the artists. Jujutsu Kaisen 233 will be officially (and for free) available to read in English at MangaPlus and Shonen Jump section on the Viz Media official website.
You can also follow us on our social media handles Facebook and Twitter for more updates about Jujutsu Kaisen manga and other manga series.