Meet the Full Cast for 'Kitarō Tanjō: Gegege no Nazo' Horror Anime Film  
The previously announced movie 'Kitarō Tanjō: Gegege no Nazo' is just one of four "big projects" celebrating Shigeru Mizuki's 100th birthday. Mizuki, who passed away in 2015 at the age of 93, left an indelible mark on the world of manga and anime.
The staff behind the next film has announced some intriguing developments for the anime film, even if the legend is no longer with us but his legacy has made him eternal.
On Wednesday, the official website for the upcoming anime film "Kitarō Tanjō: Gegege no Nazo" unveiled an exciting new trailer and visual, providing a glimpse into the film's cast. The film will open in Japan on November 17.
The new trailer showcases the grim and scary atmosphere of the environment as well as revealing new characters and the voice cast for the film.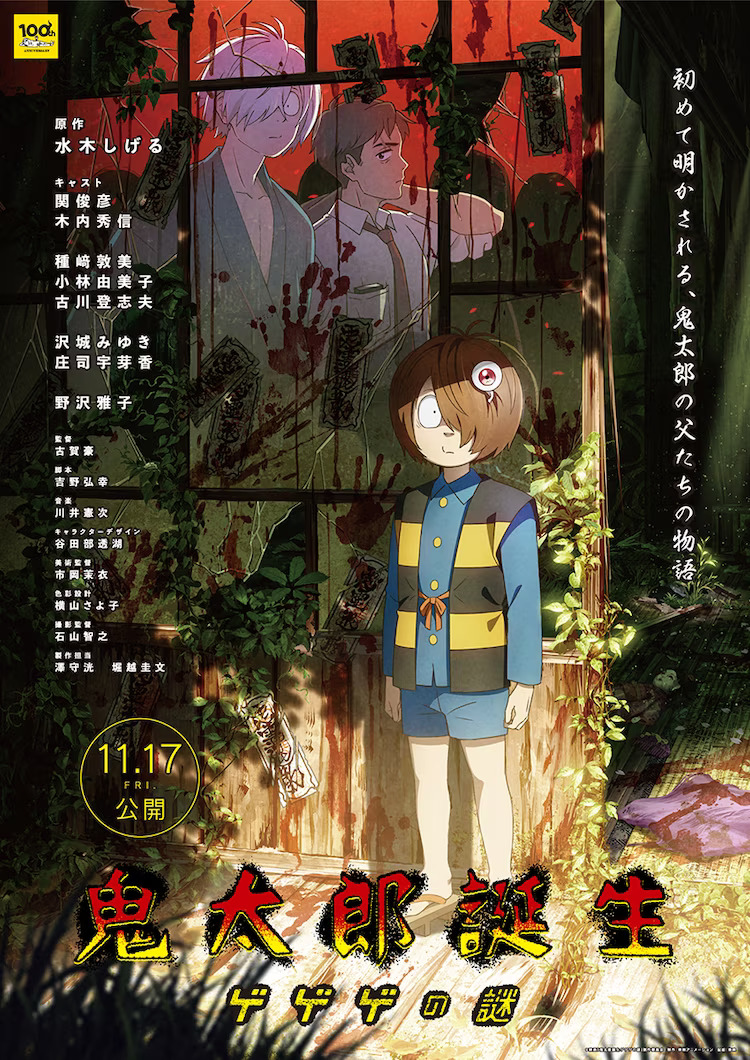 In the new visual, we can see Kitarou, Kitarō's father, who would eventually become Medama Oyaji, and Mizuki, a salaryman who heads to a cursed village under secret orders.
As for the cast that has been revealed, they are as follows:
| | | |
| --- | --- | --- |
| Character | Cast | Other Works |
| Medama Oyaji | Toshihiko Seki  | Komada (BioHunter) |
| Mizuki | Hidenobu Kikuchi  | – |
| Sayo | Atsumi Tanezaki  | Juno (Beastars) |
| Tokiya | Yumiko Kobayashi | Hachi (Mysterious Joker) |
| Tokisada Ryūga | Tetsu Shiratori  | Abe (Case Closed) |
| Tokima | Nobuo Tobita | Aoshima (Ah! My Goddess) |
| Otome | Yoko Soumi  | Olivier Mira Armstrong (Fullmetal Alchemist) |
| Hinoe | Yuko Minaguchi | Yoko (Slam Dunk) |
| Yamada | Masaya Matsukaze  | Miroku (Beyond the Boundary) |
| Neko Musume | Umeka Shouji  | Hiro (Case Closed) |
| Kenji Nagata | Akira Ishida | Chimaki (7SEEDS) |
| Kanoko Nagata | Rie Kugimiya | Chole (Case Study of Vanitas) |
| Katsunori | Kazuhiro Yamaji  | Jin (God of Highschool) |
| Kōzō | Kazuya Nakai  | Takashi (Death Parade) |
READ:
Oda Forbade Romance Between Crew Members in the 'One Piece' Live-Action
The film is just 2 months away, and it is so exciting that the younger generation can sit and enjoy these stories. He truly connects generations with his engaging yet straightforward stories, and I cannot wait for them to come out.
About Gegege no Kitaro
Gegege no Kitaro, known initially as Hakaba Kitaro, is a manga series by Shigeru Mizuki published in 1960. The manga is famous for being a horror comedy and features demons, spirits, and folklore from many cultures.
The story revolves around a yokai boy (demon boy), Kitaro, the last surviving member of the Ghost Tribe. Together with his other yokai friends, Kitaro strives for peace between the humans and the demons.
Sometimes we include links to online retail stores and/or online campaigns. If you click on one and make a purchase we may receive a small commission. For more information, go here.