New PV For 'You Were Experienced, I Was Not…' Shows Additional Cast
'You Were Experienced, I Was Not: Our Dating Story' reveals one of the most unique romance stories ever where the main protagonists are dramatically different from each other. Nobody would expect the two to ever interact, let alone date each other.
Ryūto Kashima, a gloomy high-school guy, sees at himself as an NPC. He falls in love with Runa Shirakawa, who is perhaps the most gorgeous and popular girl in school with a chaotic dating past. Despite being poles opposite in nearly every aspect possible, a punishment game pulls the two together.
The official website for the rom-com anime 'You Were Experienced, I Was Not: A Dating Story' debuted a new promo video and visual on Sunday. Additionally, it disclosed the extra characters, the theme music, and the series' October premiere date.
The trailer starts with Runa meeting Ryūto while clutching a message. To the surprise of his friends, she accepts Ryuto's proposal. More characters are introduced, including Ryto's buddies Ichiji and Ren, Nikoru, and Akari, after a few tender scenes.
In the background, the introductory song "Love You Tender!" is played and performed by Maaya Uchida. The ending theme song is also revealed, which is "Aikotoba" by the rock band AliA.
Below is the full voice cast revealed for the anime adaptation of 'You Were Experienced, I Was Not: A Dating Story':
| | | |
| --- | --- | --- |
| Character | Voice Artist | Other Works |
| Ryūto Kashima | Natsuki Hanae | Taichi Yagami (Digimon Adventure tri.) |
| Runa Shirakawa | Saori Ōnishi | Hisako Arato (Food Wars! Shokugeki no Soma) |
| Maria Kurose | Aoi Koga | Kaguya Shinomiya (Kaguya-sama: Love is War) |
| Nikoru Yamana | Ayaka Fukuhara | Sayaka Igarashi (Kakegurui) |
| Akari Tanikita | Tomori Kusunoki | Annette (Spy Classroom) |
| Yūsuke Ichiji | Fukushi Ochiai | Kimura (Teasing Master Takagi-san) |
| Ren Nishina | Daisuke Sakaguchi | Shinpachi Shimura (Gintama) |
| Shūgo Sekiya | Tomoaki Maeno | Kinro (Dr. Stone) |
| KEN (Youtuber) | KUN | – |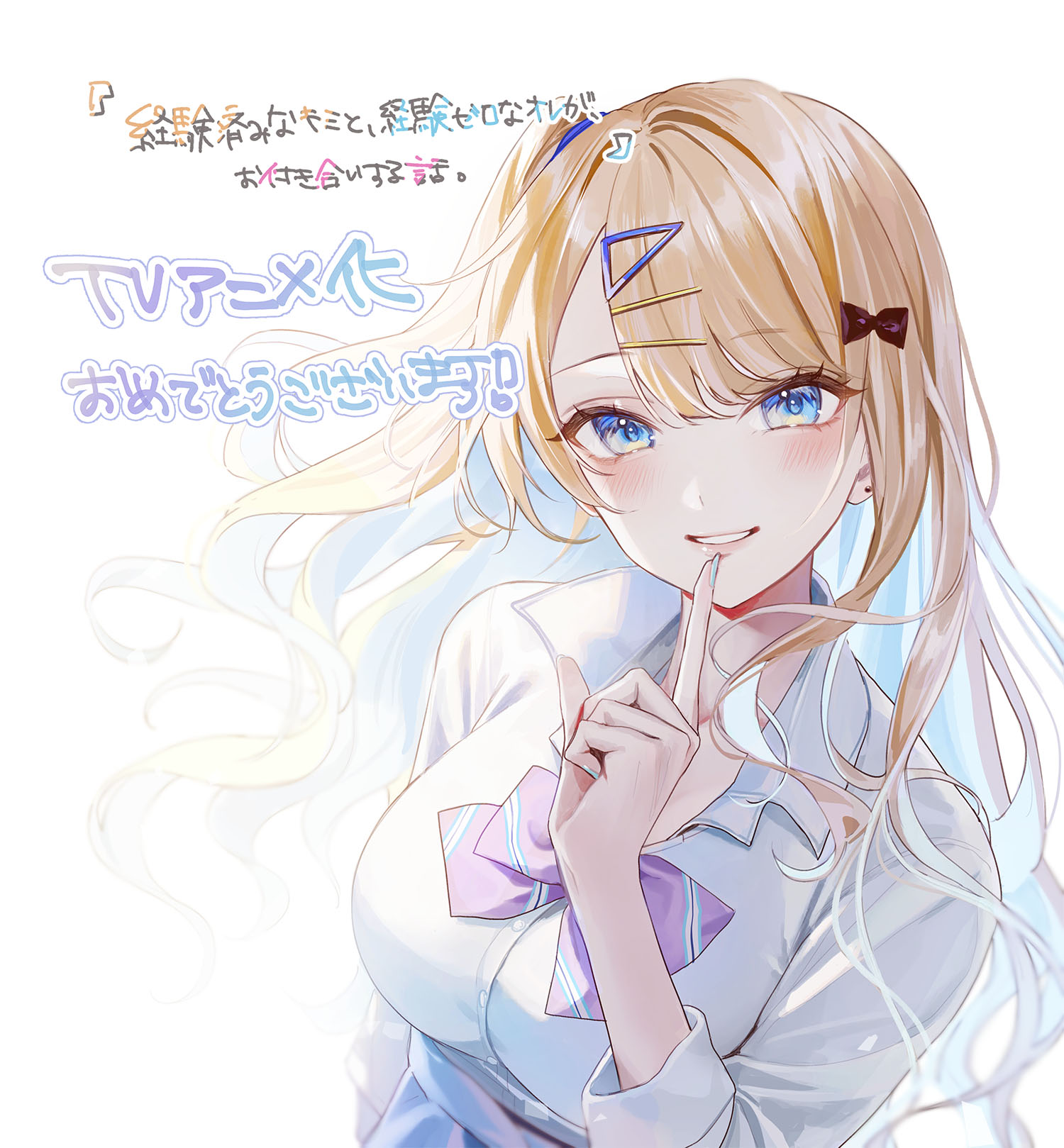 The staff members were previously revealed when the anime was announced. Here are the primary members who are contributing to the series:
| | | |
| --- | --- | --- |
| Position | Staff | Other Works |
| Director | Hideaki Oba | Dr. Ramune: Mysterious Disease Specialist |
| Scriptwriter | Hiroko Fukuda | Taisho Otome Fairy Tale |
| Character Design | Yōsuke Itō | The Detective Is Already Dead |
| Music | Kei Haneoka | Kaguya-sama: Love is War |
| Animation Production | ENGI | Kan Colle Season 2: Let's Meet at Sea |
Unlike most rom-com shows where a friendship grows into love or a person attempts to pursue it, this one rushes to the dating portion right immediately. Every time, Runa's simple and easygoing demeanor steals the show, perplexing not only Ryto but the rest of us.
You Were Experienced, I Was Not: Our Dating Story
Keiken Zumi na Kimi to, Keiken Zero na Ore ga, Otsukiai Suru Hanashi, or Kimizero (You Were Experienced, I Wasn't, And This is How We Started Dating)is a light novel series by Makiko Nagaoka and art by Magako. Fujimi Shobo has been publishing it since September 2020.
Ryūto Kashima is a melancholy high-school kid who does not have many friends. As a penalty for losing a game, he is forced to confess to Runa Shirakawa, a gorgeous and popular girl. being being being an at s a a.
Despite having very distinct social circles and preferences, both accept one other as they are and continue to bond.