New 'Sailor Moon Cosmos' Trailer Brings Back '90s Feelings
The Sailor Guardians and Sailor Galaxia have commenced their final battle. As Sailor Galaxia and her Shadow Galactica steal the Star Seeds, humanity is on the verge of extinction. They may be defeated now that Usagi has the Sailor Starlights' help.
On June 9, the first installment of the 'Shadow Galactica' arc of the 'Sailor Moon' series, titled "Sailor Moon Cosmos", was released. The team has put out something sentimental to make the forthcoming departure memorable.
The opening title sequence to the two-part film "Pretty Guardian Sailor Moon Cosmos" was posted online without any attribution information. The song "Moonlight Densetsu" (Moonlight Legend) is featured in the video in a fresh rendition; the original was the opening theme for the 1992 anime series. On June 30th, the sequel will be released.
The video features Usagi (Sailor Moon) and her fellow Sailor Guardians, Mercury (Sailor Mars), Mars (Sailor Jupiter), Venus (Sailor Venus), and Venus (Sailor Venus). Along with Tuxedo Mask, Chibiusa, Sailor Starlights, Artemis, and Luna, the Guardians of the Outer Planets also make an appearance.
In addition to the core characters returning from both the 2014 anime and the 'Sailor Moon Eternal' movies, the following actors will also be featured in the series' conclusion:
| | | |
| --- | --- | --- |
| Character | Voice Artist | Other Works |
| Taiki Kō/Sailor Star Maker | Saori Hayami | Yor Forger (Spy×Family) |
| Seiya Kō/Sailor Star Fighter | Marina Inoue | Armin Arlelt (Attack on Titan) |
| Yaten Kō/Sailor Star Healer | Ayane Sakura | Ochaco Uraraka (My Hero Academia) |
| Princess Kakyū | Nana Mizuki | Hinata Hyūga (Naruto) |
| Sailor Galaxia | Megumi Hayashibara | Anna Kyōyama (Shaman King) |
| Chibi Chibi | Kotono Mitsuishi | Misato Katsuragi (Neon Genesis Evangelion) |
| Sailor Iron Mouse | Sena Koizumi | – |
| Sailor Aluminum Siren | Ayumu Murase | Luck Voltia (Black Clover) |
| Sailor Lead Crow | Yōko Hikasa | Mio Akiyama (K-ON!) |
| Sailor Tin Nyanko | Mariya Ise | Killua Zoldyck (Hunter × Hunter 2011) |
| Sailor Heavy Metal Papillion | Haruka Kudō | Hagumi Hanamoto (Honey and Clover) |
| Sailor Lethe | Shiori Mikami | Historia Reiss (Attack on Titan) |
| Sailor Mnemosyne | Kanae Itō | Carrot (One Piece) |
| Sailor Phi | Fumie Mizusawa | Sakurako Taketomi (World Trigger) |
| Sailor Chi | Yuka Komatsu | Minako Okukawa (Yuri!!! on Ice) |
| Sailor Cosmos | Keiko Kitagawa | Jack (Magic Tree House) |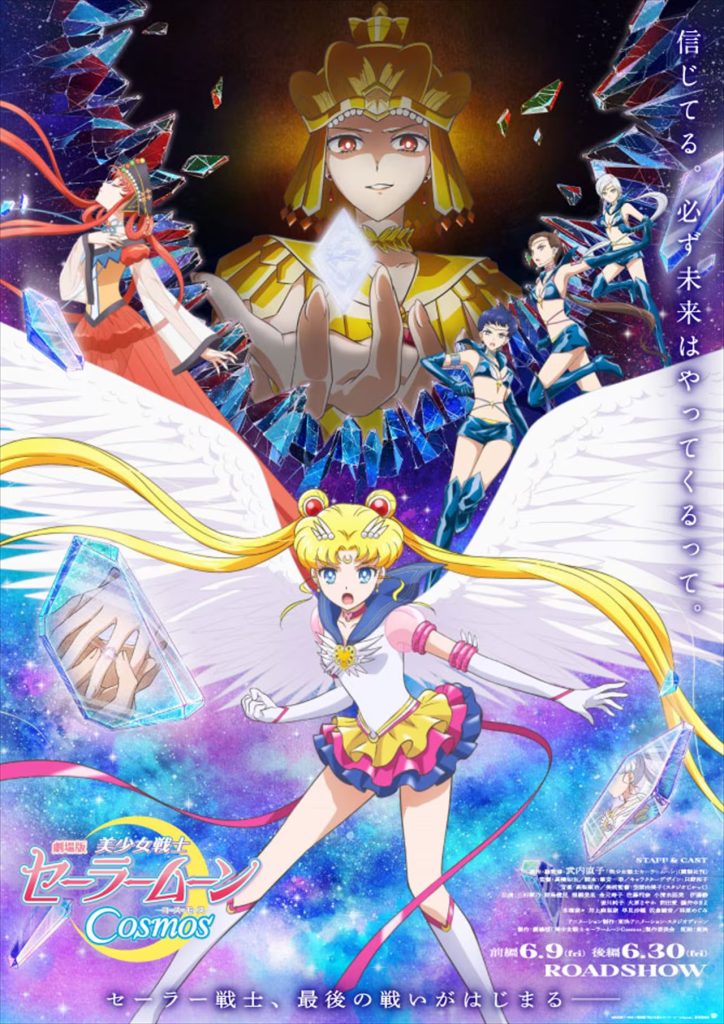 Sailor Moon Cosmos Part 1 is still playing in theaters. The bulk of the crew is coming back from the film to finish out the final edit.
| | | |
| --- | --- | --- |
| Position | Staff | Other Works |
| Director | Tomoya Takahashi | Gatchaman Crowds |
| Script | Kazuyuki Fudeyasu | JoJo's Bizarre Adventure |
| Character Design | Kazuko Tadano | Yu-Gi-Oh! Go Rush!! |
| Music | Yasuharu Takanashi | Fairy Tail, Naruto Shippūden |
| Animation Production | Toei Animation | Dragon Ball, One Piece |
The revival of the original series, "Sailor Moon Crystal", was successful in making the show shorter and more faithful to the manga. In 10 days, the concluding chapter will be published, and it will undoubtedly sell well.
Pretty Guardian Sailor Moon Cosmos: Part 2
The two-part anime film Pretty Guardian Sailor Moon Cosmos is adapted from Naoko Takeuchi's Sailor Moon manga. It's the conclusion to the series that comes after the reboot Sailor Moon Crystal and is titled "Stars or Shadow Galactica."
Shadow Galactica, an organization lead by Sailor Galaxia, has plans to strengthen her powers and dominate the Milky Way, and the Sailor Guardians meet with Sailor Starlights in this chapter to discover more about her plans.