New Trailer for the Anime 'Undead Murder Farce' Reveals Werewolf Arc
The 'Undead Murder Farce anime just keeps getting better with each arc. The beloved trio of Aya, Oni Slayer, and Shizuku shows no slowing down in their pursuit of finding the man who took Aya's body and turned Shinuchi into a half-oni.
The curtain falls on the diamond-hunting farce. It was a more convenient wrap-up to this arc than fans anticipated, given all of the moving parts, and it's a stretch to believe that Moriarity wouldn't have confirmed the acquisition of the diamond sooner. Still, it was a lot of fun with this arc, and that's what matters most.
On Tuesday, the official website for the anime of Yugo Aosaki's Undead Girl Murder Farce novels revealed a new visual, more cast members, and the opening video for the anime's third part titled "Jinrō-hen" (Werewolf Arc). The anime's third part will air on Wednesday.
The latest trailer for the anime's third arc highlights the new characters that will debut in the upcoming episode and some outstanding action sequences.
Furthermore, in the opening video of episode 9, we can see the beginning of chapter 3 as soon as possible. Eight years before the main story, a werewolf parent and child are being chased by humans.
She is considered the serial killer of girls in Heulendorff, the human village.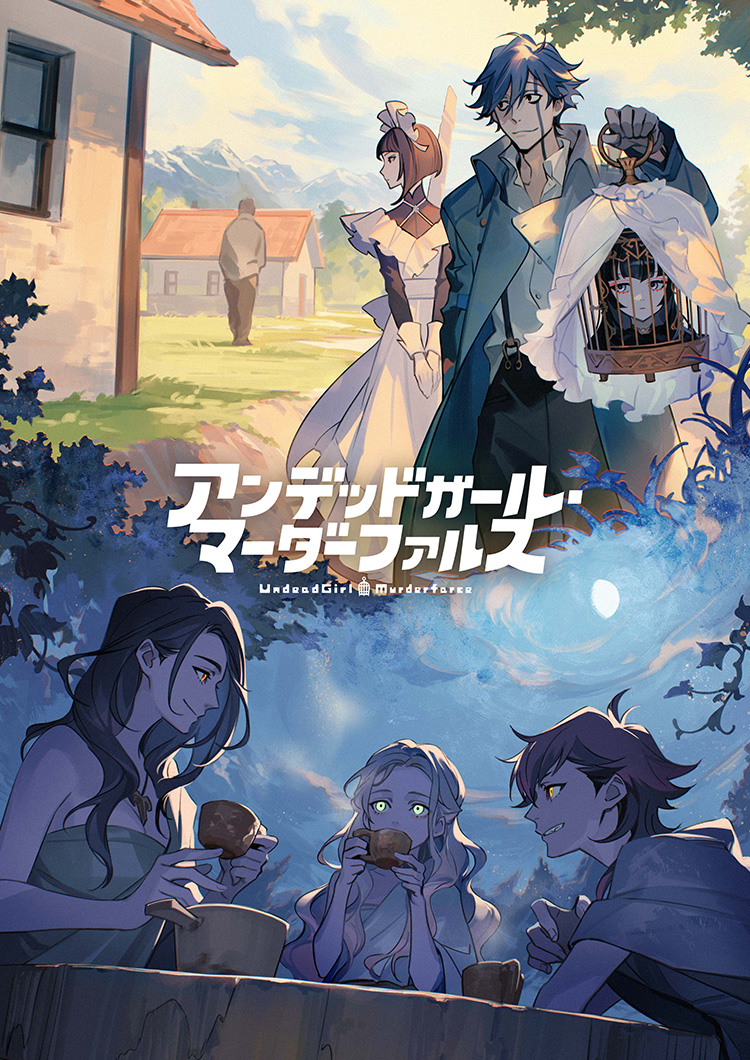 In the third chapter visual, the party of 'Bird Cage User' arrives at Heulendorff, a village deep in the mountains of Germany, and Nora, Vera, and Kaya, a trio of friends, are having a tea party in Wolfinghere, a village of werewolves.
As for the additional cast members that will join the team, they are as follows:
| | | |
| --- | --- | --- |
| Character | Cast | Other Works |
| Alice Rapidshot | Ayaka Asai | Angelo (91 Days) |
| Kyle Chaintail | Sō Nozawa | Kimura (Ping Pong) |
| Louise | Anna Nagase | Tom (Black Arrow) |
| Rosa | Aki Nagao | Junjun (Magi: The Kingdom of Magic) |
| Yutte | Emiri Suyama | Erika (Beatless) |
| Alma | Hitomi Nabatame | Nyau (Akame ga KILL!) |
| Gunther | Takaki Ōtomari | Makoto (A Centaur's Life) |
| Dennis | Shunsuke Takeuchi | Kokuto (All Out!!) |
| Falk | Kazuki Ura | Isagi (BLUELOCK) |
| Bernt | Seiichirō Yamashita | Raiden (86) |
| Bjorn | Takuya Nakashima | Dorushi (Helck) |
| Old Lady Regi | Sayuri Sadaoka | Lizbeth (Ancient Magus' Bride) |
As for the staff that is working behind the scenes to make sure it becomes a big hit, they include:
| | | |
| --- | --- | --- |
| Position | Staff | Other Works |
| Director | Mamoru Hatakeyama | Kaguya-sama: Love is War) |
| Series Composition | Noboru Takag | Golden Kamuy |
| Character Designer |  Noriko Itou | Kakegurui |
| Sub Character Designer & Chief Animation Director |  Naho Kozono | Mushoku Tensei |
| Music |  Yuma Yamaguchi | I'M KODAMA KAWASHIRI |
READ:
New Opening Theme of "The 100 Girlfriends" to Feature an Entire Orchestra
The new arc raises multiple questions, including how the werewolf killed the little human girl. And what type of place is Wolfinghere, the werewolf village? But it will undoubtedly be the best arc.
About Undead Murder Farce
Undead Girl Murder Farce is a Japanese novel series written by Yugo Aosaki.
The story takes place in 19th-century France, where the wife of vampire noble Jean Duchet Godard is murdered in her own home. With the local human authorities unwilling to properly investigate the case, Godard hires a pair of private detectives known to specialise in the supernatural: Tsugaru Shinuchi, a man with a mysterious birdcage, and his partner, Aya Rindou.
This enigmatic duo has come from faraway Japan for one purpose—to track down the man who stole both Aya's body and Tsugaru's humanity.
Sometimes we include links to online retail stores and/or online campaigns. If you click on one and make a purchase we may receive a small commission. For more information, go here.