Popular Shonen 'Hanako-Kun' to Receive a Spinoff Anime this Fall
Toilet Bound Hanako-kun is one of the most popular shounen series, once even exceeding the sales of Demon Slayer. The anime has a little bit of everything: romance, mystery, action, and comedy.
The art style is exquisite and unique. You rarely find this kind of art style. The characters are charming, and you find yourself getting attracted to them. However, we never got to see a second season despite the heavy demand.
Finally, after all these years, a spinoff anime has been announced; while it is not a second season, a spin-off is still pretty exciting. Here are all the details you need to know about this anime.
Square Enix and TBS both announced that Iro Aida's After-School Hanako-kun spinoff manga is inspiring a short television anime that will premiere on TBS on October 12. Crunchyroll will be the streaming platform.
Crunchyroll will stream the anime on the same day of its release but at 2:00 p.m. ET — ahead of the Japanese premiere — in North America, Central America, South America, Europe, Africa, Oceania, the Middle East, CIS, and India.
TBS Animation released a 40-second announcement video. The video reveals the debut date, staff, and cast details.
A teaser visual featuring Hanako-kun was released along with the announcement.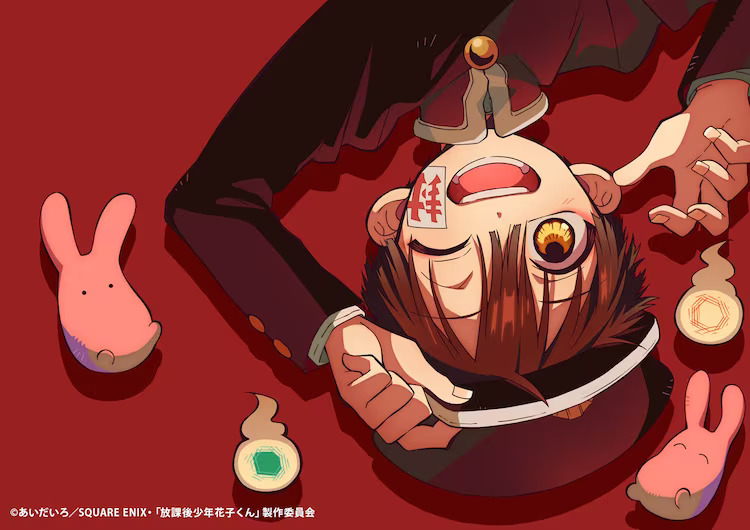 Masaki Kitamura is directing the anime at Studio Hibari, and here are the details about the rest of the staff members.
| | | |
| --- | --- | --- |
| Position | Staff | Other Works |
| Director | Masaki Kitamura | Gundam 00 |
| Scriptwriter | Kazuma Nagatomo | Bakugan: Armored Alliance |
| Animation Production | Studio Hibari | Buddy Daddies         |
| Character Designer | Aya Higami | Classroom of the Elite |
| Music Composer | Hiroshi Takaki | Eiga Oshiri Tantei Shiriarty |
The anime will feature a returning cast from the Toilet-Bound Hanako-kun anime.
This short animation of "Hokako Shonen Hanako-kun"! will showcase the pleasant daily life of various characters, mainly Hanako-kun and Nene-chan. The atmosphere will be relaxed and will feature the after-school fun.
They are trying to deliver a fun Hanako-kun with a different worldview. It is a gift for fans waiting for a long time.
About After-School Boy Hanako-kun
After-School Boy Hanako-kun is a spinoff manga series of Toilet-Bound Hanako-kun which was written and illustrated by AidaIro. It has been serialized in pixiv Comic from 2018 to 2021. An adaptation of After-School Hanako-kun, is set to premiere in October 2023.
Yen Press released the spinoff manga in English and describes the story:
The ghostly Hanako-kun and his mortal assistant Nene Yashiro usually have their hands full resolving various supernatural incidents in Kamome Academy, but how do they spend their time when they get a break from all that? Come and see what the characters of Toilet-Bound Hanako-kun do on their laid-back afterschool days!
Sometimes we include links to online retail stores and/or online campaigns. If you click on one and make a purchase we may receive a small commission. For more information, go here.