The story continues to focus on Kuma (now 17 years old), who possesses the Paw-Paw Fruit. Every Sunday, Kuma takes on the pain of the villagers near his church, similar to how Zoro once took on Luffy's pain in Thriller Bark. The latest chapter had alot to unpack leaving the fans at the edge of their seat awaiting to read One Piece Chapter 1098. Fortunatly One Piece Chapter 1098 release date is set a week from the release of chapter 1097.
Ginny, who is now 21 years old, cares for Kuma at the church and confronts the villagers for not compensating him for the pain he endures. They mock her, calling her a "cheapskate." Ginny is saddened by Kuma's suffering and repeatedly asks him to marry her.
Kuma resists her proposals. When Ginny asks why he puts himself through this, he explains that he does it because he finds happiness in seeing the villagers happy. Later on, Kuma confronts the kingdom's soldiers for exploiting the villagers as slaves and gets arrested.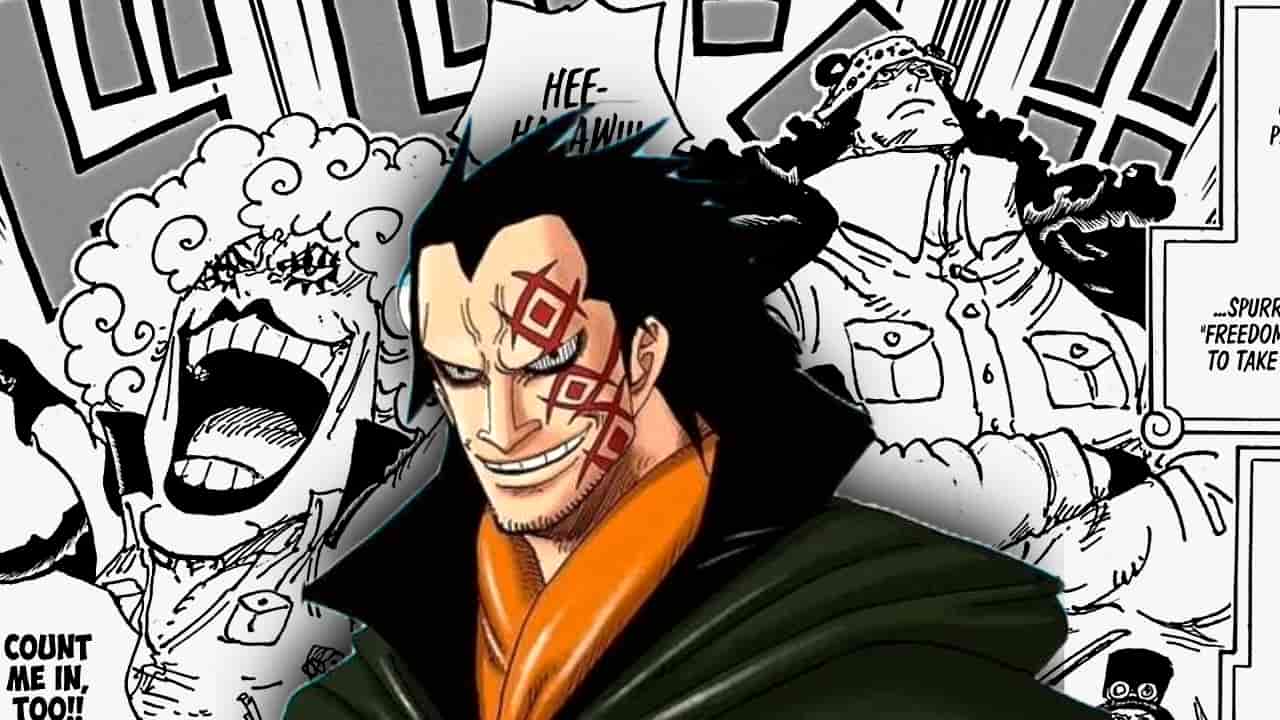 Ginny and a group of protesters are also arrested. They discuss the Revolutionary Army, a group rising against oppressive kingdoms, as they start to worry about the direction the kingdom is going. A kingdom of rich and poor where the poor are turned into slaves Ginny says that the celestial dragons are the ones behind this.
The Revolutionary Army attacks the Sorbet Kingdom, and Kuma and Ginny are released by their friend Ivankov. They join the Revolutionary Army, where Ginny learns to use weapons under the guidance of Dragon, an ex-Navy officer. Kuma often visits Sorbet to ensure everything is okay.
The chapter ends with a cliffhanger as Ginny is kidnapped. While waiting for the manga lets have look at One Piece Episode 1083.
One Piece Chapter 1098 Release Date and Time
You can read One Piece chapter 1098 on the official Shonen Jump app available on mobile or on the Viz website, where the latest chapter is free to read. One Piece chapter 1098 release date is set to November 12.
The release date and time in various regions is listed below:
Pacific Standard Time: 7 am on Sunday, November 12, 2023
Eastern Standard Time: 10 am on Sunday, November 12, 2023
Greenwich Mean Time: 3 pm, Sunday, November 12, 2023
Central European Summer Time: 4 pm on Sunday, November 12, 2023
Indian Standard Time: 8:30 pm on Sunday, November 12, 2023
Philippine Standard Time: 11 pm on Sunday, November 12, 2023
Japanese Standard Time: 12 am on Monday, November 13, 2023
Australia Central Standard Time: 1:30 am on Monday, November 13, 2023
Make sure to write down your thoughts on the latest chapter below.
While waiting for the upcoming chapter read about why Jujutsu Kaisen Chapter 242 is delayed.
One Piece Chapter 1098 Raw Scans
Raws of One Piece Chapter 1098 are now avaliable for the fans. Raw Scans and fan translations are avaliable of sites like reddit.
One Piece Chapter 1098 Spoilers and Speculations:
Dragon: A Rising Fugitive
The chapter confirms that Dragon was once a Navy officer but resigned because he did not find justice in it. Although Dragon is one of the most powerful men, his story is not told. The past of Kuma being told in the current chapters might tell us something about Dragon and his life.
Who kidnapped Ginny? Will Dragon finally act?
There were a lot of enemies in the Revolutionary Army. The world government and the kingdoms were overthrown by the army and celestial dragons since Ginny was once a slave.
Dragon is the person who receives the news of Ginny getting kidnapped. We might get to see Dragon finally show his power. Now, the kidnappers might be Cipher Pol. There is an explanation for this now since Ginny is a captain of the eastern forces, so for sure, the assassins from the kingdoms or the navy captains taking on her are unlikely. Vice Admirals wouldn't bother going after her, so it might be Cipher Pol, although it's still speculation.
But if the enemy is powerful enough, we might get to see the dragon in action. Now this enemy might be Akainu, a pacifista prototype, or Cipher Pol. Read about similar action packed adventure in Boruto Two Blue Vortex Chapter 4.
Kuma is forced to work for the government
Kuma was initially a human when he was first introduced, but later in the thriller Bark, he has a few cyborg-like futures. These changes were made to his body by Vegapunk, who was working with the government.
So, how did a member of the Revolutionary Army end up working for the government? One explanation might be that the government used Ginny to force him to work for the government.
Remember, Kuma was introduced as the Tyrant King, so the world government makes him do crimes and errands while they hold Ginny captive?
Who is Bonney?
The next chapter might give us answers about the past and origins of Bonney. The common consensus amoung the fans is that she is the child of Kuma and Ginny.
Kuma lands on Egghead Island
Kuma, who escapes from the revolutionary army, might be heading to EggHead Island. He lands on Luffy, the island, as the chapter comes to an end, providing his assistance to Luffy, aka JoyBoy.
We were shown in his past that Kuma is an admirer of Nika, so if there are any memories he retains, he might head there to help Luffy. We might also have a chance of seeing the showdown between Kuma and Saturn.
For more One Piece news stay tuned with Orianime.