Stranger Things' David Harbour Reflects on Watching His Kid Co-Stars Grow Up
Stranger Things star David Harbour opens up about watching the famous kids of the series grow up in front of his eyes.
Stranger Things has made sleep difficult for millions of fans with its brilliant portrayal of an alternate dimension with its horrific monsters and a bunch of brave kids to fight them and save their hometown of Hawkins.
The show debuted in 2016 when the main actors were barely teenagers. Now, as the show prepares for its fifth and final season, they have all grown up to become young adults.
David Harbour, who plays the gruff but caring sheriff Jim Hopper, spoke to The Hollywood Reporter before the current SAG-AFTRA strike and revealed how he felt about witnessing his co-stars grow up throughout four seasons of Stranger Things. 
Harbour said he had some expectations about how the young actors would turn out, but they always pleasantly surprised him. Here's what he said:
I'm sure there's something to your question, but early on, it was very funny to see the sprouts of Stranger Things kids. We had, like, five of them that first season. The brood keeps growing, but they were all little saplings. So we all put bets on various ones going in various ways, and I was wrong about every single one of them. So it's gratifying, sometimes, and not gratifying the next. But it's been interesting to see kids surprise me in this business.
The famous four of Stranger Things were just kids when they first stepped into the Upside Down in season 1. 
However, time moved differently for them and their roles as the seasons went on. While their characters aged only three years and entered high school in 2022's season 4, the actors grew up much faster and became young adults. 
With season 5 facing more delays due to the double strike, the original cast will be in their twenties when they return to Hawkins for the final time. It will be an emotional ride for both the cast and fans to watch them become full-fledged adults in the show's last season.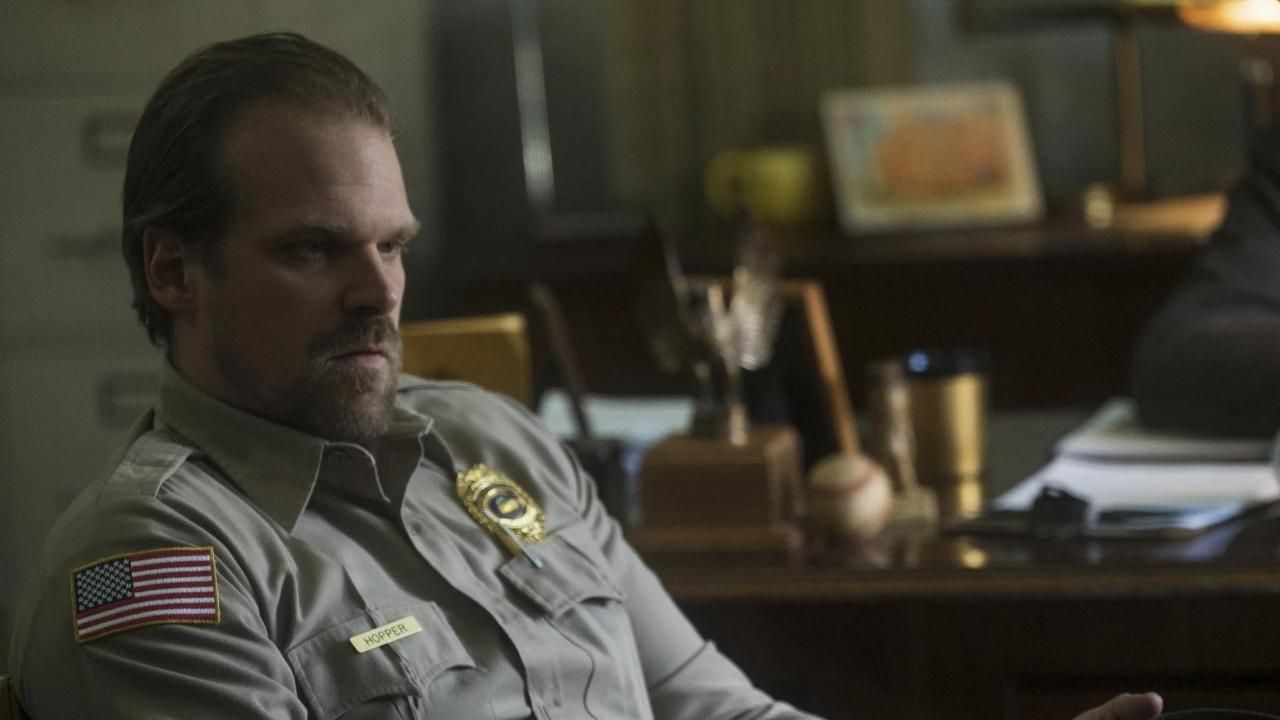 One of the challenges that Stranger Things faces as it heads towards its final season is dealing with the growing gap between the actors' and the characters' ages. The show has been praised for casting young actors close to their roles' ages, unlike many other teen dramas where adults play high schoolers. 
For example, Nancy Wheeler was around 15 or 16 in season 1, and so was Natalia Dyer. However, if season 5 continues right after season 4, the actors would have to pretend to be teenagers again, even though they are much older now.
That's why many fans believe that Stranger Things season 5 will skip ahead in time and show the characters as older teens or young adults. This makes sense for the story and the actors, as the final season will be able to focus on the big picture and draw the conclusion to the epic inter-dimensional tale. 
David Harbour has also hinted at this possibility in an interview, saying that season 5 will not be set right after season 4. A time jump could be the perfect solution to keep Stranger Things consistent and realistic!
READ:
Caleb McLaughlin Thinks 'Stranger Things' S5 Delay has a Silver Lining
About Stranger Things
Stranger Things is an American sci-fi horror TV series created by The Duffer Brothers for Netflix. 
Set in the 1980s in the fictional town of Hawkins, Indiana, the show follows the story of a young girl called Eleven, who has superpowers and her adventures with her group of friends. These dangerous adventurers include surviving in and saving a town that has an evil parallel universe attached to it called the Upside Down.
It stars Millie Bobby Brown, Finn Wolfhard, Noah Schnapp, Caleb McLaughlin, Gaten Matarazzo, Sadie Sink, Winona Ryder, David Harbour, Natalia Dyer, Charlie Heaton, Joe Keery, and Maya Hawke. The show has been renewed for a fifth and final season.
Sometimes we include links to online retail stores and/or online campaigns. If you click on one and make a purchase we may receive a small commission. For more information, go here.