TenSura Staff to Host a 'Grand Finale' Event for Scarlet Bond Film
Since the TenSura series is so well-known, it is sometimes used to represent the entire isekai anime subgenre. Continuing success on a global scale has been helped along with the release of the film Scarlet Bond.
In November 2022, the release of That Time I Got Reincarnated as a Slime: Scarlet Bond sent it to the top of the charts. There have been over 1,050,000 admissions to the picture, giving it a total gross of about 1.37 billion yen (approximately US$10.67 million).
The picture has been playing for two months, and now it must end its run in theaters.
A "grand finale" screening of That Time I Got Reincarnated as a Slime: Scarlet Bond has been announced for February 19, 2023.
An additional reveal from the series that has been in development all along is scheduled to take place at the event.
The upcoming work, I believe, will be a video game or a manga with a supplementary tale. The most anticipated is undoubtedly the third season of the anime, which was revealed just before the release of the film.
Due to the lack of season updates since then, it is likely that a trailer or image will be released in conjunction with the season finale.
But I'm putting my money on a video game or spin-off, as that's usually what's intended by "special announcements" like this. Please let us know your best guesses and wildest speculations in the space provided below.
Scarlet (in TenSura) Given that it was released while One Piece Film: Red and others were still popular, Bond's popularity has been surprising. I think it's fantastic that the film has been able to attract so many viewers despite competition from bigger properties.
Let's all hold our breath until February 19 to find out what type of belated Valentine's Day present the franchise has in store for us.
That Time I Got Reincarnated As A Slime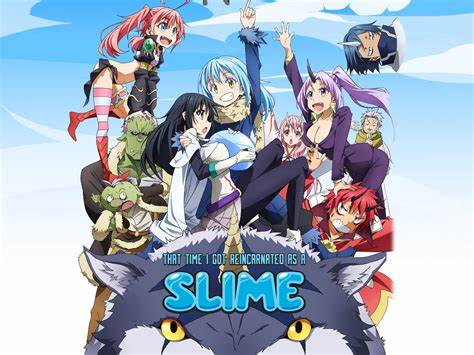 In the Japanese manga series That Time I Got Reincarnated as Slime, Fuse and Mitz Vah take turns writing and drawing. It began as an online serial in 2013, but in 2014 it was published as a light novel in Micro Magazine. There are presently 21 volumes in this series.
Tensei Shitara Slime is about Satoru Mikami's adventures as a slime in a fantastical world after he has died. A slime is a creature that can copy the appearance and abilities of whatever it consumes.
After discovering a dragon trapped in a cave and unable to escape owing to a barrier, Satoru begins devouring all the magical herbs and crystals in the area. Because of their shared boredom, they quickly became fast friends. When the dragon unintentionally gives Satoru a monster moniker, Satoru assures him that he will find a way to remove the label. This odd bond is the first step on a path less traveled.