The Ancient Magus' Bride: Season 2 Teaser Trailer and First Song Preview
In April, you may watch the second season of The Ancient Magus' Bride. It will provide light on Ashen Eye's future goals, the mysterious nature of Elias and Chise's connection, and other such matters. You won't find any other narrative like this one, which is an exciting blend of action and love fantasy.
On Thursday, a new trailer for the anime was made available on the show's official website. JUNNA, who previously sang the previous opening song "Here," performs "Dear" as the video's introduction. On April 6, the premiere of The Ancient Magus' Bride will air.
Several more returning cast members have been announced by the production team for Season 2:
| | | |
| --- | --- | --- |
| Character | Voice Artist | Other Works |
| Violet St. George | Daiki Yamashita | Izuku Midoriya (My Hero Academia) |
| Jasmine St. George | Minami Tanaka | Lily Hoshikawa (Zombie Land Saga) |
| April Atwood | Mari Uchiyama | — |
| May Atwood | Miki Natsutani | — |
| Narcisse Maugham | Kousuke Toriumi | Nozel Silva (Black Clover) |
| Liza Quillyn | Mami Koyama | Kaguya Ōtsutsuki (Naruto Shippūden) |
| Lizbeth Sargant | Sayuri Sadaoka | Makiko Onimaru (Ramen Fighter Miki) |
On March 11, a special showing will take place at Cinema Two at Tokyo's Tachikawa Cinema City. The first episode of Season 2 and a short named "Fuyu no Okurimono" will be included (Winter Gift). On stage with them will be JUNNA and Director Kazuaki Terasawa.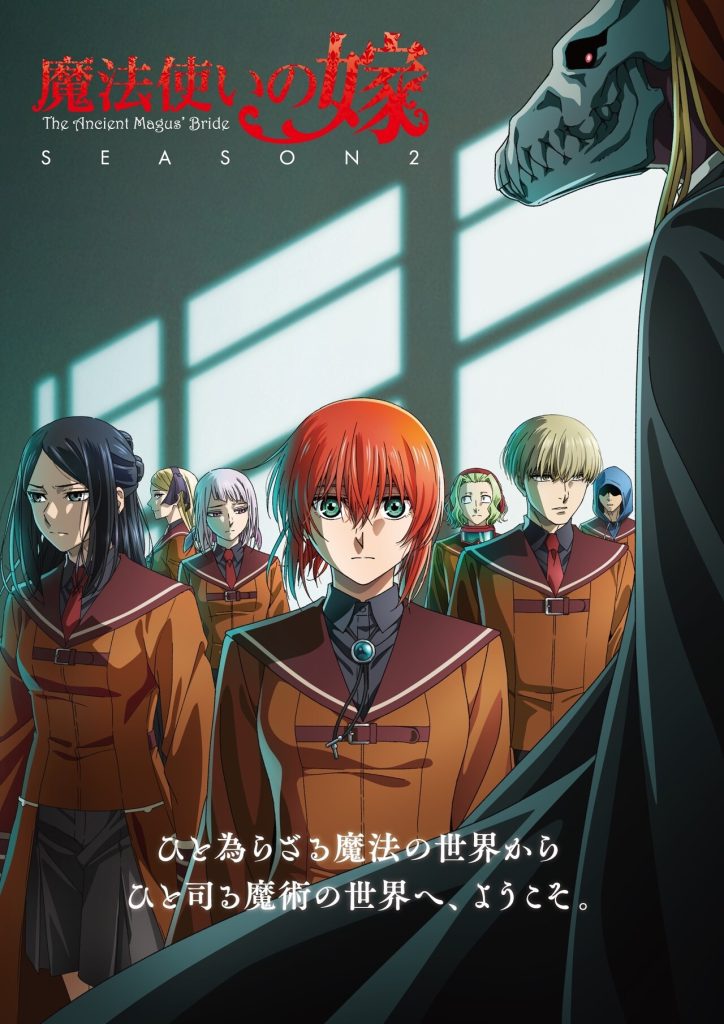 All of the series' regular cast members and crew members have returned for Season 2. Having Kazuaki Terasawa at the helm, the series is being produced by Studio Kafka, Chiaki Nishinaka, Yoko Yonaiyama, and Aya Takaha. The character designs are by Hirotaka Kat, while the soundtrack is by Junichi Matsumoto.
In 2017, Crunchyroll and Funimation began broadcasting the first season of The Ancient Magus' Bride. Also in same year was the publication of an OVA series serving as a prologue to the main series, dubbed The Ancient Magus' Bride: Those Awaiting a Star.
In September of 2021, a second OAD series was launched titled The Ancient Magus' Bride-The Boy from the West and the Knight of the Blue Storm. Included in this set are numbers 16, 17, and 18.
The Ancient Magus' Bride
Kore Yamazaki is the creator of the Japanese manga series The Ancient Magus' Bride. Seven Seas Entertainment has the North American rights to the series, which is published in Mag Garden's Monthly Comic Garden magazine.
Hatori Chise has been neglected and abused her entire life, and has never known real love. Living away from the comfort of her family, she has encountered more than her fair share of difficulties. She had no idea that a chance meeting is waiting for her right when she needs it the most.
Chise's life changes drastically after a man with a beast's head and mysterious powers buys her at a slave auction.