Many works of fiction and nonfiction examine the challenges and rewards of starting and running a business. Characters that embark on entrepreneurial ventures or rise through the ranks of an established company are nothing new to anime. These anime aren't just fun to watch; they also teach us about business and entrepreneurship.
06 Documentaries Entrepreneurs Can …
Please enable JavaScript
06 Documentaries Entrepreneurs Can Learn From
This post will discuss the top anime centered on business and entrepreneurship. We'll take a look at the best anime with these themes, dissect the lessons that can be learned from them, and talk about how they apply in the real world. There's little doubt that these anime will teach and inspire anyone interested in or hoping to succeed in the business world.
If you're ready to combine your love of anime and business, read on!
The Value of Entrepreneurship and Business In Anime
It's not surprising that business and entrepreneurship have long been central topics in anime. These ideas have a lot of promise as storylines because of their natural excitement. Aspirational and entertaining, many anime follow protagonists from humble beginnings as they work their way to the top. Anime also provides a fresh perspective on examining pressing social and economic concerns because it so often mirrors real-world events.
Ascension of a Bookworm" (Honzuki no Gekokujou) is an anime that deals with the topic of enterprise. Myne, a young girl, is the protagonist of this novel. She is reincarnated into a universe where books are extremely rare and valuable. Myne faces many challenges on her path to becoming a librarian, but she persists and eventually launches her own book-making business.
The anime "Shirobako," for instance, features a young female protagonist who works in the animation industry. The difficulties of starting and maintaining a creative business are examined on the episode, including issues like time management, financial planning, and working with others.
In the next piece, we'll look at the best anime on business and entrepreneurship and analyze what makes them so memorable.
The Best Anime Regarding Business and Entrepreneurship
The best anime about business and entrepreneurship are discussed here. These anime provide fresh looks at the risks and advantages of launching a business in a variety of fields, from tourism promotion to the culinary arts.
"Gin no Saji" (Silver Spoon)
Hachiken, a young man from the city, attends a school for farmers in remote Hokkaido in this animated series. Hachiken gains insight into the trials and tribulations of farming from his time spent there.
"Nana"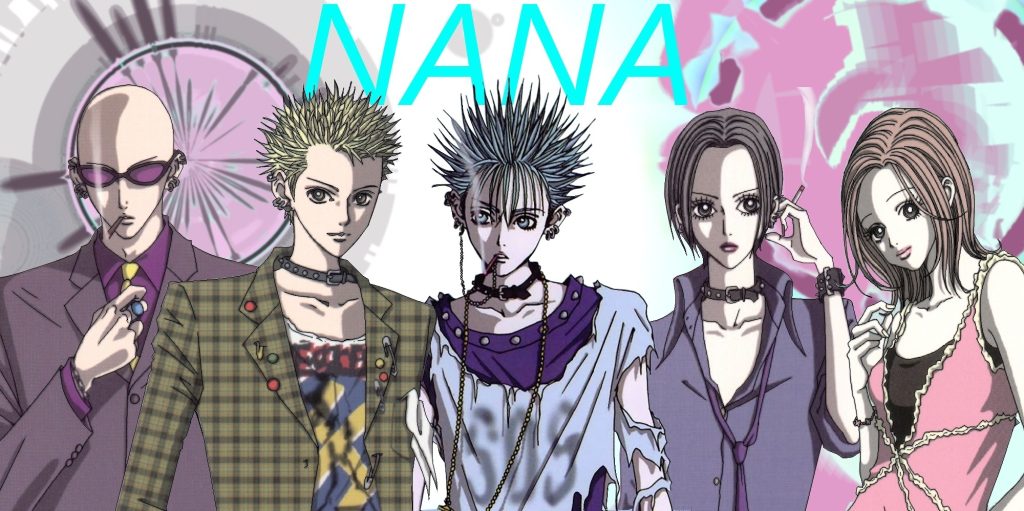 The plot of "Nana" centers on two young women named Nana who become roommates after meeting each other on a train to Tokyo. Two of my grandmothers have quite different aspirations: one wants to be a famous rock star, and the other wants to launch her own clothing brand. The hardships they face and their progress toward their goals are the subject of this anime.
"Bakuman"
The protagonists of this anime are high school seniors Moritaka and Akito, who have dreams of becoming manga artists. The making of manga and the business behind it are examined in this anime.
"Spice and Wolf"
The plot of "Spice and Wolf" is around the adventures of a trader named Kraft Lawrence and a wolf deity named Holo. The complex nature of medieval commerce and the bond between Lawrence and Holo are examined in this animated series.
"Maoyu"
The world of "Maoyu" is one in which demonic forces and human beings are at odds. In the anime, the protagonist encounters the demon queen and learns that the war is being perpetuated by a corrupt system. The two agree to collaborate on a plan to bring peace and prosperity to the world by altering the global financial and political structures.
"Sakura Quest"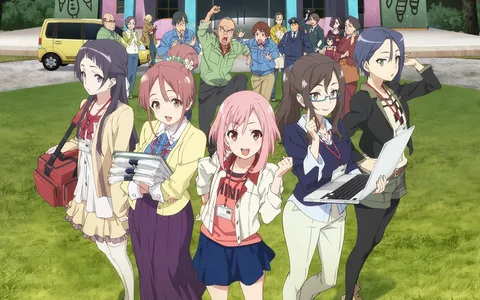 Yoshino Koharu, the protagonist of this anime series, rises to the position of "tourism bureau queen" in a small town. The series delves into the difficulties of promoting tourism in a small town and the value of striking a balance between history and progress.
"Great Pretender"
The characters on this episode are con artists who prey on criminals with a lot of money. The business of being a con artist and the significance of establishing rapport with targets are among the topics covered in this anime.
"Shokugeki no Souma" (Food Wars!)
The protagonist, Souma, is a young chef studying at an elite culinary academy in this anime. The anime delves on the necessity of originality in the kitchen, as well as the high stakes and fierce competition of the food service industry.
"Hataraku Saibou BLACK" (Cells at Work! Code Black)
The cells in this anime's setting have been overworked by the protagonist's unhealthy lifestyle. The necessity of self-care and sticking to a healthy lifestyle, as well as the detrimental consequences of stress and a poor diet, are discussed.
The streaming service Netflix is a good location to look for anime that deals with business and entrepreneurship. The streaming service provides a convenient way for fans of the aforementioned anime to watch them.
What We Can Learn From These Anime
Viewers can learn a lot from anime depicting business and entrepreneurship. The topics covered in these books span the gamut of enterprise, from conceptualization to management to brand development to dealing with the competition. Specifically, here are a few things that viewers might take away from the aforementioned anime:
Viewers of "Gin no Saji" will learn the value of commitment, discipline, and fortitude in establishing and maintaining a prosperous farming enterprise. The value of risk-taking, accepting setbacks, and growing from errors is also emphasized.
When going after your dreams, "Nana" stresses the importance of staying resilient, flexible, and adaptable. The show also stresses the value of making connections and joining a community of like-minded people.
The lessons of perseverance, cooperation, and teamwork presented in "Bakuman" are applicable to many fields, not only the arts. It stresses the value of experimenting with new approaches, listening to criticism, and refining one's skills over time.
The corporate connections depicted in "Spice and Wolf" emphasize the value of trust, cooperation, and compromise. Viewers can also learn about supply and demand, pricing strategies, and market analysis from the perspective of merchants in the Middle Ages.
Economic and political systems are complex, and "Maoyu" explains how they affect people's lives. It teaches its audience the value of critical thinking, of questioning authority, and of working toward a more just and sustainable future.
To promote a tiny town's tourism sector, viewers of "Sakura Quest" must face a number of obstacles and learn the value of striking a balance between tradition and innovation. The need of participating in local events, soliciting and responding to customer feedback, and learning about target demographics is also emphasized.
The characters in "Great Pretender" learn the value of establishing rapport with customers, catering to their wants and satisfying their requirements in order to maintain long-term business partnerships. In addition, it shows viewers the negative effects of greed, arrogance, and complacency in the business world.
Viewers of "Shokugeki no Souma" will come away with a better understanding of the high stakes, fierce competition, and need for originality in the food service industry. The importance of role models, criticism, and experience are emphasized.
The series "Hataraku Saibou BLACK" examines the significance of self-care and leading a healthy lifestyle by examining the impact of stress, poor diet, and other variables on the body's functioning. The film also emphasizes the value of cooperation, open lines of communication, and individual contributions to a larger whole.
All of these anime have something to teach us that can be used in the real world. Those interested in entrepreneurship and business can benefit from watching these anime by drawing lessons from the characters' triumphs and blunders.
Do some reading up on the origins and development of the businesses and sectors depicted in these anime to find out more about them. You can learn a lot about a company by researching it online, reading industry papers, or talking to knowledgeable people.
Conclude
In conclusion, there is a wealth of material in anime that deals with business and entrepreneurship. From the difficulties of beginning a business to the nuances of international trade, these anime offer instructive and applicable lessons. If you want to start your own business or just want to learn more about the corporate world, these anime are for you.