'Undead Unluck' English Dub Auditions at Anime Expo
Given that its protagonists are two enemies who end up working together to kill each other, "Undead Unluck" has an air of dark humor. Although it is largely an action series, the characters' interactions, especially Andy's no-nonsense outlook, will have you in stitches.
The premiere of the anime is scheduled for October. Meanwhile, it looks like work is progressing on an English dub as well.
The producers of the English dub of "Undead Unluck", TMS Entertainment and Bang Zoom! Studios, announced open auditions on Friday. It will be held on July 4 at the Los Angeles Convention Center during the annual Anime Expo.
No prior experience with voice acting is required, so people of all ages, genders, and ability levels are welcome to join in. Auditionees will be chosen at random during the allotted time. The chosen participants will receive a callback audition invitation from Bang Zoom! Studios.
On July 2nd, voice actors Natsuki Hanae and Moe Kahara will participate in a panel discussion on the anime at the convention. They'll be joined by manga editor Takumi Hashimoto and producer Ryta Hasegawa.
In the Japanese dub, the following actors are providing the voices:
| | | |
| --- | --- | --- |
| Character | Voice Artist | Other Works |
| Fuuko Izumo | Moe Kahara | Akari (The Executioner and Her Way of Life) |
| Andy | Yūichi Nakamura | Satoru Gojō (Jujutsu Kaisen) |
| Shen Xiang | Natsuki Hanae | Tanjiro Kamado (Demon Slayer: Kimetsu no Yaiba) |
| Void Volks | Kenji Nomura | Tatsūma Ushiyama (Golden Kamuy) |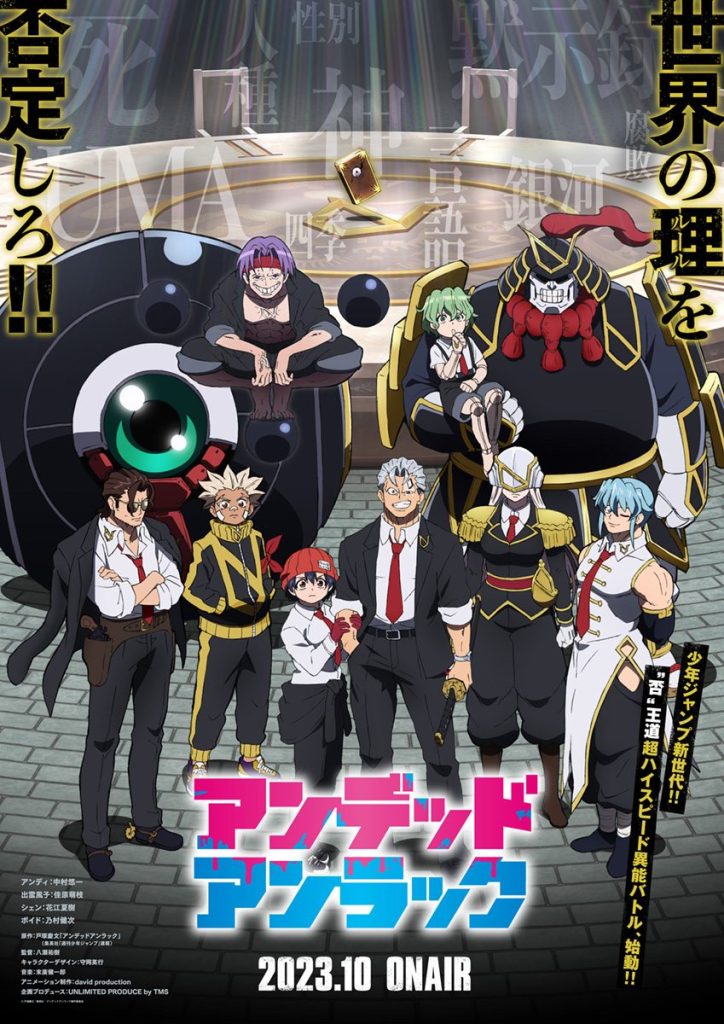 Staff members working on the anime series are as follows; streaming service and premiere date TBA.
| | | |
| --- | --- | --- |
| Position | Staff | Other Works |
| Director | Yuki Yase | Mekakucity Actors, Fire Force |
| Character Design | Hideyuki Morioka | Fire Force, Sakura Wars |
| Music | Kenichiro Suehiro | Fire Force, Golden Kamuy, Goblin Slayer |
| Animation Production | david production | JoJo's Bizarre Adventure |
This anime seems like a good opportunity for those interested in voice acting to get their start. A supporting role in a current shonen series would be nice, even though it won't be a starring one.
Undead Unluck
Yoshifumi Tozuka is the author and illustrator of the manga series Undead Unluck. Since January 2020, it has been published serially in Shueisha's Weekly Shonen Jump. It has been compiled into 16 volumes as of May 2023.
In this tale, we follow Fuuko Izumo, who, by touching them, brings misfortune upon them. She is tormented by her talent and contemplates suicide until she meets Andy, a zombie who hopes for the "best death". Together with others like Fuuko and Andy, they join the shadowy organization Union and carry out objectives outlined in a tome titled "Apocalypse".