Chainsaw Man Chapter 134 Publication Date
On June 28, 2023 at midnight JST, the 134th chapter of Chainsaw Man will be made available to readers.
Scheduled times of release across various time zones are as follows:
Pacific Standard Time: 8 AM, Tuesday, June 27, 2023
Eastern Standard Time: 11 AM, Tuesday, June 27, 2023
British Summer Time: 4 PM, Tuesday, June 27, 2023
Central European Summer Time: 5 PM, Tuesday, June 27, 2023
Indian Standard Time: 8:30 PM, Tuesday, June 27, 2023
Philippine Standard Time: 11 PM, Tuesday, June 27, 2023
Japanese Standard Time: 12 AM, Wednesday, June 28, 2023
Australia Central Standard Time: 12:30 AM, Wednesday, June 28, 2023
Chainsaw Man Chapter 133 Summary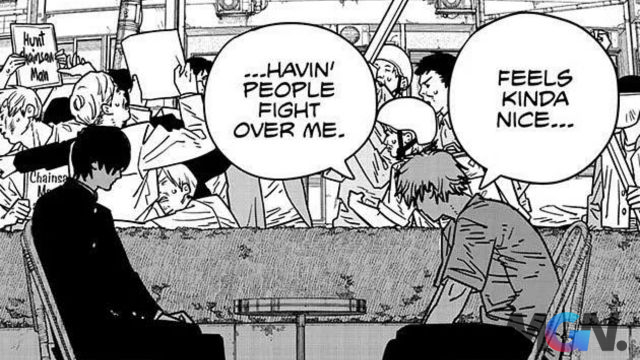 Chapter 133 of Chainsaw Man begins with Denji and Hirofumi Yoshida witnessing a demonstration between fans of the series and its detractors. Yoshida said to Denji that it felt good to be battled over as he explained the scenario. Even more so when there's a whole organization devoted to him called the Chainsaw Man Society.
Yoshida goes on to detail the recent surge in the Society's membership and support from young people and political figures. And how Denji's influence on Chainsaw Man has waned. Denji has been asked not to become Chainsaw Man again by both Yoshida and the Public Safety Department. Warning Nayuta that he will be killed if he ever transforms again.
Denji refuses to pick one over the other, and in Chapter 133 of Chainsaw Man, Yoshida finally loses it because of Denji's idiocy. Even though Yoshida failed to persuade Denji, the two are reunited when Nayuta shows there. He and Nayuta then leave, and he doesn't say anything to Yoshida before he and she leave.
Chainsaw Man Chapter 134 Spoilers
Yoshida will likely try to negotiate a similar agreement or threat with Asa Mitaka in Chainsaw Man chapter 134. Although it's unclear why having such a chat would serve any purpose, having Denji not transform sets forth a clear aim and delivers an evident benefit, it's possible that such a conversation will occur nonetheless.
Yoshida may even try to enlist Asa in the fight against Chainsaw Man in chapter 134 of Chainsaw Man, given the current situation of Japanese society. The fact that Yoshida knows Asa is the host of the War Devil Yoru could also be exposed in this way. Because of this, it's possible that the two will join forces with Famine Devil Fami to take on Denji and Nayuta in the Academy Saga's showdown.
Read: Chainsaw Man Is the Best of The Shonen Dark Trio in Five Ways.
Where To View?
Viz Media and MANGA Plus will soon be hosting Chapter 132 of Chainsaw Man.