"Dropkick on My Devil!" A TV Special Will Debut In The Fall Of 2023.
Fans of the series adore "Jashin-chan Dropkick," also known as "Dropkick on My Devil!" It's one of the few anime to venture (more like "play") into the taboo realm of violent and cruel humor. The lamia exploits the unique qualities of each character.
In the original anime, Yurine would often use a chainsaw to chastise Jashin-chan for her misdeeds. The following television special, however, will flip their positions.
The 'Dropkick on My Devil!' Twitter page made the announcement on Saturday that the show would air on Spike TV. The premiere of "Apocalypse Arc" is set for December 26.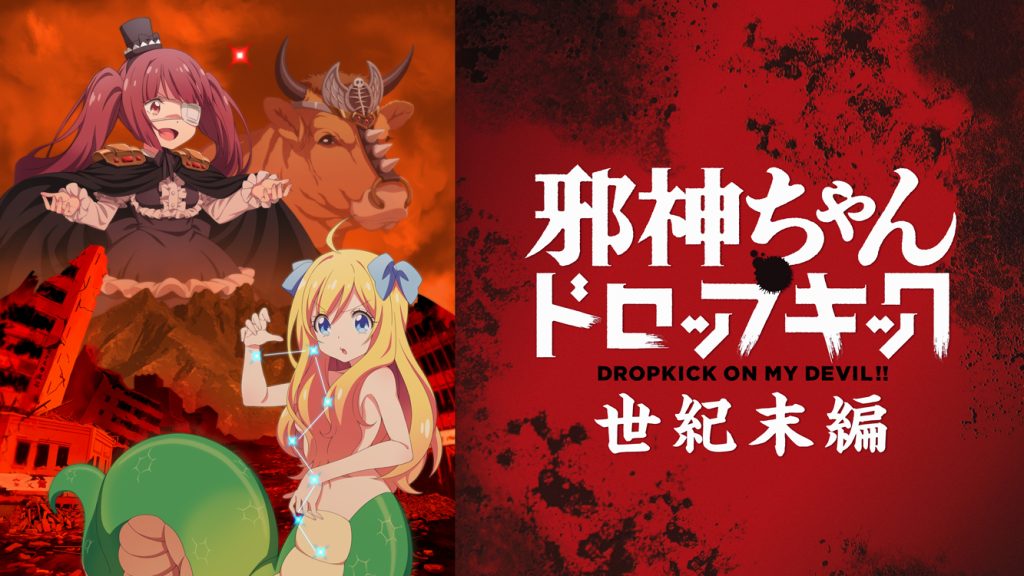 [Determination of Airtime] Create a safe haven far from the war zone that is animation production, where delays are strewn about.

New animation #邪神ちゃんドロップキック [end of the century]

December 26, 2023 (Tuesday) 24:00-

Broadcast on BS NTV! ※ planned

I made only storyboards, but there it is: I said it! scared!!
Crowdfunding has also successfully funded the show's fourth season. The TV special is being created by Studio Makaria instead of Studio Nomad and will air as its own episode. Before "Kiyoneko" and "Tsuyokute New Saga," Makaria worked on other series.
Dropkick on My Devil! Jinbocho, the setting of "Apocalypse Arc," has been devastated by a meteor. Stars point Jashin-chan southward, where she can finally destroy Yurine, the evil ruler.
The plot is a little hazy, but it seems like Jashin-chan will be playing a hero instead of a bad girl. I can't fathom how terrible Yurine will be as an antagonist when she was so brutal as a protagonist. I'm hoping that, since this is a new installment in the franchise, there won't be too many of the same old running gags.
Dropkick on My Devil!
The manga series Dropkick on My Devil! is created by Yukiwo and is read in Japan. The webcomic was first serialized in April 2012 by Flex Comix's Comic Meteor. An anime adaptation premiered in 2018.
A student witch named Yurine Hanazono summons the demon lamia Jashin. Jashin is unable to go back to Hell on her own, so she spends her days either trying to kill Yurine (which she never succeeds at doing) or hanging out with other inhabitants of Hell and Heaven.
Read more: Dropkick on My Devil!