Mari Okada's "Maboroshi" Gets More Details From MAPPA
The village of "Alice to Therese no Maboroshi Kōjō" (Alice and Therese's Illusory Factory) is becoming increasingly mundane and uninteresting. After an explosion at the steelworks facility sealed off all the exits, employees were told they couldn't leave their current uniforms and that any attempts at disguise were strictly barred.
Masamune, a third-year middle school student, and his friend Atsumi are the protagonists of this novel. A girl they meet in the blast furnace is mute and acts like a savage when they meet her.
At the MAPPA Stage Event 2023 on Sunday, further information about the original film Alice to Therese no Maboroshi Kōjō was revealed. A new teaser, voice actors, brief synopsis, and September 15 release date were all announced by the company.
You can see the factory in this quick clip. The image suddenly changes to a green neon light crackling across the sky. The rest of the footage depicts widespread destruction brought on by a powerful wind.
Three actors have been announced by MAPPA to provide the main characters' voices:
| | | |
| --- | --- | --- |
| Character | Voice Artist | Other Works |
| Masamune Kikuiri | Junya Enoki | Yūji Itadori (Jujutsu Kaisen) |
| Atsumi Sagami | Reina Ueda | Ruri (Dr. Stone) |
| Itsumi | Misaki Kuno | Frederica Rosenfort (86) |
The girl in the updated image below is seen facing away from the viewer and shielding her face from the light with her hand. In fine print it says, "Don't approach this girl".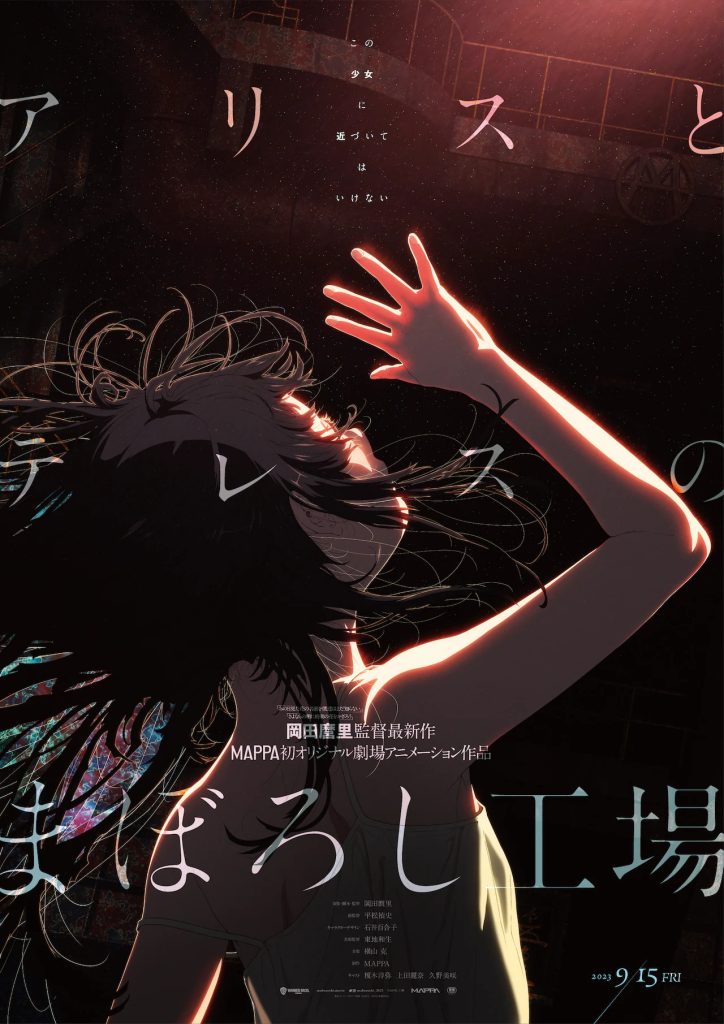 The 2021 release date and Mari Okada as director were the initial announcements. The novelization of the film, written by Okada, will be released by Kadokawa Bunko on June 13. The film's primary crew members are as follows:
| | | |
| --- | --- | --- |
| Position | Staff | Other Works |
| Director | Mari Okada | Maquia: When the Promised Flower Blooms |
| Screenwriter | Mari Okada | Oni: Thunder God's Tale |
| Character Design | Yuriko Ishii | Another |
| Music | Masaru Yokoyama | Horimiya |
Powerful winds, two main characters of different sexes, and enigmatic events all give the film an atmosphere reminiscent of Makoto Shinkai's Suzume. While MAPPA's animation is top-notch, some additional plot details would have been welcome.
Alice to Therese no Maboroshi Kōjō
Written and directed by Mari Okada, "Alice to Therese no Maboroshi Kōjō" (Alice and Therese's Illusory Factory) is an original anime feature.
Masamune is in his third year of middle school in a town where residents have been ordered not to alter their appearance. It all started when there was an explosion at the steel factory.
He gets picked on because of his hair length. His friend Atsumi from school takes him to work with him one day. They stumble upon a girl who seems wild and unable to communicate with them. The arrival of all three begins to cause havoc in their immediate environment.