The Original Mahjong Anime 'Pon no Michi' Now Has a Teaser Trailer
It seems like every sports anime is focusing on a niche sport or a sport that is just played for fun. Shogi, Go, and Mahjong all have strong regional followings, particularly in Japan, but a far smaller global fan base. Since events take place indoors, people of all ages can enjoy them.
In 'Pon no Michi', Mahjong will play a starring role alongside slice-of-life elements. The game is played on rectangular white tiles and may look like a "old man's game", but the animation seeks to show that there is a lot of strategy and thought behind each move.
A dedicated website for the classic anime Pon no Michi (The Way of Pon) premiered on Tuesday. In addition, the primary voice cast, crew, and January 2024 release window were also unveiled.
At the beginning of the video, Nashiko, the protagonist, yells, "New Utopia". The next scene has the four companions enjoying an indoor game of Mahjong.
The official website has revealed five characters and the voice actors for four of them:
| | | |
| --- | --- | --- |
| Character | Voice Artist | Other Works |
| Nashiko Jippensha | Kaori Maeda | Elka (Summoned to Another World for a Second Time) |
| Pai Kawahigashi | Iori Saeki | Moe Yanagida (Tokyo Mew Mew New) |
| Izumi Tokutomi | Shion Wakayama | Takina Inoue (Lycoris Recoil) |
| Riche Hayashi | Yui Kondou | Road Camelot (D.Gray-man Hallow) |
| Chonbo | — | — |
On June 11, the cast will take the stage in Osaka for the Chayamachi Oshi Festival.
Take a look at the image down below, which has Nashiko, Izumi, Riche, and Pai (in that order) all holding Mahjong tiles. Chonbo, the bird, can be seen in the distance.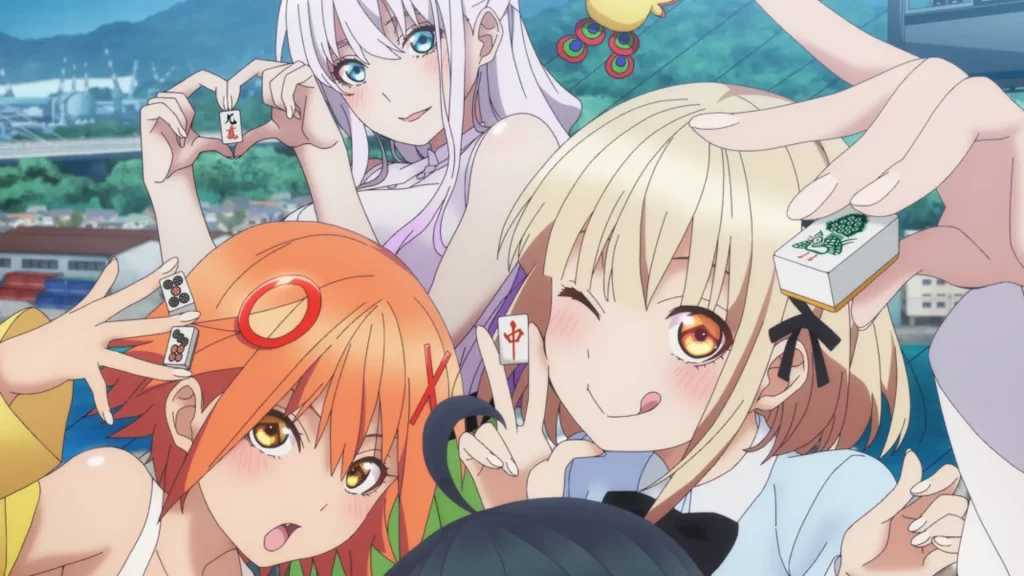 | | | |
| --- | --- | --- |
| Position | Staff | Other Works |
| Animation Production | Studio OLM | Pokémon, Yo-kai Watch |
| Original Story | IIS-P | — |
| Director | Tatsuma Minamikawa | Fire Force |
| Screenwriter | Tatsuma Minamikawa | Fire Force (Storyboard) |
| Character Design | Negi Haruba | The Quintessential Quintuplets (Creator) |
| Character Design | Kenji Ōta | One Piece (Key Animation) |
| Music | Yūko Takahashi | Science Fell in Love, So I Tried to Prove It |
| Music | Takuma Sogi | Science Fell in Love, So I Tried to Prove It |
| Music | hisakuni | Science Fell in Love, So I Tried to Prove It |
| Music | Rico Ohashi | My Girlfriend is Shobitch (Theme Song Composition) |
| Music | Kanji Eguchi | — |
| Music | Shari | — |
The animation is on pace with the visuals, which are bright and modern. Like Hayato in "The Café Terrace and Its Goddesses", we may get to see how Nashiko reopens the Mahjong parlor for business.
Pon no Michi
Tatsuma Minamikawa created the anime series Pon no Michi (The Way of Pon). The plot was written by IIS-P, and Studio OLM is responsible for the animation. Scheduled airing for January 2024.
Nashiko Jippensha, a high school student, was evicted from her home in Onomichi City, Hiroshima Prefecture. Sadly, she learns that her father's Mahjong establishment has closed down.
Nashiko intends to renovate the space into a community center where people may meet, drink tea, play Mahjong, and unwind.